Pixels Makes 80's Gamers Look Cool #PixelsMovie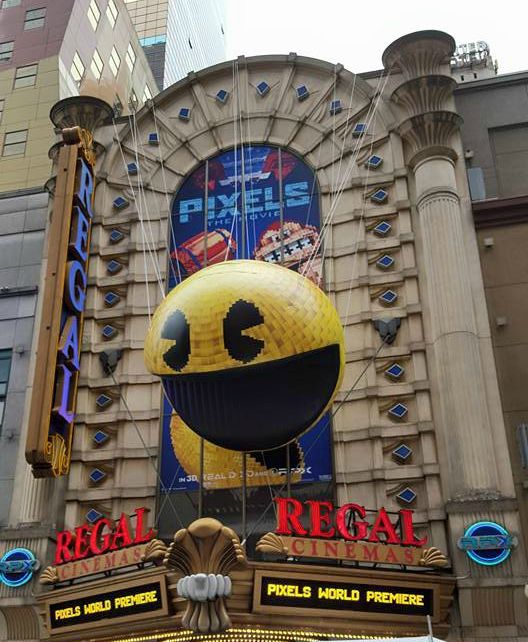 I had so much fun in New York last week.  One of the reasons it was such a fun trip is because I got to see Pixels with my best friend while I was there!  If you lived through the 80's, you are going to have so much fun watching Pixels!  I can't wait to take my kids to see it too.  Did I tell you that Adam Sandler and Kevin James star in it?  It was a lot of fun.  From the arcade scenes to the old-school gaming references, it was a fun ride through 80's nostalgia.
Well, there is this one scene, where Pac-Man is eating New York City, but it's kinda cute.  Cute?  Yes, there are cute moments with this guy.  Even the sound of "woka, woka, woka" from Pac-Man as he's eating his way through the sky scrapers in New York city made me giggle.  I was literally laughing out loud at the relationship between Adam Sandler and Kevin James as they were trying to rescue mankind from this giant, real-world video game!
So, there is this battle to save the world from Pac-Man, Centipede, then eventually, every arcade game from the 80's.  Of course there's a love story there.  I'm not going to tell you who the love story is between, but this could really go any direction ya know?!  Reminiscing about this movie has me wanting to take the kids to see it today!  Maybe I'll go wake them up, the first showing is at 11:00!  Hey, take your kids too.  You'll be happy you did 😀
Pixels story:
As kids in the 1980s, Sam Brenner (Adam Sandler), Will Cooper (Kevin James), Ludlow Lamonsoff (Josh Gad), and Eddie "The Fire Blaster" Plant (Peter Dinklage) saved the world thousands of times – at 25 cents a game in the video arcades. Now, they're going to have to do it for real. In Pixels, when intergalactic aliens discover video feeds of classic arcade games and misinterpret them as a declaration of war, they attack the Earth, using the video games as the models for their assaults — and now-U.S. President Cooper must call on his old-school arcade friends to save the world from being destroyed by PAC-MAN, Donkey Kong, Galaga, Centipede, and Space Invaders. Joining them is Lt. Col. Violet Van Patten (Michelle Monaghan), a specialist supplying the arcaders with unique weapons to fight the aliens.
Official Pixels Movie site
Follow Pixels Movie on Facebook
Follow Pixels Movie on Twitter
Pixels is now open in theaters everywhere!