Pepperoni Pizza Pinwheels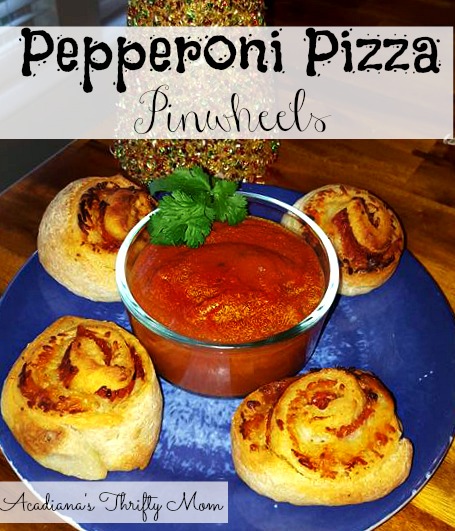 These pepperoni pizza pinwheels are so super easy to make!  You can switch up the ingredients and change the crust to match your, personal taste.  We love the versatility of this recipe.  This recipe is really the foundation for any pinwheel you want to create.  I used pizza dough for this recipe, but you can use crescent rolls, puff pastry,  biscuit dough, really anything you want.  Experiment on your own and get creative.  One thing I have learned about all pinwheel recipes is that you need some type of creamy or saucy base to cover the dough before you start adding your other ingredients.  Do not leave out the sauce on the inside of these pinwheels or you'll have a hard time getting your cheese to stay inside.  I hope y'all enjoy this recipe as much as we do around our house 🙂
Gather your ingredients:
Pizza dough of your choice.  I used refrigerated, store-bought dough.
Pizza sauce of your choice.  Again, I used store-bought sauce.
Pepperoni
Mozzarella Cheese
Add as much or little of the above ingredients as you like.
Get to cooking:
Unroll pizza crust onto greased parchment paper and cover with a thin layer of pizza sauce.  Leave about an inch at the top of bare dough so that it will stick to the other dough when you start rolling.
Cover the pizza sauce with mozzarella cheese, then add pepperoni.
Start rolling from the bottom of the dough with the pizza sauce.  Continue rolling until the entire dough looks like a tube, then wrap in parchment paper and allow to sit in the refrigerater for about an hour.
After an hour, remove the roll of pizza and cut into 1-1 1/2 inch sections and lay flat on greased, lined cookie sheet.  This recipe makes about 12-16 pinwheels, depending on how thick you cut them.
Place cookie sheet with pinwheels in the oven, preheated to 350 degrees, for approximately 17 minutes.
Carefully remove the pinwheels from the oven and transfer to a plate.
Serve with warmed pizza sauce and enjoy!