My Magical Experience on Disney's Moana Red Carpet #Moana
So, did y'all hear?  There was this red carpet event in Los Angeles Monday night and I was there!  Oh yes, the world premier for Disney's Moana was Monday, November 14, in preparation for the movie opening on November 23.  This was such an incredible experience at the iconic El Capitan Theatre on Hollywood Boulevard.  From the moment I walked onto the red (in this case blue) carpet, I felt like I was back in Maui.  There was amazing Polynesian music and dancers everywhere.  In the gaps between music and dancing there were tables upon tables of food!  This red carpet was actually a blue carpet that flowed, like the ocean from one fun event to the next.  After I finished drooling over Dwayne Johnson being on the carpet RIGHT IN FRONT of me; I was able to continue through and really enjoy this amazing experience.
Seeing Moana on the sign for the El Capitan Theater was amazing!  This moment is always one that gets me all teary-eyed.  I think getting to know the actors in the movie just makes it that much more special for me.  I get excited for them and want to just give them a big high-five 😀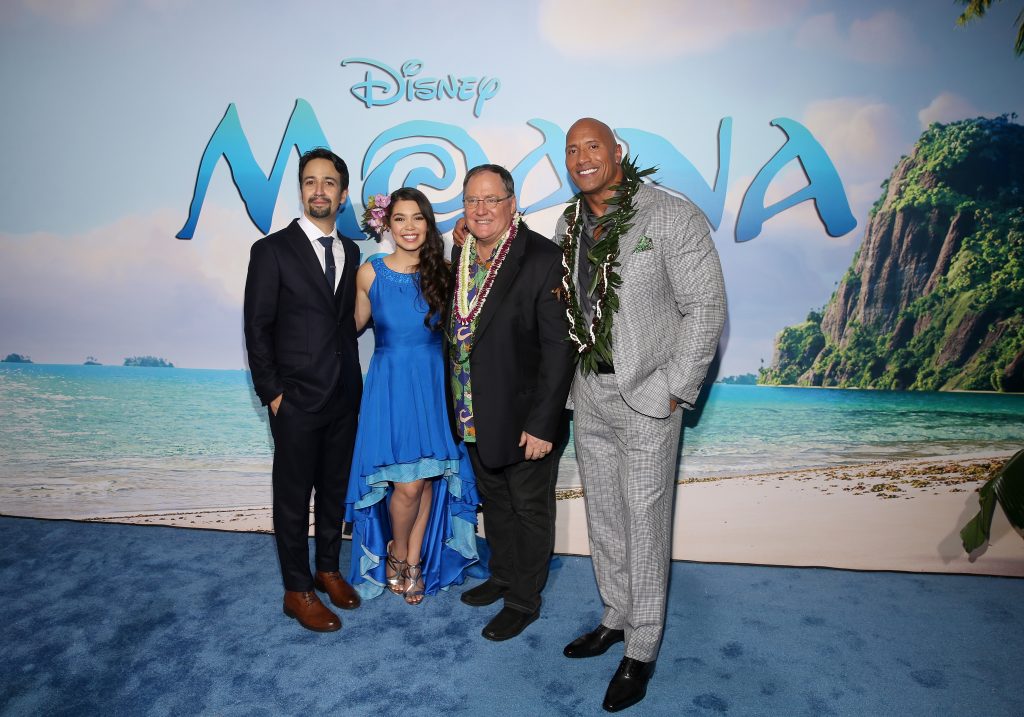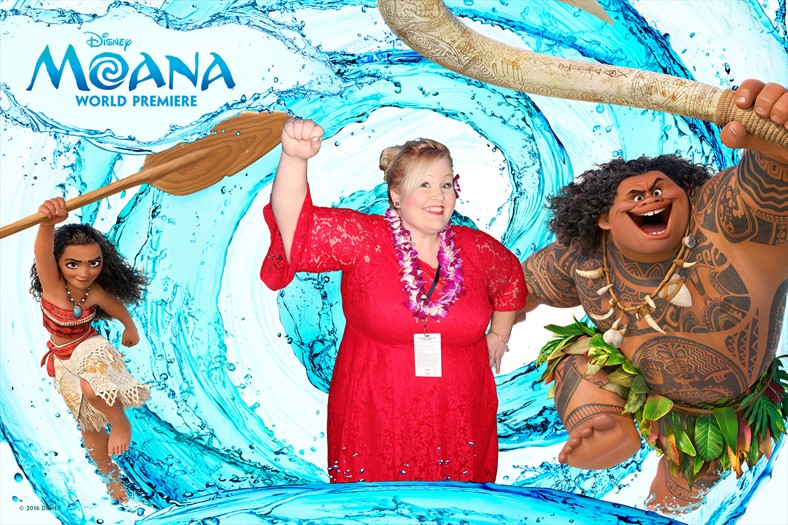 As you can see, the red (blue) carpet was very colorful.  There was food galore and it all tied into the Polynesian theme of Moana.  Pineapples and coconuts were everywhere!
This is a little clip of the Polynesian dancers performing on the red carpet.  I was just mesmerized by their dancing.
The Polynesian dancers were amazing.  I just love all of the drums and swaying movements in the music and dance; I could just sit and watch it all day long.  Disney's Moana is also filled with the feel of the islands and island music.  I cannot wait to share my review with you tomorrow, yes tomorrow!
The Polynesian dancers were amazing!  I love watching them dance and listening to the drum beat of their music.
We had a ton of fun green screen photo opportunities.  I jumped around to each one and had a blast!  Then, of course, Dwayne Johnson and Lin-Manuel Miranda did a performance, which was ridiculously fun 😀
Okay, so I know what it looks like, but I was NOT stalking Lin-Manuel Miranda…..stalk is such an ugly word LOL
Below is another short clip of the performance inside the El Capitan Theatre.  This is such a beautiful song!

This was such an amazing experience and I'm so happy I was able to share it with all of you through social media and the blog.  Be sure to stay tuned because my review of Disney's Moana is coming up tomorrow 😀
About Disney's Moana:
Three thousand years ago, the greatest sailors in the world voyaged across the vast Pacific, discovering the many islands of Oceania. But then, for a millennium, their voyages stopped – and no one knows why.
From Walt Disney Animation Studios comes "Moana," a sweeping, CG-animated feature film about an adventurous teenager who sails out on a daring mission to save her people. During her journey, Moana (voice of Auli'i Cravalho) meets the once-mighty demigod Maui (voice of Dwayne Johnson), who guides her in her quest to become a master wayfinder. Together, they sail across the open ocean on an action-packed voyage, encountering enormous monsters and impossible odds, and along the way, Moana fulfills the ancient quest of her ancestors and discovers the one thing she's always sought: her own identity. Directed by the renowned filmmaking team of Ron Clements and John Musker ("The Little Mermaid," "Aladdin," "The Princess & the Frog") and produced by Osnat Shurer ("Lifted," "One Man Band"), "Moana" sails into U.S. theaters on Nov. 23, 2016.

Follow Moana on Facebook
Follow Disney Animation on Twitter
Visit the official Moana website
Follow Disney Animation on Instagram
Visit Disney Animation on Tumblr