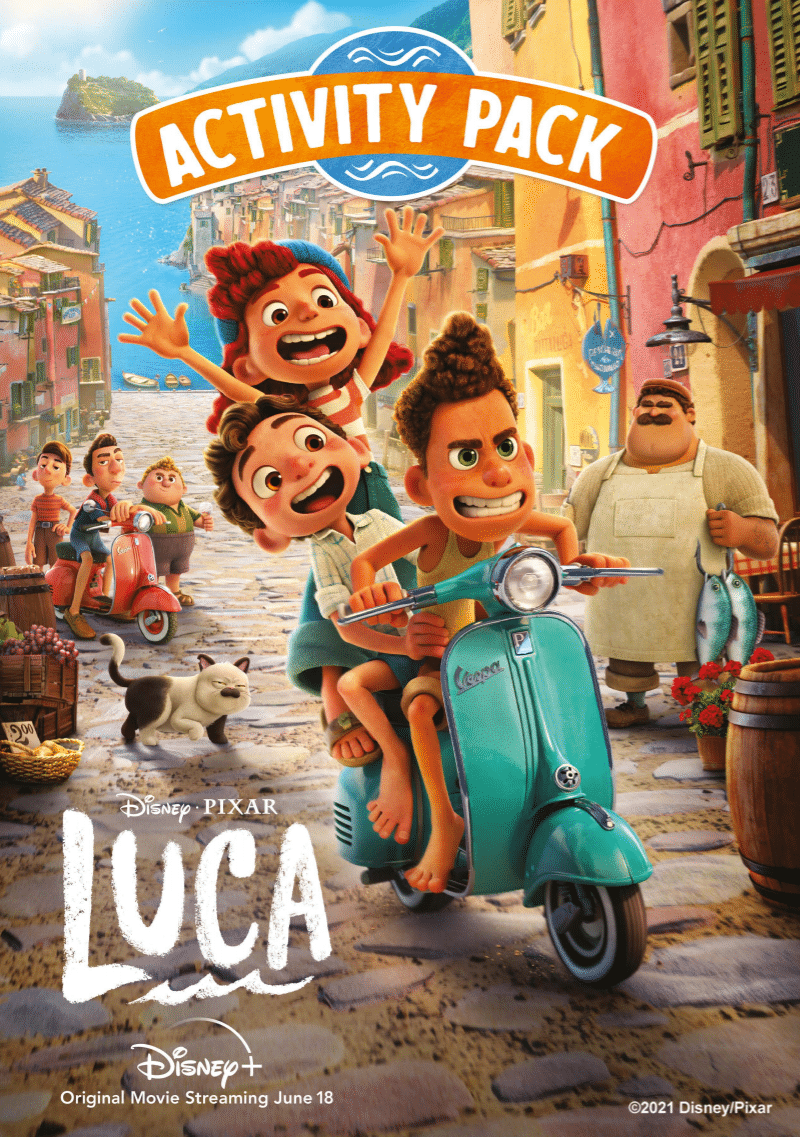 LUCA Is On Disney+ Get These Fun Activity Sheets For Free. We are spending our morning watching LUCA on Disney+. Now you can print these activity sheets and add a new dimension of fun to viewing with your family. My kiddos have been waiting for LUCA and were so happy we decided, as a family, to watch it. You are going to be happy you did too!
Our kiddos are getting older. The 'baby of our family will be turning 15 this summer. It seems they crave the sweet goodness of Disney/Pixar more than ever now. It is their release from the ever-growing stress of impending adulthood and that in-between strangeness. I can remember, years ago, when I thought the days of coloring activity sheets while watching their favorite animated film would be long gone by now, but nope; we're still fully here and enjoying every minute of LUCA!
About Disney/Pixar's LUCA:

Set in a beautiful seaside town on the Italian Riviera, Disney and Pixar's original feature film "Luca" is a coming-of-age story about one young boy experiencing an unforgettable summer filled with gelato, pasta and endless scooter rides. Luca (voice of Jacob Tremblay) shares these adventures with his newfound best friend, Alberto (voice of Jack Dylan Grazer), but all the fun is threatened by a deeply-held secret: they are sea monsters from another world just below the water's surface. Directed by Academy Award® nominee Enrico Casarosa ("La Luna") and produced by Andrea Warren ("Lava," "Cars 3").
These activity sheets mean so much to our family, especially after watching the movie. Be sure to take the time to print them out and make LUCA an entire day for your family. Go ahead, pop some popcorn, grab some juice boxes and print out your activity sheets HERE before watching Disney/Pixar's LUCA!
Get Social With Disney/Pixar LUCA:
LUCA on Instagram LUCA on Twitter LUCA on Facebook #PixarLuca