Luau Interview With Josh Gad, Maya Rudolph & Jason Sudeikis #AlohaAngryBirds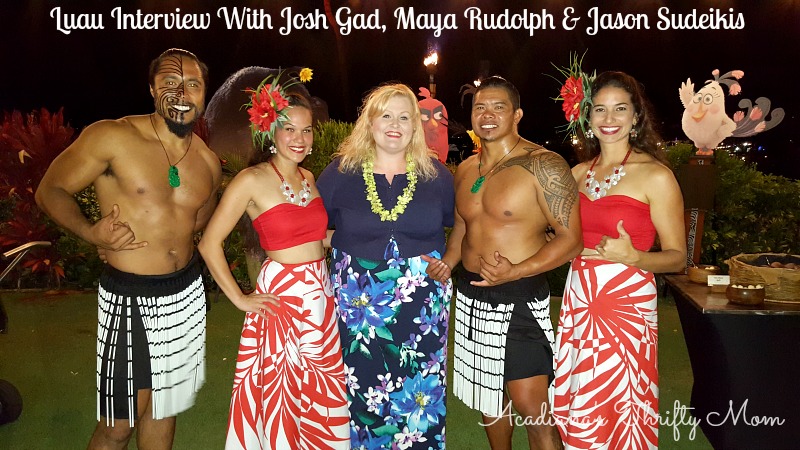 Okay y'all, now for the really fun stuff!  I am going to share my exclusive luau interview with Josh Gad, Maya Rudolph & Jason Sudeikis.  Oh yeah, it was that much fun!  Our night started at the Four Season in Maui by the ocean being greeted with a beautiful leigh made of purple orchids.  Before we knew it, I was drinking Mai Tai's and chatting with some of my favorite blogger friends.  How could it get any better than that, right?  Well, I promise, it did.  It got so much better 😀
We walked around the area they set up for the luau and interviews with Josh Gad, Maya Rudolph,  and Jason Sudeikis.  The scenery was amazing.  I had never been to Hawaii before, nor had I been to a luau of any sort, so I wasn't exactly sure what to expect.  I have a feeling if I go to another luau it will not compare to this one.  There was food and drinks as far as we could see.  The palm trees were swaying with the sun setting in the background.  When I looked past the palm trees, there was a volcano and the ocean.  I mean, really, it doesn't get any more magical than this beautiful scene.  I can tell you, though, that all of Hawaii was like a scene right out of a book or off of a post card!
As we were sitting, chatting and sipping our drinks; we caught a glimpse of Josh Gad.  He was laughing it up and headed to sit at the table with us!  Not far behind him were Maya Rudolph & Jason Sudeikis.  Oh yes, this southern girl was about to be sipping Mai Tai's with the stars…in Hawaii!  Even if it was just for 15 minutes 😀  Hey, don't kill my dream LOL  This was one of the most fun interviews I have ever done!  We all laughed the whole way through it and had a blast talking about parenting and game apps for kids.
Question:  How did you feel when you first got the call that they were turning Angry Birds into a movie and they wanted you to be a part of it?
Josh Gad:  Well, there were three things that concerned me:  The words "Angry" "Birds" and "Movie" (LOL).
John Cohen, the producer, showed me this incredible presentation that sold us immediately!  Because the movie was so much more than just a mobile app adaptation and from that point I was like 'this sounds great!' and the cast was incredible!
Maya Rudolph:  I agree!  Especially about the cast part (LOL)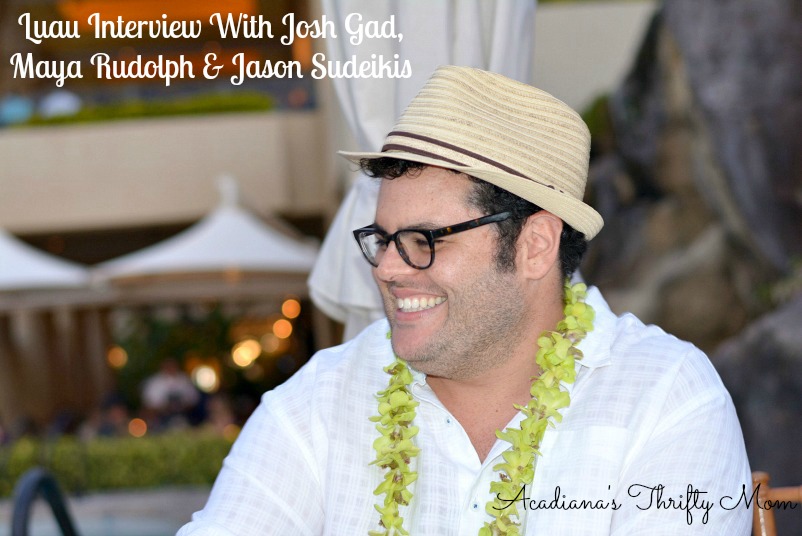 Question:  The movie says it's okay to get angry and sometimes it's even warranted.  How do you guys actually talk to your kids about getting angry and dealing with that?
Jason Sudeikis:  "Use your words" comes up a lot.
Maya Rudolph: We were talking about this earlier and in my son's preschool they have been teaching them to 'take a breath'.  They teach them 'smell the flowers' for the inhale and 'blow out the candles' is for the exhale and they totally love to do it!
Josh Gad:  Usually when the girls are crying, they 'blow out the candles' most brilliantly.  My daughter's school uses colors.  Red is angry, blue is sad, green is calm.  We try to talk to her about how we can get to green or how can we get to yellow.
Question:  Have your kids seen The Angry Birds Movie?
Jason Sudeikis:  It's his first movie. I went to watch it with him and he sat on my lap.  It was great!  He sat there the whole time.  It was the best!  His legs are short enough now that they fit on my entire thigh.  He was crossing his legs like I'm his barcalounger.  I'm just like 'yeah man, that's alright'.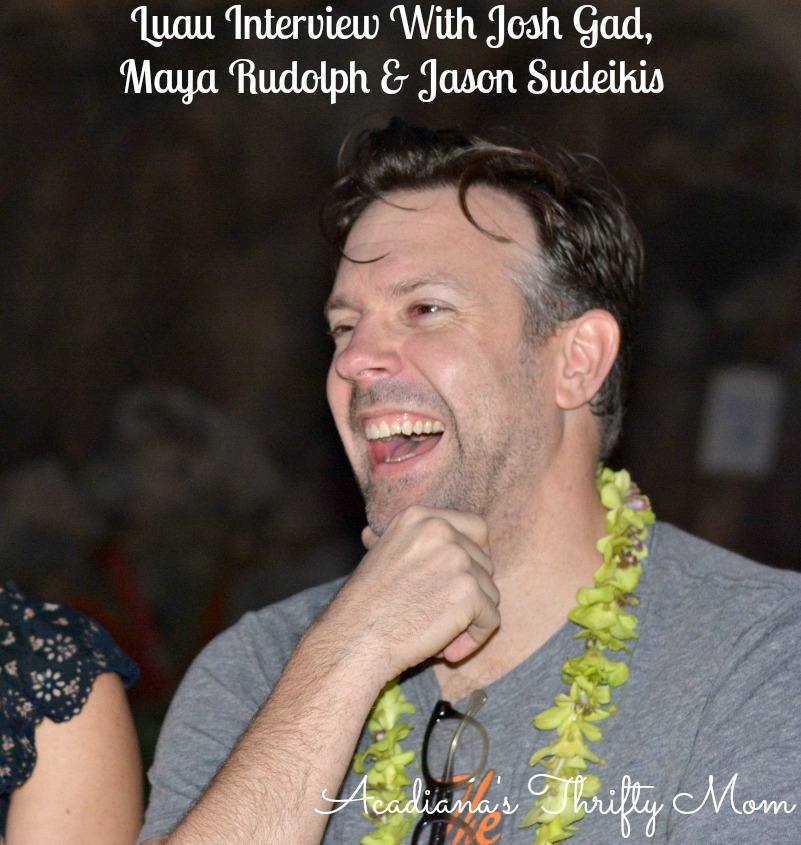 Question:  Did y'all work together much during making the movie, at all?
Jason Sudeikis:  No, it's the craziest thing. Everybody in the movie, I've worked with in some capacity.  So, eventhough we weren't in the same room, I had an idea of where we were going to go.  When I watched the movie I was like 'Wow!  This movie sounds like we're all in the same room.'
Josh Gad:  No, never, this is the most we've worked together.
Maya Rudolph:  Never
About Manutea Nui E:
Manutea Nui E, meaning the growth of the white bird, is a family owned and operated entertainment and production company.  Owner Joey Dang started Manutea Nui E from a tiny costume shop in 2007 then grew it to where they are today, a network of passionate entertainment professionals eager to represent their island home.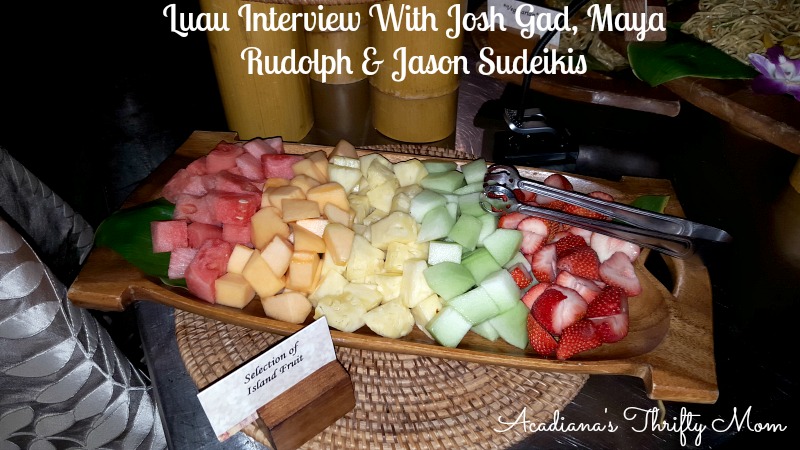 Then the luau began!  It was one of the most beautiful and amazing experiences I have ever had.  The food was just as beautiful as it was delicious.  Everything had a tropical flare with coconut and pineapple everywhere.  The colors were so vibrant and the fragrance of Hawaii filled the air.  Every single inch of the luau was filled with the sights, sounds, and fragrance of Maui!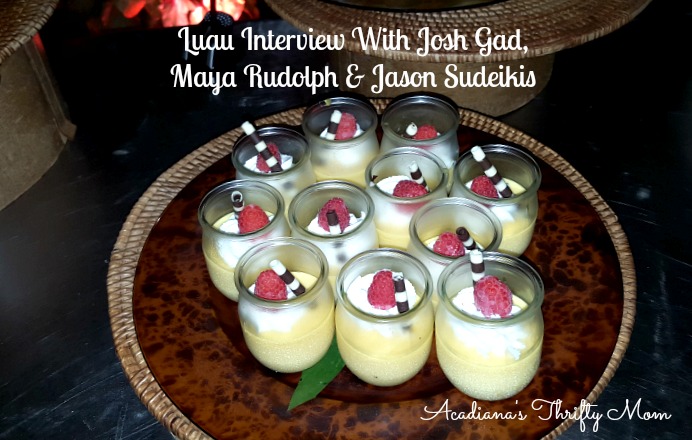 Throughout significant moments of pre-contact history, ancient Pacific-islander peoples journeyed to Hawaii, bringing with them their own unique culture. Although Hawaii has a nurturing energy all its own, it is the patchwork of cultures that has given this land a fullness and attraction found nowhere else…it is Hawaiian. With passion and reverence, Manutea Nui E brings the songs and dances of these Polynesian cultures from long-ago, back to life! Let us be the bridge to an experience that is highly sought after, yet hardly found. We invite you to feel the destined calling…a calling that cannot be ignored. ~ www.manuteanuie.com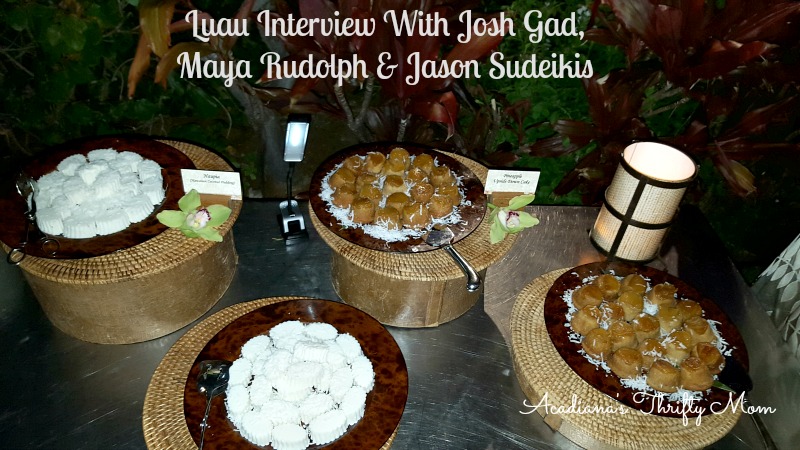 About The Angry Birds Movie:
In the 3D animated comedy, The Angry Birds Movie, we'll finally find out why the birds are so angry.
The movie takes us to an island populated entirely by happy, flightless birds – or almost entirely. In this paradise, Red (Jason Sudeikis, We're the Millers, Horrible Bosses), a bird with a temper problem, speedy Chuck (Josh Gad in his first animated role since Frozen), and the volatile Bomb (Danny McBride, This is the End, Eastbound and Down) have always been outsiders. But when the island is visited by mysterious green piggies, it's up to these unlikely outcasts to figure out what the pigs are up to.
Featuring a hilarious, all-star voice cast that includes Bill Hader (Trainwreck, Inside Out), Maya Rudolph (Bridesmaids), and Peter Dinklage (Game of Thrones), as well as Keegan-Michael Key (Key & Peele), Kate McKinnon (Saturday Night Live, next year's Ghostbusters), Tony Hale (Veep, Arrested Development), Ike Barinholtz (The Mindy Project, Neighbors), Hannibal Buress (Broad City, Why? With Hannibal Buress), Jillian Bell (22 Jump Street), Danielle Brooks (Orange is the New Black), Latin music sensation Romeo Santos, and YouTube stars Smosh (Ian Hecox and Anthony Padilla), the Columbia Pictures/Rovio Entertainment film is directed by Fergal Reilly and Clay Kaytis, produced by John Cohen and Catherine Winder, screenplay by Jon Vitti, and executive produced by Mikael Hed and David Maisel.
Follow The Angry Birds Movie on Facebook
Follow The Angry Birds Movie on Twitter
Follow The Angry Birds Movie on Instagram