5 Great Reasons You Need To See The Angry Birds Movie #AlohaAngryBirds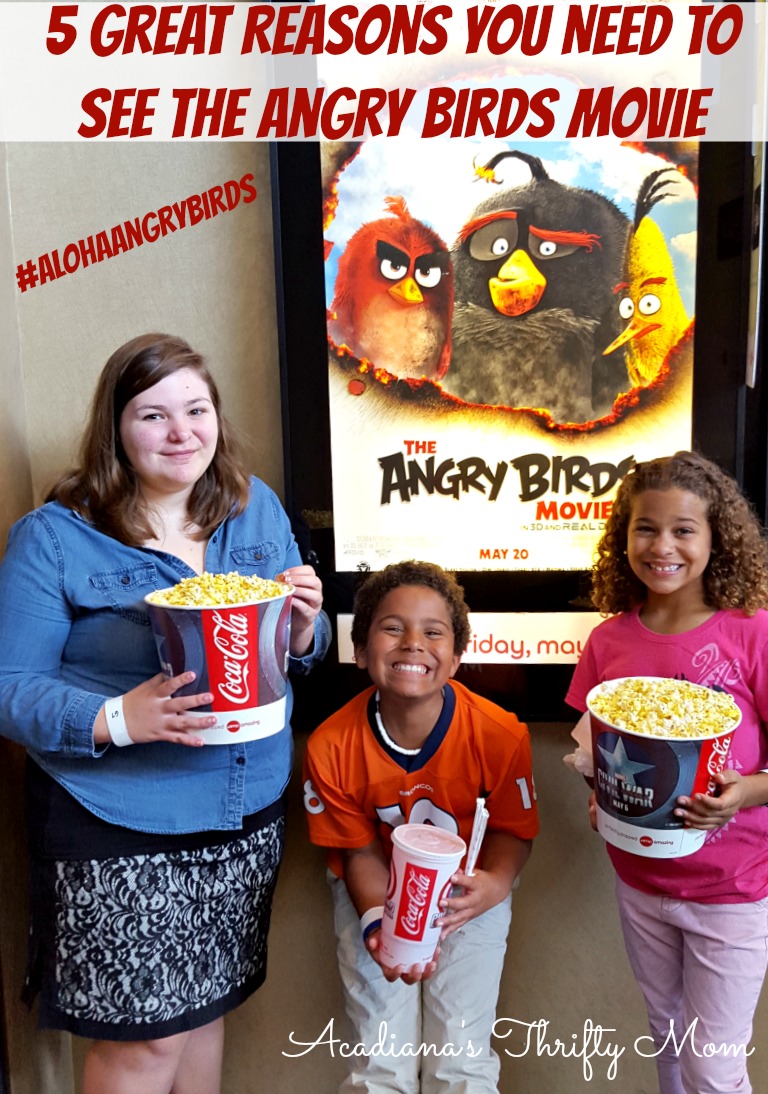 I have more than 5 great reasons you need to see The Angry Birds Movie, but some of it I want you to see for yourself.  When I went to Bird Island in Maui, Hawaii, last month, our main focus was The Angry Birds Movie.  I haven't been able to tell y'all much about the movie before now because we wanted to save some of the excitement for opening weekend.  Well, opening weekend is here and I could not be more excited to tell you all about The Angry Birds Movie.  From meeting The Angry Birds on Bird Island to listening to my son belly laugh the whole way through the movie when we went to see it back home; The Angry Birds Movie has been an unforgettable experience for our family and I have a good feeling it will be an unforgettable ride for your family too!
5.  You need some family time ~ Every family needs to spend time doing something they love, together.  Not only is The Angry Birds Movie full of twists and turns down the highway of emotions, but it will teach you a few things about yourself along the way.  You might just learn that it's okay to be angry sometimes and to trust your inner voice.
4.  The voice cast is spot on ~ From Jason Sudeikis playing the voice of Red, Josh Gad as the voice of Chuck,  Sean Penn as the voice of Terence, to Maya Rudolph as the voice of Matilda; they got the voices perfect!  Not only did they do an amazing job of drawing the audience into the story and keeping us there; they matched the actors we know and love with the birds we have been waiting to see on the big screen, perfectly!  You will laugh all the way through the movie, just knowing who is playing whose voice.
3.  Bird Island is paradise ~ The Angry Birds Movie takes place on Bird Island, which looks an awful lot like Maui, Hawaii 😀  You will love the life-like scenery and beautiful flowers as The Angry Birds fly through the mountains and waterfalls of the island.  You will feel like you're in paradise with them!
2.  You love the game ~ You love the game and you are dying to know why the Angry Birds are so angry.  The only way to find out is in this cleverly hilarious movie all about the angriest birds you know (except for that one that attacked my cat the other day).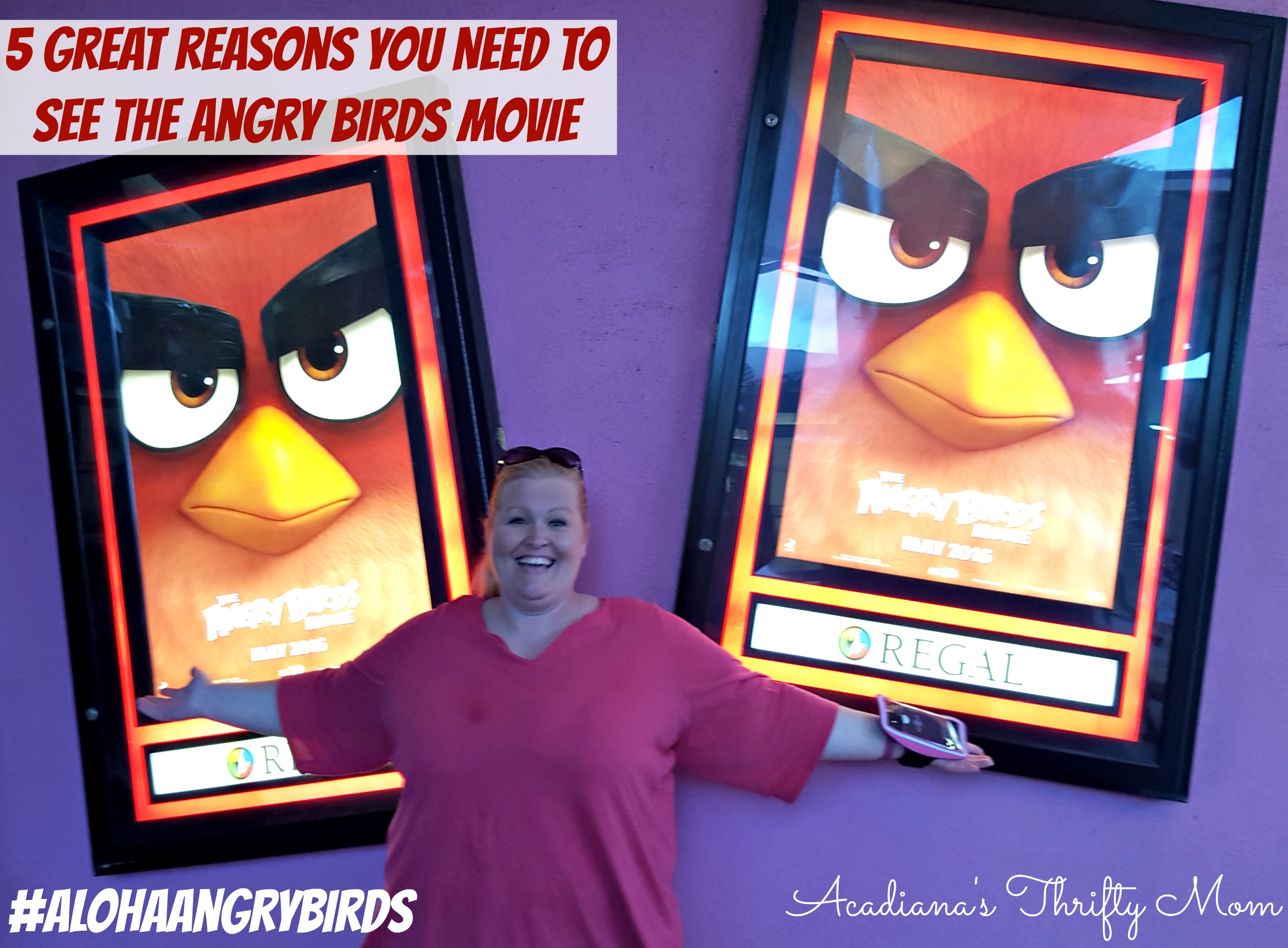 1.  Everybody needs a good belly laugh ~  Everyone in your family will get a good ole belly laugh from watching The Angry Birds Movie!  It's always different for me when I watch a movie with my children than when I watch it by myself.  All three of my kids (ages 17, 11 & 9) laughed, no belly-laughed at different points throughout the movie.  I don't remember which part it was, but I really thought I was going to have to toss water on my 11 year old son!  He had tears running down his face laughing at the interaction between the birds!  It really is a hilariously clever movie.  There's something in it for everyone in your family!
Take your family out this weekend to see The Angry Birds Movie. The Angry Birds will deliver a HUGE laugh and a lesson in anger management. You might even learn a bit about it being okay to be angry sometimes. You can even buy your tickets online here!
About The Angry Birds Movie:
In the 3D animated comedy, The Angry Birds Movie, we'll finally find out why the birds are so angry.
The movie takes us to an island populated entirely by happy, flightless birds – or almost entirely. In this paradise, Red (Jason Sudeikis, We're the Millers, Horrible Bosses), a bird with a temper problem, speedy Chuck (Josh Gad in his first animated role since Frozen), and the volatile Bomb (Danny McBride, This is the End, Eastbound and Down) have always been outsiders. But when the island is visited by mysterious green piggies, it's up to these unlikely outcasts to figure out what the pigs are up to.
Featuring a hilarious, all-star voice cast that includes Bill Hader (Trainwreck, Inside Out), Maya Rudolph (Bridesmaids), and Peter Dinklage (Game of Thrones), as well as Keegan-Michael Key (Key & Peele), Kate McKinnon (Saturday Night Live, next year's Ghostbusters), Tony Hale (Veep, Arrested Development), Ike Barinholtz (The Mindy Project, Neighbors), Hannibal Buress (Broad City, Why? With Hannibal Buress), Jillian Bell (22 Jump Street), Danielle Brooks (Orange is the New Black), Latin music sensation Romeo Santos, and YouTube stars Smosh (Ian Hecox and Anthony Padilla), the Columbia Pictures/Rovio Entertainment film is directed by Fergal Reilly and Clay Kaytis, produced by John Cohen and Catherine Winder, screenplay by Jon Vitti, and executive produced by Mikael Hed and David Maisel.
Follow The Angry Birds Movie on Facebook
Follow The Angry Birds Movie on Twitter
Follow The Angry Birds Movie on Instagram