LivRelief Relieves Pain Quickly and Naturally
This post is sponsored by LivRelief. The opinions are 100% my own.

I was given the opportunity to try out LivRelief and see how I like it.  Much to my surprise LivRelief  really did relieve my knee pain quickly and naturally; just like they said it would!  With Father's Day happening last weekend, I decided to cut the grass so my husband didn't have to .  This is the only time I ever cut the grass LOL  Well, it has been a couple of weeks since the grass has been cut because we went on vacation last week.  This is south Louisiana, so there has been plenty of rain and sunshine and rain and sunshine.  You know, that amazing cycle that causes the grass to grow very quickly?!  Our backyard was out of control!  The front yard wasn't so bad, but the back, eeeeek.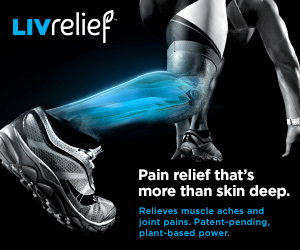 After finishing the yard, I didn't feel too bad.  I was tired from the heat and pushing the mower, but I wasn't too achy.  I knew I would be achy in the days to come since cutting grass was not one of my normal activities.  In order to head off any aches or pains, I rubbed LivRelief into my knees before I went to bed that night.  I am not one to wait until my knees start aching before I treat them.  With torn ligaments and arthritis in my knees; I know they are going to ache; it's just a part of my life.  To my surprise, my knees were not aching when I woke up the next morning, but just to be sure, I rubbed more LivRelief cream into my knees before I got dressed that morning, then repeated before I went to bed that next night.  I am more than happy to report that my knees NEVER got achy after cutting the grass!  That has not ever happened, at least not in my memory!

The next day, I went walking around the neighborhood. I love to walk, but have gotten out of the routine lately because of vacation and, well, summertime!  My knees always ache after my walks, and sure enough, this day was no different.  I went home, drank a bottle of water, and rubbed LivRelief on my knees (I'm really getting hooked on this stuff).  Within an hour my knees were feeling better!  They weren't 100% pain free, but the pain was definitely more manageable that normal and I was able to forego the Ibuprofen!  Anytime I can find a natural remedy that allows me not to take a pill; I am sold!  But, don't take my word for it; try LivRelief for youself.  You can find it over HERE at amazon and give it a try 😀  Buy LivRelief now and receive $2 off your purchase when you use promo code ONU56TLN during checkout on Amazon.com.
About LivRelief:
IT'S FAST: LivRelief pain relief cream uses a proprietary and patent-pending delivery system called Delivra that drives natural, active, pain-relief ingredients through layers of skin, to the root of the pain for long-lasting relief. It is backed by millions of dollars in research and a group of Ph.D.'s with expertise in formulation and pharmacology. It is scientifically formulated in a state of the art facility with natural ingredients sourced from around the World.
IT'S NATURAL: The natural active ingredients in LivRelief make it a safer alternative for treating pain. LivRelief is dermatologist tested and Certified Hypoallergenic. It is safe to use as a standalone pain relief solution to symptoms related to tennis elbow, golfer's elbow, shin splints and other inflammation and soreness you may feel after performing your favorite activities like yoga, tennis or cycling.
IT'S POWERED BY PLANTS: LivRelief's active ingredient, capsaicin, a natural compound (found in hot peppers) known for its antioxidant, antiviral, antiallergenic, anti-carcinogenic and anti-inflammatory properties. In fact, 95% of our pain relief cream is made from natural properties.
IT'S TOPICAL: Oral pain medication must pass through your mouth, throat, stomach, liver and small intestine before it reaches your bloodstream. Because of that, you may suffer side effects including gastrointestinal distress, cardiovascular complications, dizziness and liver or kidney issues. With LivRelief, there are no known side effects and no drug interactions. Just pain relief.
IT'S GUARANTEED: LivRelief is the #1 selling Natural Pain Relief Cream in Canada because it works! But if for any reason you aren't satisfied, you can return your purchase for a full refund! No questions asked. We're that confident.