Let Your Kids Learn STEM And Dance With Jimu Buzzbot And Muttbot #Jimu
Acadiana's Thrifty Mom has been compensated in the form of a Best Buy Gift Card and/or received the product/service at a reduced price or for free.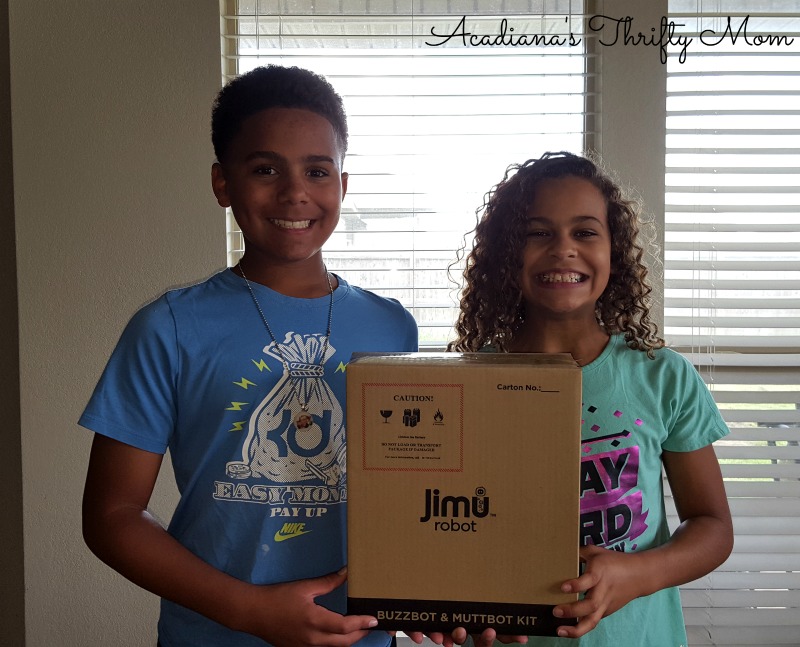 Woah now!  We were given the super fun opportunity to try out Jimu Robot from Best Buy.  I had no idea, at the time, what this would entail.  Sometimes I can get a little excited at the title of an email and just agree to anything, but I am super happy that I did agree to try out Jimu.  The kids and I have never put together a robot and, probably, didn't think it through before we did.  We had fun putting it together and learned a lot about robotics and patience along the way.
Well, we opened the box and we were on our way!  I was lost, from the beginning, I'm not going to lie to you.  BUT the way the box was laid out, along with the app on my phone, it only took about two minutes and I was right on track!  The amazing news is that the app and well organized box with the parts kept us on track until Jimu Buzzbot was complete.  I cannot tell you enough, how organized the box was and how easy the app made it to put Jimu Buzzbot together.
As you can see, in the photo above, all of the parts are in color-coded boxes.  These boxes make is super easy to locate all of the parts you need to put your robot together.  It took us about forty-five minutes, from start to finish, to get our robot up and running.  The kids could not believe we did it!  There was a HUGE sigh of relief when my phone paired with Buzzbot and he started dancing.  There was this "moment of truth" moment with him.  We knew we put all of the fasteners and cords in the right place, or did we?  Well, we did and we did it right the first time!
STEM stands for Science, Technology, Engineering and Math and STEM products encourage kids to develop core skills in these areas. Best Buy carries products from basic learning games to advanced toys designed to stimulate a child's mind in the STEM areas, helping to develop logic and problem solving skills.
About Jimu Robot Buzzbot & Muttbot Kit:
Create a custom-built robot that has moving arms and legs with this UBTech Jimu Robot Buzzbot and Muttbot kit. Choose from preprogrammed movements in the Jimu Robot App, or generate unique settings with the PRP function. This UBTech Jimu Robot Buzzbot and Muttbot kit includes 271 interlocking parts and is designed for children ages 8 and older.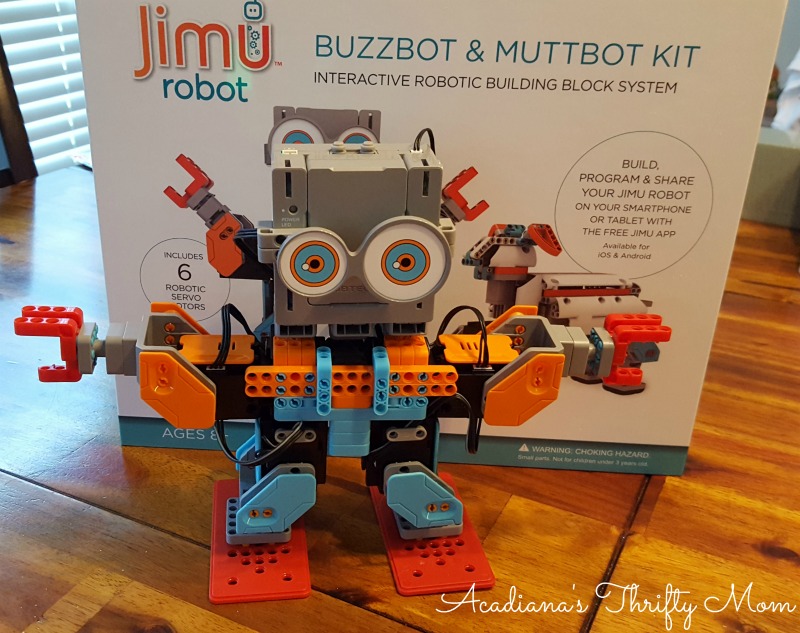 What's included:
Ubtech Buzzbot and Muttbot kit
Main control box(1)
Quick charge lithium-ion battery and adapter(1)
Smooth motion robotic servo motors(6)
Snap together interlocking parts and connectors(271)