Keep The Fun Of Cars 3 Going When You Bring These Fun Toys Home #Cars3
As with any new Disney film, there are tons of great keepsakes and toys that follow McQueen and Cruz along their adventure.  You're going to love these great toys, books, and keepsakes as much as your little ones do.  They have everything from shirts and jackets to books and play sets.  All of the new products are designed in the new Cars 3  theme with all of the great new vibrant colors!
We were given a few of the new products to test out ourselves, just to see the quality and how much fun they would be!  I have to admit, I am a little bit in love with the Cruz Ramirez die cast car.  Once you see the movie, you'll be in love with her too.  I bought the Cruz Ramirez t-shirts for my daughters while we were at Disneyland and they wore their matching shirts to see Cars 3 at our local theater last night.  After watching the film, they were both a little more in love with their shirts than they were when we walked in the theater.
Possibly, my favorite part about all of these products are their appeal to all ages.  From the books, to the RC cars, to the clothing line, there's something for everyone.  The movie is much the same way.  Cars 3 was great for my son and my husband as well as my girls.  My children range in age from 18 years old down to 10 years old and everyone had a blast watching it!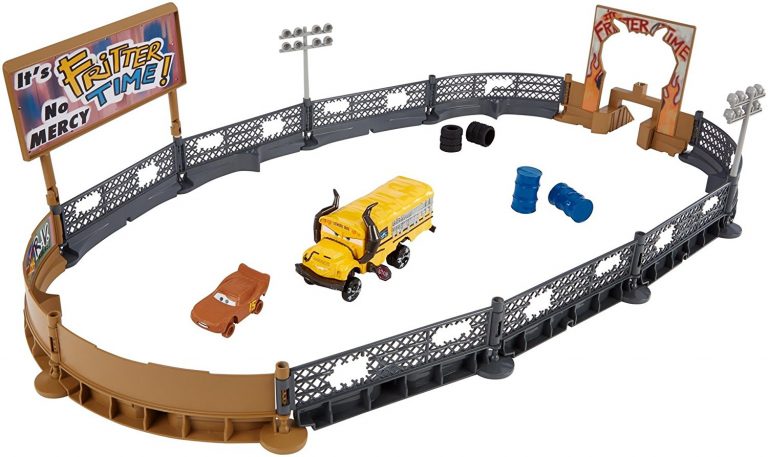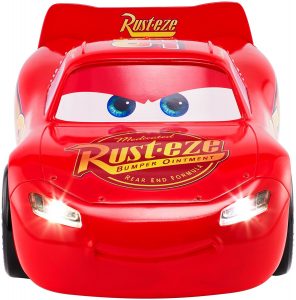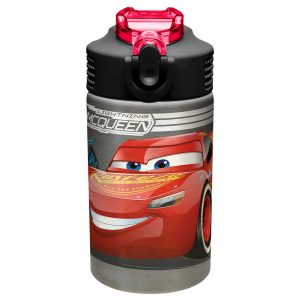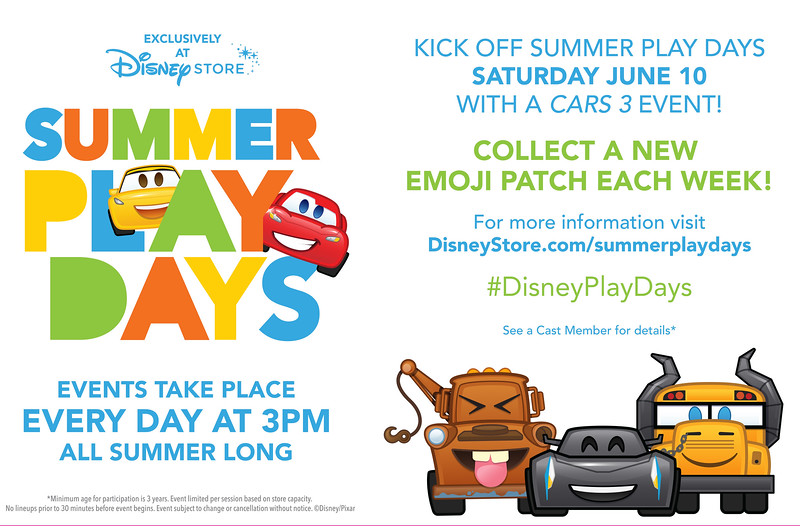 Summer Play Days from Disney Store:
Summer Play Days zooms back into Disney Store this week with free daily events all summer long in locations nationwide. The popular series will kick off with a special Disney·Pixar Cars 3 event on Saturday, June 10, where Guests will learn about the film's characters before jumping into the "driver's seat" and testing their "driving" skills with remote control vehicles on a mini racetrack inside each Store.
Beginning on June 10, Guests who participate in Summer Play Days will be able to collect Disney Emoji patches featuring different Disney, Pixar, Marvel and Star Wars characters. New patches will be available each Wednesday between June 14 and August 9*:
Sat. 6/10: Lightning McQueen
Wed. 6/14: Cruz Ramirez

Wed. 6/21

: Pascal

Wed. 6/28

: Storm Trooper

Wed. 7/5

: Spider-Man

Wed. 7/12

: Jackson Storm

Wed. 7/19

: Olaf

Wed. 7/26

: BB-8

Wed. 8/2

: Iron Man

Wed. 8/9

: Stitch
"Summer Play Days has become a Guest favorite at Disney Store and we know many look forward to these events each year," said Jonathan Storey, VP of Store Experience. "This summer, we are excited to continue offering our Guests great experiences now with the added fun of collectible Disney Emoji patches."
Guests will receive a special display card where they can attach their patches and those who have collected all of the weekly patches can receive an exclusive Mickey Mouse and Minnie Mouse patch between August 9-20.** Cast Members will also be distributing a special limited Simba patch spontaneously throughout Summer Play Days as a special magical moment for Guests.
Free daily events taking place through August 9 include Storytime, Art of Drawing and Showtimes:
Tangled the Series Event: Guests will learn to draw Pascal, Rapunzel's mischievous friend. A brief introduction is given to the history of Disney Animation.
Star Wars Adventures Event: Guests are invited to participate in three activities, including defense training against Stormtroopers, Millennium Falcon flight training and writing their name in Aurebesh. Guests will receive one of two Star Wars postcards (BB-8 or Chewbacca) and Aurebesh alphabet stickers
Art of Drawing Marvel's Spider-Man Event: Guests will learn to draw Marvel's Spider-Man. A brief introduction is given to the history of Disney Animation, as well as an explanation of traditional and modern Disney animation.
Mickey and the Roadster Racers Event: Guests will prepare for a race in Hotdog hills before they head to Italy to cheer on the Roadster Racers. Each Guest will receive their own trophy.
Princess Gathering Event: Guests will discover the Disney Princesses' ambitions, strengths and will learn what makes each one of them special. Guests who participate will receive a special wristband.
Star Wars Storytime Event: Guests will hear the story, "Star Wars: Escape from Jakku." Journey through the story, helping the narrators bring the story to life with interactive movements. Guests will receive a BB-8 finger puppet of their own.
Avengers Training Academy Event: Guests will take part of the Avengers Age of Ultron Training Academy to get an overview of each of the Avengers and learn their key skills and poses.
Elena of Avalor Event: Guests will use Elena's Scepter of Light to channel the powerful magic Elena has, play and dance along with an inflatable guitar and create their own Jaquin to fly around.
For additional information, contact your local Disney Store and join the summer fun during #DisneyPlayDays.
About Cars 3:
Blindsided by a new generation of blazing-fast racers, the legendary Lightning McQueen (voice of Owen Wilson) is suddenly pushed out of the sport he loves. To get back in the game, he will need the help of an eager young race technician, Cruz Ramirez (voice of Cristela Alonzo), with her own plan to win, plus inspiration from the late Fabulous Hudson Hornet and a few unexpected turns. Proving that #95 isn't through yet will test the heart of a champion on Piston Cup Racing's biggest stage! Directed by Brian Fee (storyboard artist "Cars," "Cars 2") and produced by Kevin Reher ("A Bug's Life," "La Luna" short), "Cars 3" cruises into theaters TODAY.
Like CARS on Facebook
Follow CARS on Twitter
Follow CARS on Instagram
Subscribe to the Disney/Pixar YouTube channel here
Visit the official CARS 3 website here
CARS 3 races into theatres everywhere TODAY!