It's A Jungle In There! At The Rainforest Cafe #GoHouston
*My family was given this travel opportunity in exchange for our honest feedback. As always, opinions are 100% my own and we only recommend places we feel are a great fit.*

Our final stop in Houston during our super fun-filled Fourth of July excursion was the Rainforest Cafe.  This was our first time going to a Rainforest Cafe and we weren't sure what to expect.  Of course we have heard of the Rainforest Cafe, but there isn't one close to us.  We were so excited to finally get the chance to check it out!  I just LOVE going to a new place with really no expectations, especially when we are pleasantly surprised by how AMAZING it is once we get there.  We were greeted at the front by the friendliest host EVER!  I don't know if y'all have noticed, but Hannah gives a "thumbs up" in every review where she is pictured and our host gave a "thumbs up" too!  We didn't even have to ask 😀  That guy was so much fun.
Just the walk through the mall to the cafe was gorgeous!  I had no idea it was going to be such an animated experience.  Even the animals on the walls outside of the cafe are animated.  This was very cool as it added to the anticipation for the kids 😀  They were not too happy about Mom wanting to take pictures of the outside of the restaurant LOL  They were ready to RUN INSIDE!   Just as we walked into the Rainforest Cafe, we had to pass through the gift shop!  The gift shop is an experience all its own.  There was a talking tree, costumes to buy, and a snake hanging from the ceiling 😀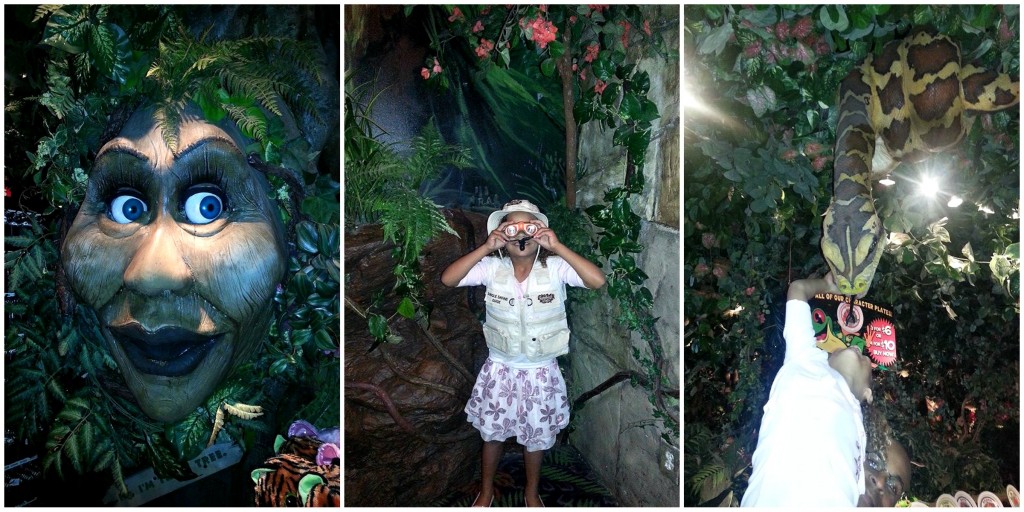 As we made our way through the 'jungle' to our table, we met a frog!  Yes, we met a frog; not just any frog, but THE FROG!  Cha Cha the frog walks around Rainforest Cafe greeting everyone.  This was such a fun added touch to our visit.
Alas, our food arrived!  Not a moment too soon, or too late.  Well, we did get the Awesome Appetizer Adventure before our main entree, which made the wait that much better.  I know y'all hear me say this a lot about food, but little details go a long way with me.  Everyone's plate was not only beautiful, but delicious!  Madeline's coconut shrimp was, by far the prettiest.  Everything fit the theme of the Rainforest Cafe.
What better ending to a fabulous meal than eating a VOLCANO?!  Oh yes, this was definitely the highlight to our meal.  Note to self, start your meal with dessert next time 😀  Yes, we all ate this one volcano and still couldn't finish it!  What a delicious combination of a soft, warm brownie, ice cream and hot fudge!  Oh yeah, and they bring it out with a sparkler sparkling on the top!  This was so much fun!
Follow Rainforest Cafe on Facebook
Follow Rainforest Cafe on Twitter
Follow Rainforest Cafe on Instagram