Jim Cummings; The Man Behind The Lovable Voice Of Winnie The Pooh
Jim Cummings; The Man Behind The Lovable Voice Of Winnie The Pooh.  Did you know that Jim Cummings has been the voice of Winnie The Pooh for thirty years?  Well, he has!  Not only that, but he has also been the voice of Tigger, Darkwing Duck, and hundreds of other characters.
*I received an all expense paid trip to Los Angeles for the coverage of this press event for Disney/Marvel.   All opinions are 100% my own and I only recommend events and shows that are a great fit for my readers.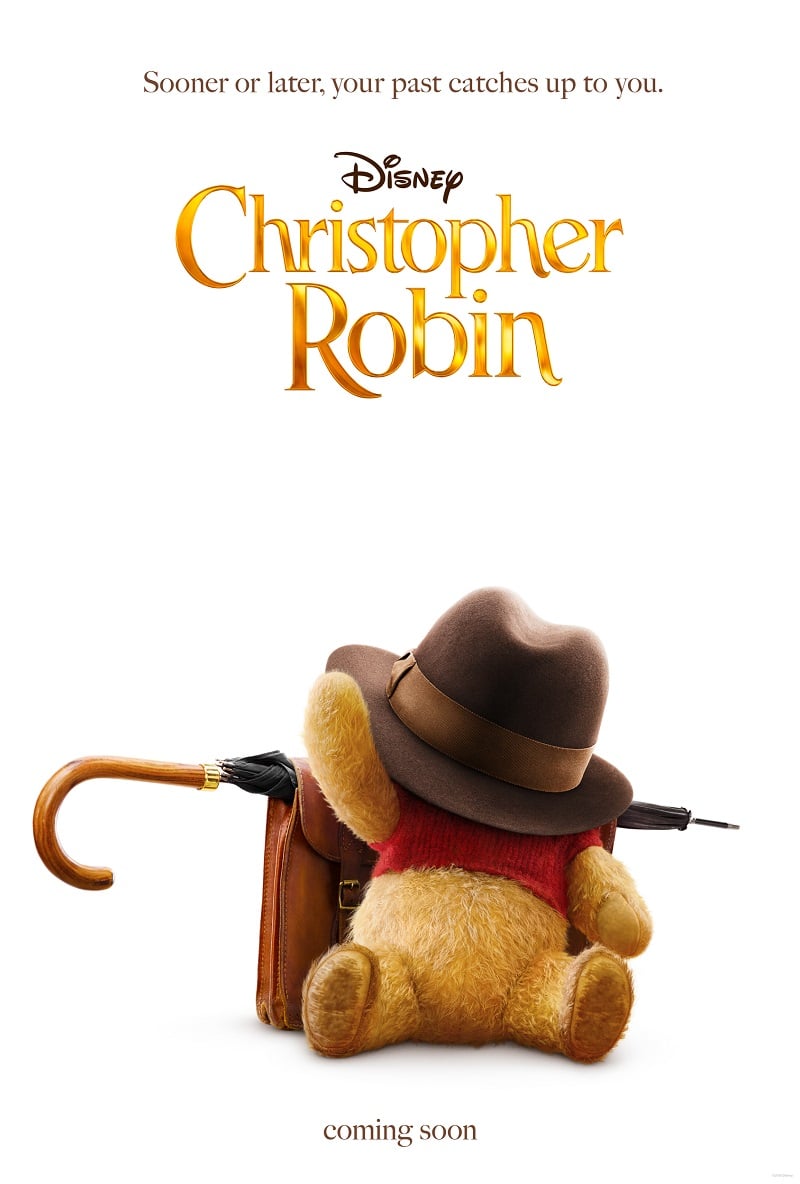 Jim Cummings has been around Disney for thirty years and he has voiced hundreds of characters during that time.  It was so much fun to get to sit down with him and hear a couple of these characters coming out during our interview.  If I could choose a gift, being able to change my voice at will, would definitely be at the top of my list of abilities I'd love to have.  It was so much fun to hear about his experiences with Disney, specifically Winnie The Pooh, over the years.  Jim Cummings' voice talent is legendary!
How difficult is it for you to switch voices from Winnie the Pooh to Tigger?
It's very hard. It's tough to do. I have to conjure up about a sweet spot somewhere. And then I just bounce. So, I don't, I, we're schizophrenic so it doesn't bother us. We're okay with it. Aren't we? Yes, we are.
You've done so many characters, how do you come up with each of those voices?
Well, you know, I sculpt it, I always think of it as sculpting like, you know, Pooh and Tigger were established a long, long time ago. So, those you just nail, you know, get on that. And job one when you're taking over a character that's been established is it has to sound like him if he
sneezes or you know, has hiccups or fill in the bodily function.  It has to sound like him and from there you're an actor, character actor, so you're playing the character.
But, the new ones like Dark Wing Duck, you work with the animators, with the producer, with the writers who sometimes know what they're talking about. And, so, it's a sculpting process, it's kind of like audio sculpting, it's like a sculpture you can hear.  Dark Wing, for example, wasn't the biggest guy in the world but he wasn't tiny, he wasn't a mouse.  They wanted him to be fairly bodacious and boisterous but not over the top; he wasn't goofy.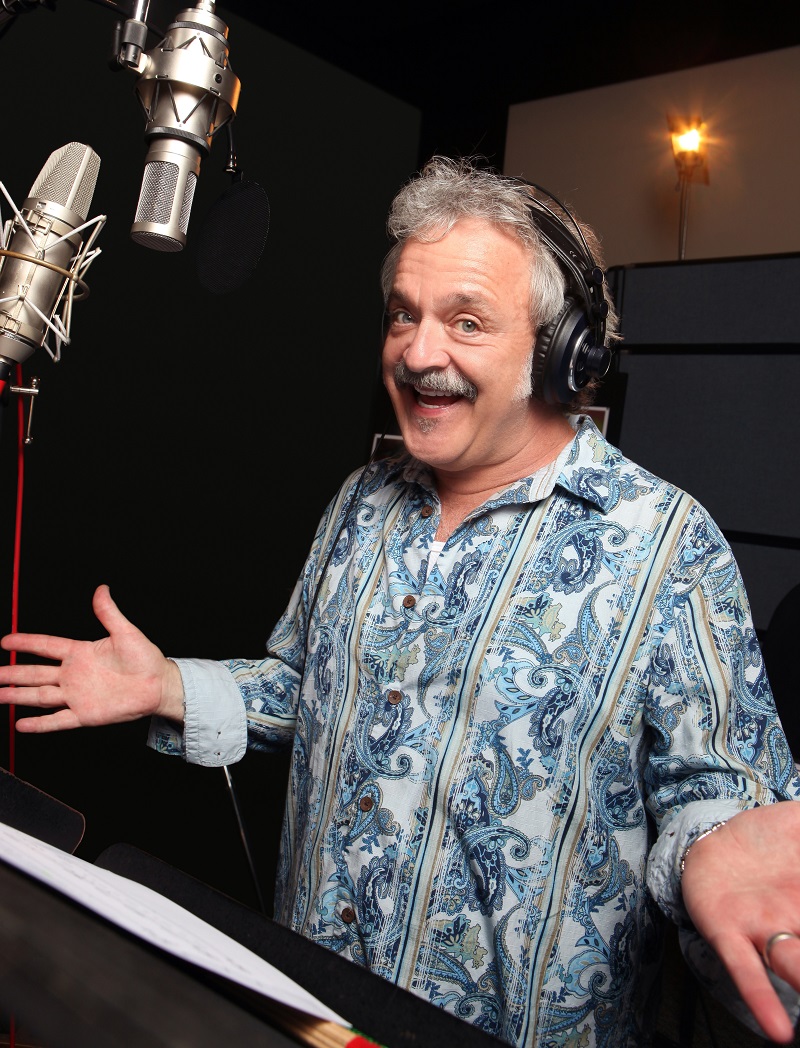 How does it feel to bring Winnie the Pooh to life again?
Well, he's been around with me for a long time. And it feels great.  I love the re-imagining.  Oh my goodness, Mark's vision is sublime.
I haven't seen it.  I've seen some of it, I know how it ends.  It just feels great to be associated with such a beautiful franchise. It's not a franchise to me. What am I trying to say? It's a universe, sort of.  The hundred-acre wood, everybody knows about it and everybody knows all those characters and they have a sweet spot in everybody's hearts and it's an honor.
It's an honor, it's a privilege to bring them forward to new generations. I've jokingly said, 'Winnie the Pooh generation is every three and a half years because brand new set of Pooh fans.'  But, it's joyous.  One of the best things about my job is when I'll do a voice for a little child or something and then they realize, 'wow, he doesn't really look like Winnie the Pooh.'  So, I can't tell if, but their mothers are going, 'no it's fine, it's fine, it's really cute.' You know, so it's not too bad. Yeah, it's not bad, beats heavy lifting.
What do you think it is about Pooh's voice that just gets such a reaction from everybody that hears him?
We've talked about that and thought about it.  I think almost no matter how old you are, there's a certain feeling of it's a pipeline to you at five or eight years old.  It just seems like, 'oh gosh, that reminds me of when I was,' you know, and then you're going, 'oh, that's, boy those were good times, oh say something again.' You know, and it, it's just a comfort. I think it's like audio comfort, you know.
Do you have a favorite Pooh quote that you've said over the years?
There are so many.  I always say that there's such a thing as Pooh logic. You say well, 'what do you think Pooh–.' Well, I think that I think. You know, it's just Pooh logic. It's the various things, 'you're stronger than you seem, you're braver than you think and smarter than you think, stronger than you feel and braver than you seem'.
People end up knitting those things into or making plates and, 'would you sign that?', 'I'd love too.' There's plenty of them. I always like the 'I usually get to where I'm going by walking away from where I've been'.  It's just so plain and it's so right down there to earth. There's a lot of maybe not Forrest Gump, but a little.
There was a movie called Being There with Peter Sellars, long time ago.  He didn't know there was a hurricane going on around him because he was right there in the center and he was calm and serene. And he's got that approach with things. You know, 'people say nothing is impossible but I do nothing every day'.  So, yeah, it's that sweet little logic.
How much influence do you have the lines that Pooh says because you voiced him for thirty years.
I ad lib a lot, that's why they get me sometimes, like with Tigger and Pooh. And, not so much as with them as with many of the other characters that I've done, Hondo from Star Wars and Dark Wing is another.  And Ray,  Princess and the Frog, he was one of my favorites and, I think for Princess and the Frog that's probably the only movie I don't think I said one thing they wrote.
I sang the song right though, I did that part okay, I couldn't change those lyrics.  Cause then Randy Newman says, 'oh, no, no, no, you're, you're not getting a lyric credit on this.' But, other than that, I guess I have input. You know, and I always do it as written, cause you have to. Okay fine,  but and then I do it the right way, no just kidding. But, if they like it, they like it, the thing is it has to contribute to the story. It can't be we're having a scene, this is what's happening, and say, 'oh here's a funny joke, okay stop, okay laugh, now, where were we?  We gotta go back to the scene.  So, as long as it contributes.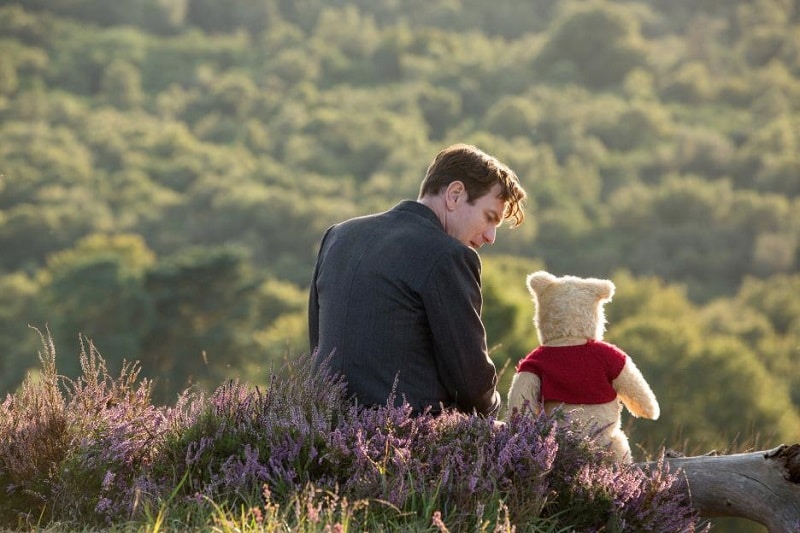 Did many of your ad libs make it to the movie?
Yes, 'oh bother', was my big, no.  I, no kidding I haven't seen it.  Tigger ad libs more than Pooh and he came along a little bit later for me. If you know that story.
Did you do a lot of impressions and imitations when you were a kid?
Oh, yeah, I was very annoying. God, they just hated me and I cringe when I think of it.  My God, rest her soul my Aunt Grace, for all the world, she just sounded like she was a boxer. 'You know, she hated that sort of a boy,' but she does sound like that.  Yes, everybody knows what she sounds like, but it's really funny.
I love that Jim Cummings loves Winnie The Pooh. Listening to him talk about Winnie The Pooh and Hundred Acre Wood really gives you a sense of how important and special this role is to him.  It is important that he gets to do it and continue the legacy of Winnie The Pooh in Christopher Robin.
About Disney's Christopher Robin:
In Disney's heartwarming live action adventure, the young boy who shared countless adventures with his stuffed animal friends in the Hundred Acre Wood has grown up and lost sight of what's important in life. Now it is up to his childhood friends to venture into our world and help Christopher Robin rediscover the joys of family life, the value of friendship and to appreciate the simple pleasure in life once again.
Christopher Robin is directed by Marc Forster from a screenplay by Alex Ross Perry and Allison Schroeder and a story by Perry based on characters created by A.A. Milne and E.H. Shepard. The producers are Brigham Taylor and Kristin Burr, with Renée Wolfe and Jeremy Johns serving as executive producers. The film stars Ewan McGregor as Christopher Robin; Hayley Atwell as his wife Evelyn; Bronte Carmichael as his daughter Madeline; and Mark Gatiss as Keith Winslow, Robin's boss. The film also features the voices of: Jim Cummings as Winnie the Pooh and Tigger; Brad Garrett as Eeyore; Toby Jones as Owl; Nick Mohammed as Piglet; Peter Capaldi as Rabbit; and Sophie Okonedo as Kanga.
Get social with Christopher Robin:  Facebook     Twitter     Instagram     #ChristopherRobinEvent
Christopher Robin is now open in theaters everywhere!
You can get your tickets now over at Fandango!
https://acadianasthriftymom.com/2018/07/25/extended-sneak-peak-for-disneys-christopher-robin-just-released/
https://acadianasthriftymom.com/2017/11/29/the-meaning-and-love-behind-the-music-of-disneypixar-coco/
https://acadianasthriftymom.com/2018/06/04/hold-on-to-your-hats-while-ralph-breaks-the-internet-with-the-new-wreck-it-ralph-2-poster-and-trailer/