Instant Pot Bread Pudding With Rum Sauce
Instant Pot Bread Pudding With Rum Sauce.  Have you ever thought of making bread pudding in your Instant Pot?  Well, I have and I did just that!  It turned out amazing and was so fast and easy.
This bread pudding with rum sauce was just as rich and moist as my favorite bread pudding that I make the "old fashioned way".  Living in south Louisiana, bread pudding is a staple to any great meal.  I love making it for breakfast, dessert, or just because.  You will see, bread pudding is a great way to get the family to gather around the kitchen table and see what is cooking!  What I love most about this recipe is that you can get everything ready the night before and just stick it in your Instant Pot in the morning to cook while you're getting ready for your day!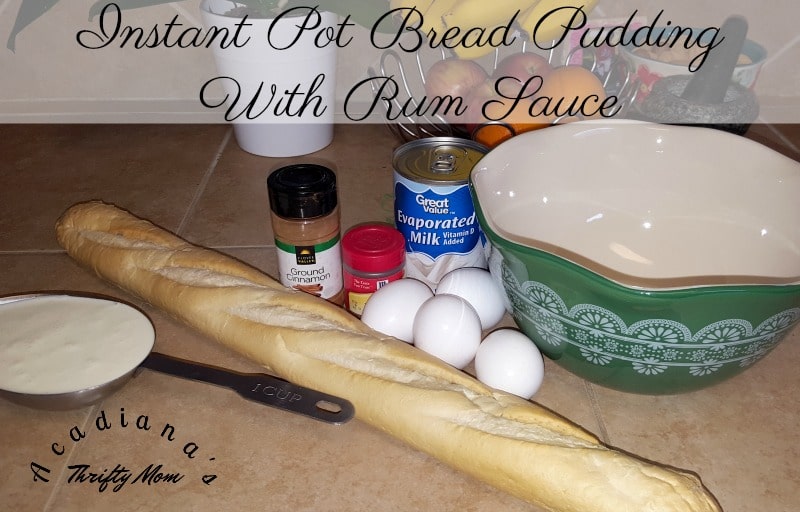 One piece of advice I will give for anyone before they start cooking desserts in their Instant Pot is to sanitize your pot, especially the rubber ring, before you cook them.  If you have been cooking dinner in your instant pot for a while, you will find that it has, likely, been hanging onto those flavors you have been cooking in it.  My friend, Carla, over at Adventures of A Nurse has some great tips on How To Clean Your Instant Pot.  If you are able to, get two Instant Pots and have one of them dedicated just for desserts.
You can use any kind of bread you prefer for this recipe.  I prefer a baguette because it gives a great soft, chewy consistency when used in bread pudding.  I have made bread pudding using French bread and even cinnamon rolls before.  Get creative and make it your own.  Let me know how you modified the recipe in the comments below.  I love trying new spins on my old favorites.
Instant Pot Bread Pudding With Rum Sauce
Ingredients
Bread Pudding
3/4

cup

sugar

2 1/4

cups

evaporated milk

5

large

eggs

2

tsp

vanilla extract

2

tsp

pumpkin pie spice

1

loaf

Baguette

sliced

1/2

stick

butter
Drizzle Sauce
1/2

stick

butter

1/3

cup

brown sugar

1

tsp

rum extract
Instructions
Mix first 5 ingredients in large mixing bowl.

Add bread and press down until bread is completely covered by mixture.




Soak for an hour in the refrigerator.




Spray your Instant Pot with cooking spray and pour in the mixture.




Slice butter and place around top of mixture in pot.




Close the lid of your Instant Pot, press the Multigrain function and adjust to 35 minutes.




Open the lid of your Instant Pot and check the inside of the bread. If it's moist, it's done! If it's still too wet, close the Instant Pot and cook again for 5 minutes.




Once the bread pudding is fully cooked, turn off the Instant Pot and let cool.




Drizzle Sauce

Place a pot on medium heat on the stove. Add the butter, sugar, and rum extract.




Heat and stir until fully melted and thickened, about 5 - 8 minutes.

Cut the bread pudding into 8 pieces and then drizzle the sauce over each piece. Serve.
If you liked this recipe, give these other recipes from Acadiana's Thrifty Mom a try:
https://acadianasthriftymom.com/2018/03/24/easy-instant-pot-dirty-rice-ready-in-under-30-minutes/
https://acadianasthriftymom.com/2018/04/20/instant-pot-pizza-pasta-bake-in-20-minutes/
https://acadianasthriftymom.com/2017/10/02/get-ready-for-game-day-with-these-instant-pot-cherry-dr-pepper-bbq-chicken-sliders/