How I Survived Disneyland's Tomorrowland #TomorrowlandEvent
*I received an all expenses paid trip to Los Angeles for the coverage of several press events for Disney. All opinions are 100% my own and we only recommend events and shows that are a great fit for our readers.
I recently took a trip to Los Angeles to learn all about Disney's new family friendly movie, Tomorrowland starring George Clooney.  One part of our trip was visiting Tomorrowland in Disneyland and I survived!  It wasn't easy, but I was able to make it out in one piece 😀  This was my second time visiting Disneyland and I still haven't seen everything they have to see and do there.  We spent much of our day in Tomorrowland and had a blast!  Tomorrowland is full of rides, shows, exhibits, and now the sneak peek at Tomorrowland.  We rode Space Mountain,  played Buzz Lightyear Astro Blasters, shared the  Star Tours – The Adventures Continue experience, and ate lunch at Tomorrowland Terrace.  This was such an amazing experience and helped add such great insight to Walt Disney's vision for the future and what a wonderful dreamer he was.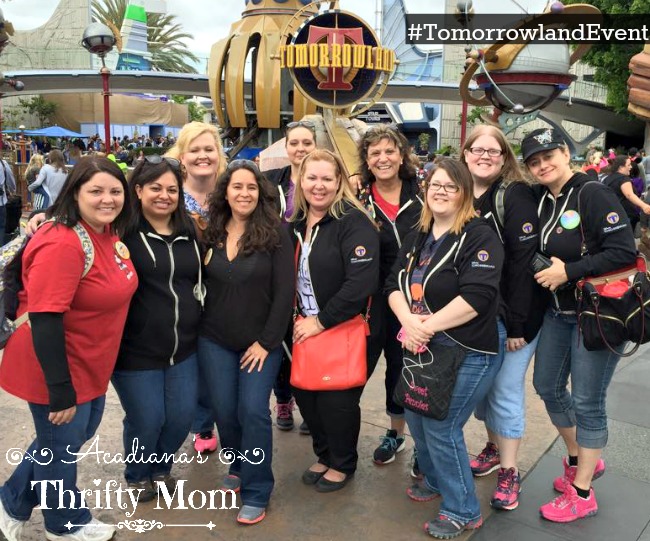 Photo Credit: Disney Gals
We started our day at Disneyland by viewing the exclusive sneak peek into the film Tomorrowland at the Tomorrowland Theater inside Tomorrowland at Disneyland (WHEW!  Those are a lot of Tomorrowland's LOL).  I had no idea what I was in for when I took my seat inside the theater.  Although we had seen the entire movie the night before, nothing could have prepared me for the 12  minute wild ride we would take that afternoon!  The sneak peek was shown on a huge screen with amazing effects at our seat.  Our seats rocked and rumbled with the movie, we even had mist sprayed at us during parts of the movie that had water in them.  It was a blast (from the past…errr, um, future)!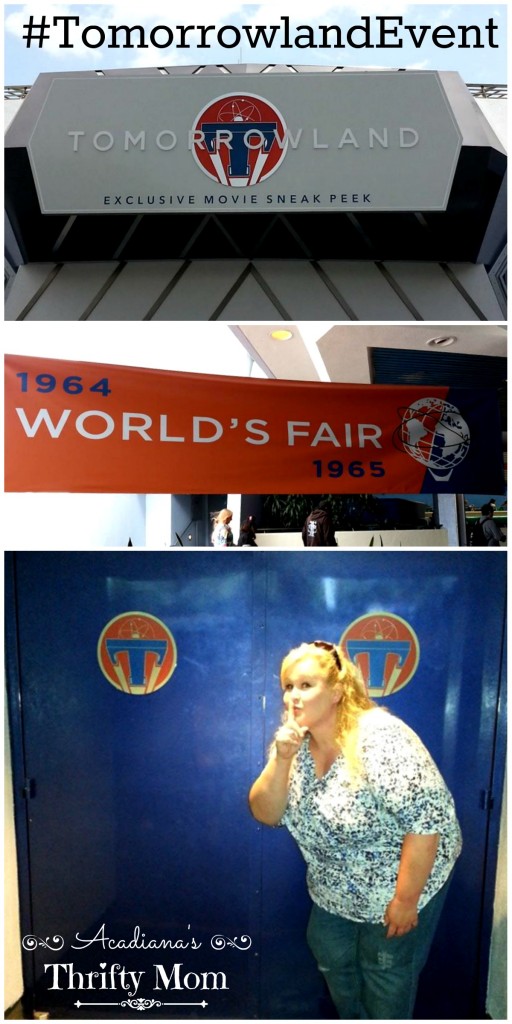 After we finished the sneak peek inside the Tomorrowland Theater, we were excorted next door to Starcade where they had actual props from the movie.  there was also original artwork, maps and newspaper articles from the 1964 New York World's Fair.  If you didn't know the connection between Disney and the World's Fair, don't feel bad, I didn't either!  I was simply amazed at all of the amazing artifacts that were on display.
As you can see below, there were tons of props from the actual Tomorrowland movie.  These are only a few of the them on display.  There was Frank's (George Clooney) homemade jet pack, a Tomorrowland jet pack, weapons and production artwork!
All of the pieces are behind glass for obvious reasons.  I was looking for a way to show everyone how awesome this experience was and give a clearer picture of the room at Disneyland with the Tomorrowland props when I stumbled on this video below.  This gives a great idea of the props, the room, and what better way to do that than with commentary from director/producer/writer Brad Bird and producer/writer Damon Lindelof?!  I just love when Youtube really comes through for me 😀
 Below are the suits and jetpack worn in Tomorrowland.  Once you see the movie, this will mean so much more to you.  You will notice, as Brad Bird pointed out in the video above, the more futuristic jetpack that was used in Tomorrowland kept the "T" theme by being made into the shape of a "T" for Tomorrowland.  I am not one to watch a movie more than once and, certainly, not more than twice, but Tomorrowland will be the exception!  There are so many little "nuggets" that I feel like I missed the first time around and there is so much to learn about our past and future with this film.  It is definitely going to be on weekly replay once it comes out on DVD 😀  Until then, I *may* make a few trips to the theater after it opens on May 22!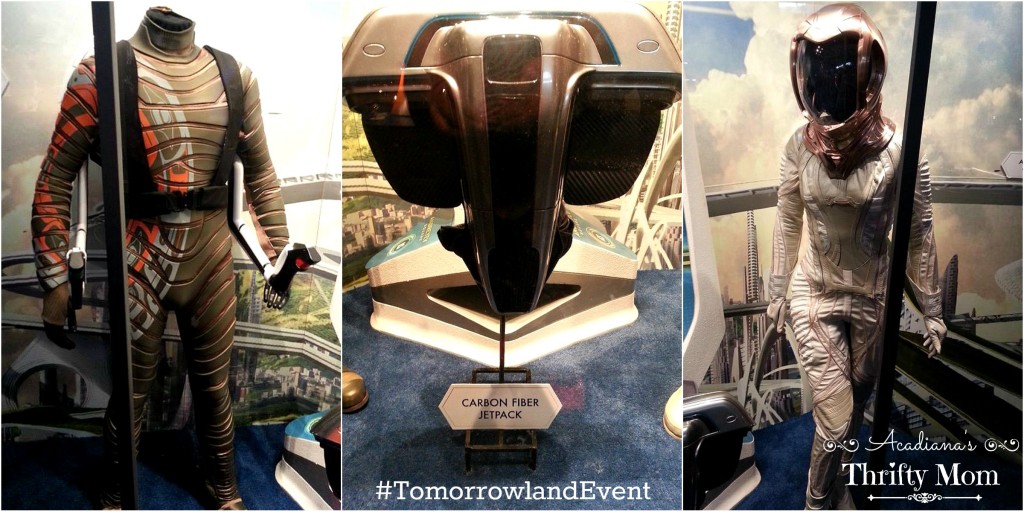 While we were at Disneyland, we learned that this is their 60th year of creating magic.  This year Disneyland has its 60 year celebration!  We were able to share in the magic of this upcoming event and share it with all of you.  "The Disneyland Resort Diamond Celebration begins Friday, May 22, 2015, celebrating 60 years of Disney magic with three new nighttime spectaculars, dazzling decor and an exciting sweepstakes that will award authentic diamonds and one-of-a-kind prizes to some lucky guests."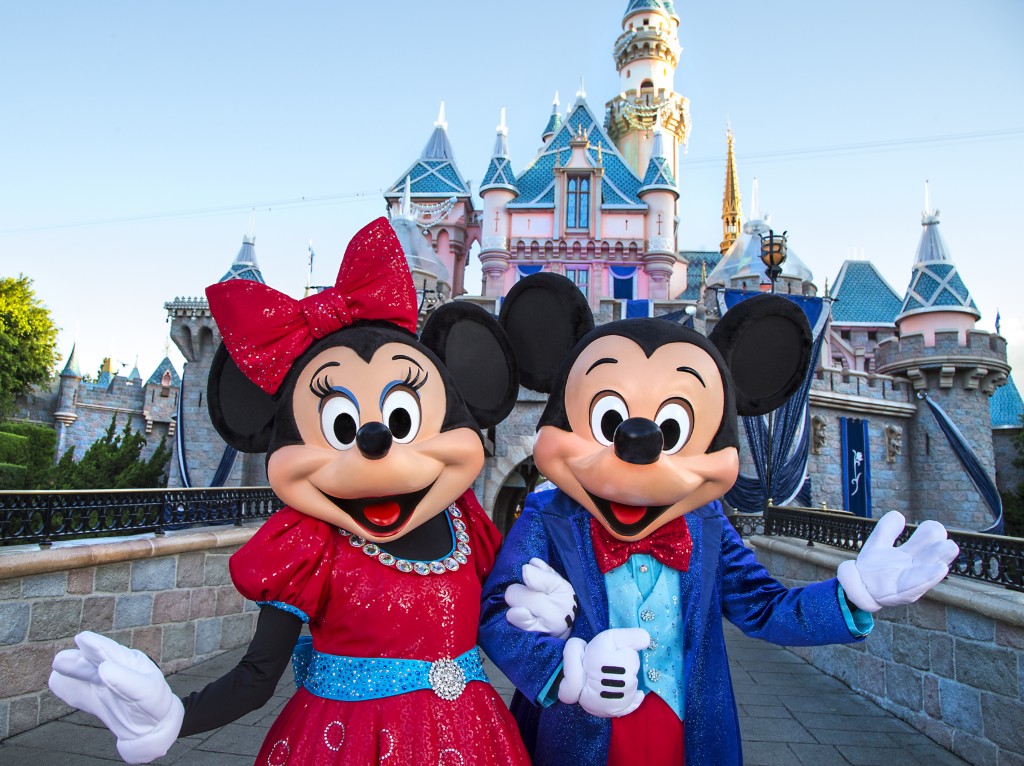 From Disney comes two-time Oscar® winner Brad Bird's riveting, mystery adventure "Tomorrowland," starring Academy Award® winner George Clooney. Bound by a shared destiny, former boy-genius Frank (Clooney), jaded by disillusionment, and Casey (Britt Robertson), a bright, optimistic teen bursting with scientific curiosity, embark on a danger-filled mission to unearth the secrets of an enigmatic place somewhere in time and space known only as "Tomorrowland." What they must do there changes the world—and them—forever.
Featuring a screenplay by "Lost" writer and co-creator Damon Lindelof and Brad Bird, from a story by Lindelof & Bird & Jeff Jensen, "Tomorrowland" promises to take audiences on a thrill ride of nonstop adventures through new dimensions that have only been dreamed of.
Like TOMORROWLAND on Facebook 
Follow Disney Pictures on Twitter #Tomorrowland
Visit the official TOMORROWLAND website 
TOMORROWLAND opens in theaters everywhere on May 22nd!