Homemade Ranch Dressing Mix
Homemade Ranch Dressing Mix.  This is my favorite of all our homemade dry mixes!  It is so easy peasy to make and you can use it to season just about anything 😀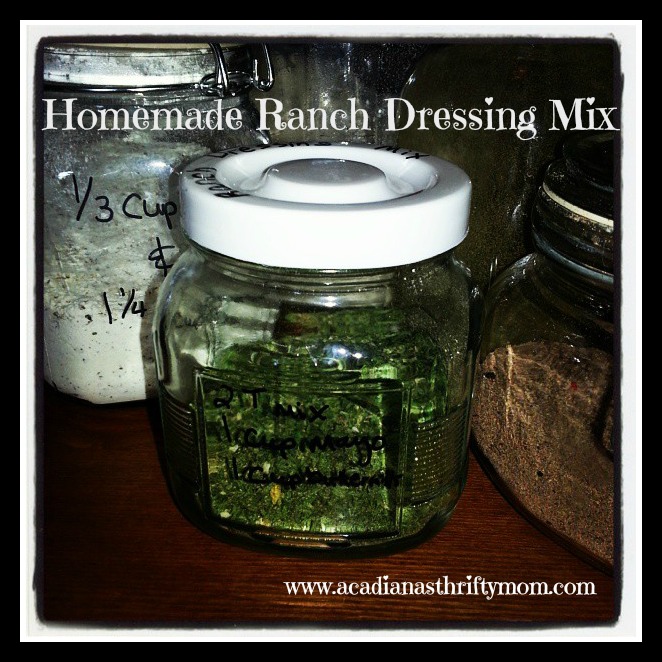 I love having all of the ingredients on hand to make any dressing or mix I need.  Everything from poultry seasoning to Biscuit mix can be created using a few shelf ready ingredients.  It is great to know how to make these whenever you are in a pinch.  They also have the added bonus of having fewer ingredients than the store bought mixes, which makes them better for your family.  This Homemade Ranch Dressing Mix also makes a great teacher gift!
Gather your supplies:
1/2 Cup dried Parsley
1 Tablespoon dried Dill
1 Tablespoon Garlic powder
1 Tablespoon onion powder
1/2 Tablespoon dried Basil
1/2 Tablespoon white Pepper
1/2 Tablespoon dried Chives
1/2 Cup Dry buttermilk powder
Mix 2 Tablespoons of mix with 1 Cup buttermilk** and 1 Cup of mayonnaise. This mix is great for seasoning potatoes, chicken and many other foods. Get creative and make it your own!
** Most people don't keep buttermilk in their refrigerator, so if you need some for this recipe; simply add 1 Tablespoon of vinegar or lemon juice to 1 Cup of milk and allow to sit for 10-15 minutes. VOILA! You have buttermilk 😀
https://acadianasthriftymom.com/2013/09/08/cream-of-anything-soup-mix/
https://acadianasthriftymom.com/2013/09/08/diy-poultry-seasoning/
https://acadianasthriftymom.com/2012/02/27/diy-homemade-dishwasher-detergent/