Homemade dish washing liquid
Homemade dish washing liquid.  After using the homemade laundry detergent for over a year and loving it, I decided to try dishwasher detergent and I love it too!  Next on my agenda was to try homemade dish washing liquid.  I can tell you that I am also loving it ♥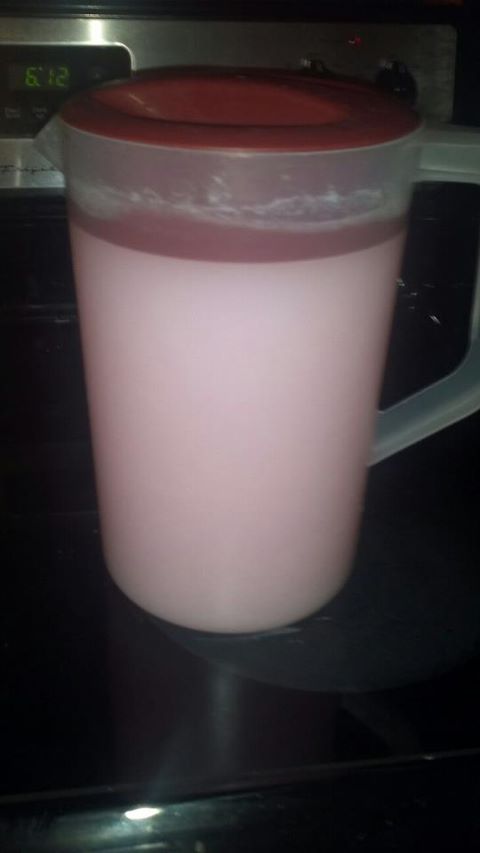 Here is the simple, recipe to follow to make your own dishwashing liquid.  This recipe makes 1 1/2  gallons which will probably last my family of 5 at least 6 months 😀
Gather your supplies:
Large stock pot (3 gallons or larger)
1/2 bar grated soap (octagon works best)
1 cup baking soda
1/4 cup washing soda (not the same as baking soda)
1/4 cup lemon juice
1. Bring 2 gallons of water to a boil in the stock pot.
2. Turn down to medium low and, after the boiling has stopped, add grated soap, baking soda, washing soda, and lemon juice to the water  Allow to "simmer" with the lid on for about an hour, stirring every 20 minutes or so.  DO NOT BOIL!
3. Turn mixure off and allow to cool. I stirred mine about every hour or two while it was cooling to keep it from separating.
4. Pour into a container for storage. I used 2/1 gallon pitchers from Walmart. This allows for easier pouring into smaller containers. ENJOY!