Hollywood Wax Museum, Pigeon Forge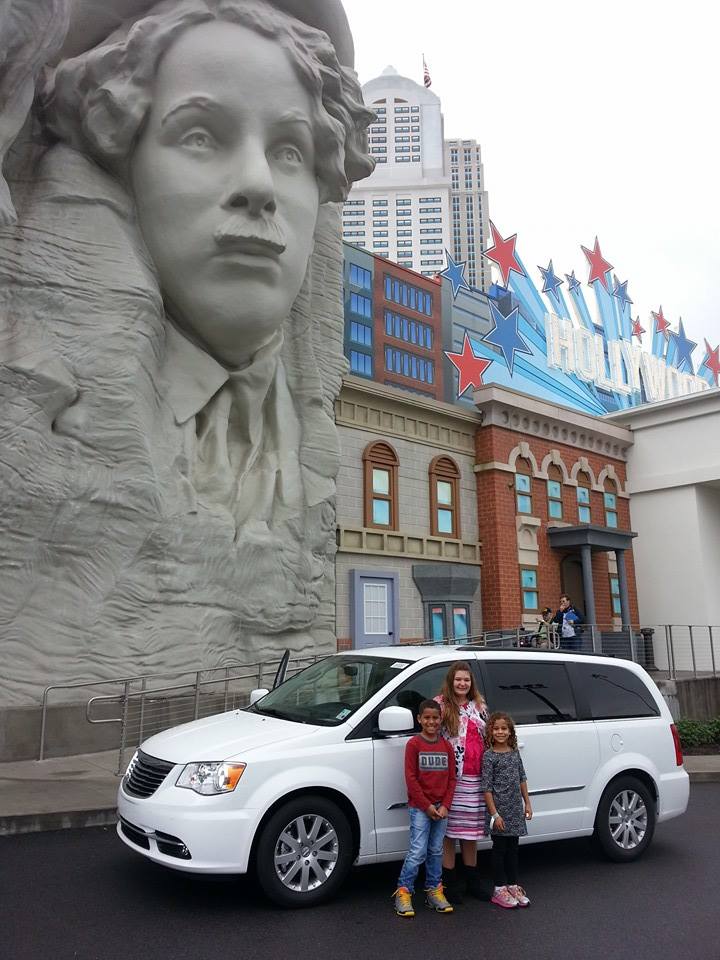 Hollywood Wax Museum, Pigeon Forge I have been wanting to go to the Hollywood Wax Museum for years. We went to Hollywood last year, but didn't get a chance to go to the wax museum. As you can imagine, I was beside myself when I was invited to visit the Hollywood Wax Museum during our recent trip to Pigeon Forge! We had so much fun taking pictures with all the wax celebrities. I'm pretty sure Hannah took a picture with all of them. Don't tell her, but I deleted a few LOL
About the Hollywood Wax Museum:
"The new Hollywood Wax Museum has become an instant landmark in the Smoky Mountain community of Pigeon Forge, Tennessee. High on the hill at the corner of Parkway Boulevard and Showplace Boulevard in Pigeon Forge, Hollywood Wax Museum is the only wax museum in the country devoted entirely to celebrity figures. The two-story Museum brings Pigeon Forge tourists and locals into the world of Hollywood Stars and allows visitors to get close to some of the most famous people in show business, recreated so faithfully that you'd swear they are were alive. Hollywood Wax Museum houses tons of uncanny replicas, lending themselves to fun photo opportunities for guests. If you're waxing for fun things to do in Pigeon Forge TN, the country's largest Hollywood Wax Museum is a must-see."
Even my husband had fun posing with his favorite celebrities!
My 14 year old had to be persuaded into posing, but once she got into it; she had FUN with it!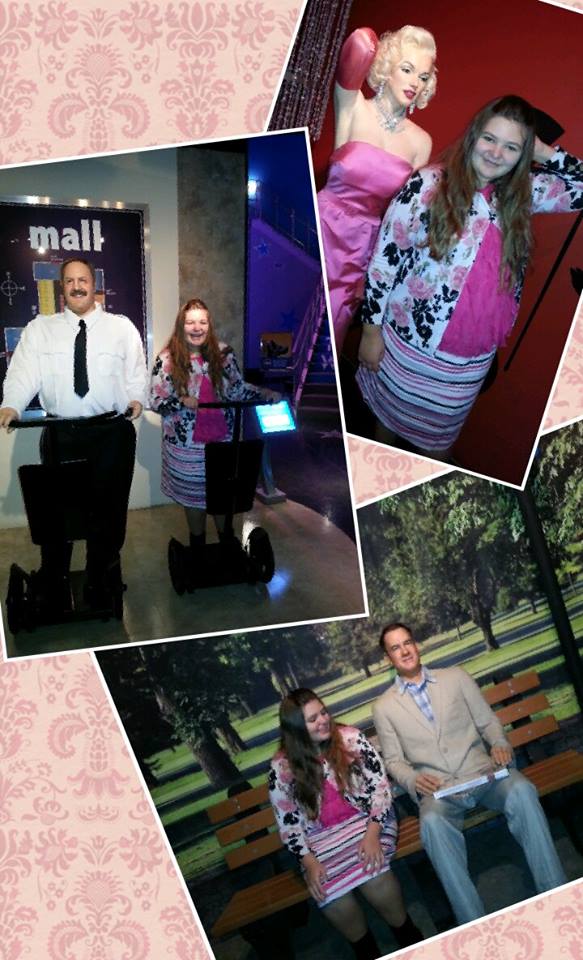 I told you that Hannah took a picture with every celebrity she could find! I'm not sure if she was more excited to see them or that they got to see her.
Of course, Isaiah had to find the horror celebs to pose with. He does love Happy Gilmore, but as for the other two, he didn't know who they were.
Oh yes! I think I had the most fun at the Hollywood Wax Museum. I even took a picture of myself twerking with Miley Cyrus, but my husband wouldn't let me post it HAHA! This trip was a BLAST!
WAIT! THERE'S MORE! Right across the parking lot from the Hollywood Wax Museum in Pigeon Forge is Hannah's Maze of Mirrors and The Castle of Chaos.
First we went into the Castle of Chaos. This was such a fun interactive zombie killing game! My kids are not allowed to watch any scary movies, so it was definitely not something they're used to ever seeing. We had a lot of fun though.
About Castle Of Chaos:
"Where can you find the first 5D attraction in the world? At the Castle of Chaos, part of the Hollywood Wax Museum Entertainment Center! This brand new haunted attraction in Pigeon Forge, TN, combines the experiences of a 3D film, a ride, and a video game in one scary fun adventure. The mission: explore a mysterious Pigeon Forge castle to discover the potential outbreak of paranormal activity. Buckle into your armchair and pick up your pistol as you prepare to see, hear, feel and smell the chaos while shooting for the highest score. Winners are shown on-screen at the end of every haunted ride. The Castle of Chaos in Pigeon Forge was called one the best new attractions in the world by the International Association of Amusement Parks & Attractions."
After the Castle of Chaos; we went to Hannah's Maze of Mirrors! Aside from us finding out that my 7 year old is claustrophobic; we had a lot of fun! I am also claustrophobic but it did not bother me at all. It was a lot of fun!
About Hannah's Maze of Mirrors:
"Are you the chosen one? Find out at Hannah's Maze of Mirrors in Pigeon Forge, Tenn where a mirror maze adventure awaits. Family fun is the name of the game as you work your way through the mirrored corridors to rescue Princess Hannah of Savannah. When you spot the castle at the Hollywood Wax Museum Entertainment Center, you'll know it's time to get lost in a modern-day fairy tale where you'll discover 288 potential turns among hundreds of mirrored walls and archways and several sections where no matter which way you turn, you see infinite reflections in every direction. Team with King Oscar, Queen Emmy, and the Wizard of the Golden Globe to find the Princess before time runs out. This mirror maze is one of the best Pigeon Forge attractions for families and fun-seekers of all ages. A single admission is good for unlimited visits on the same day."