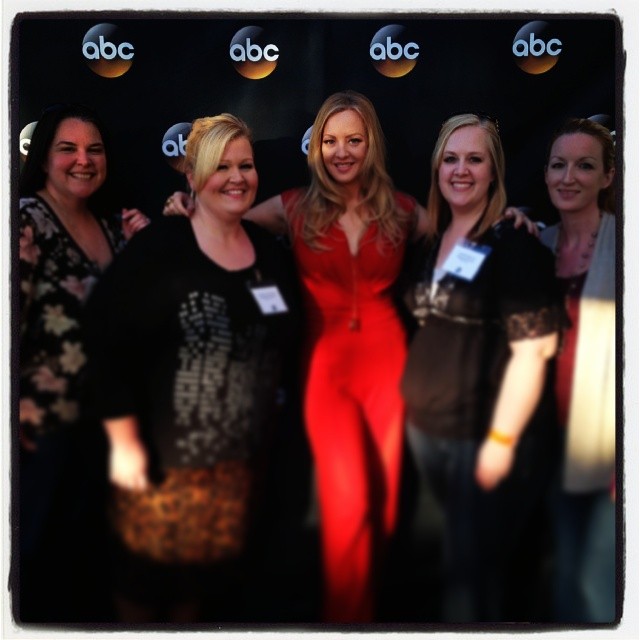 From left to right:  Sherry from Family Love & Other Stuff, ME 🙂 ,Wendi McLendon-Covey from THE GOLDBERGS, Dawn from Blogging Mom of 4, and Tiffany from Fabulous Mom Blog
Hanging Out With The Moms of ABC
By now, you know about my once-in-a-lifetime trip to Los Angeles last month where I was given the amazing opportunity to walk the red carpet; not once, but twice!  I was on the Red Carpet at the historic El Capitan Theatre in Hollywood for the Muppets Most Wanted World Premier and again for the Captain America:  Winter Soldier World Premier!  Now, let me tell you about my favorite (don't tell Marshall Weinbaum) part of the trip!  I was able to have cocktails and mingle with some of the most famous and up-and-coming moms of ABC at the Walt Disney Animation Studio Building!  Talk about AMAZING!
Here is a line-up of the moms we got to "hang out" with:
• Wendi McLendon-Covey of THE GOLDBERGS (Tuesdays 9/8 central)
• Amanda Fuller of LAST MAN STANDING (Fridays 8/7 central)
• Ming-Na Wen of MARVEL'S AGENTS OF S.H.I.E.L.D. (Tuesdays 8/7 central
• Patricia Heaton of THE MIDDLE  (Wednesdays 8/7 central)
• Frankie Shaw of MIXOLOGY (Wedensdays 9:30/8:30 central)
• Alexis Carra of MIXOLOGY (Wedensdays 9:30/8:30 central)
• Toks Olagundoye of THE NEIGHBORS (Fridays 8:30/7:30)
• Jami Gertz of THE NEIGHBORS  (Fridays 8:30/7:30)
• Malin Akerman of TROPHY WIFE (Tuesdays 9:30/8:30 central)
So, we were told that we would be able to "mix, mingle, take pictures & ask questions with actresses who are real-life moms or maybe just play one on TV. Food & drinks will be provided of course!"  Okay, that sounds nice enough, but no one prepared me for how surreal this would be.  I was literally sitting on a couch with these actresses telling stories about my family and listening to amazing stories about their real-life families!  How amazing is that?!
Have you seen Malin Akerman in Trophy Wife?  It is HILARIOUS!  It is so funny and relatable for anyone with a quirky blended family.  I got to hear all about Malin Akerman's baby boy and all the fun things he's discovering.  I was even able to give her a few tips about when he starts walking.  WOAH MAMA!  WATCH OUT!  LOL  Malin is in Baton Rouge this month and I'm supposed to be eating crawfish with her at some point LOL
Have you seen Jamie Gertz in The Neighbors?  As you can probably tell, I am a huge fan of comedies.  If you haven't seen her in her role in The Neighbors yet, you really should make a point to try and catch it.  You'll be happy you did 😀  Jamie Gertz and I sat at a table together and talked about the funny "stresses" of motherhood and working.  Jamie was as sweet as she could be!  You see these moms on television and imagine them being just like that in person.  These moms couldn't have been more down-to-earth!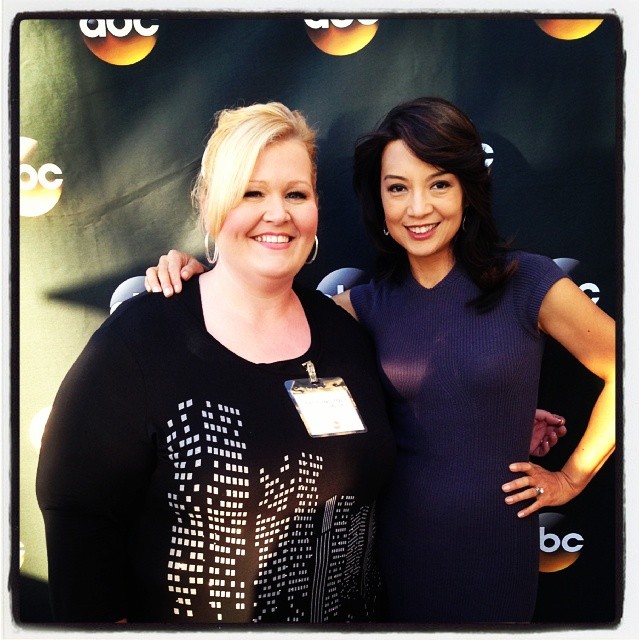 Then Ming-Na Wen!  Oh my goodness!  Ming-Na is AMAZING in her role as Melinda May in Agents of S.H.I.E.L.D., but I've been watching her since ER…ummmmm….maybe I'm telling my age LOL  I love her!  Now that I was able to talk to her I love her even more and she is so beautiful!  She was so friendly and just genuine.  How cool is that?!
Patricia Heaton from The Middle also came and sat down with us and WOW!  I watched her for years on Everybody Loves Raymond!  Now, watching her on The Middle is just hilarious!  I am in love with that show!  Another awesome mom from ABC.  There were so many questions I wanted to ask her, but most of them had to do with Everybody Loves Raymond LOL  So, I just sat and listened to her talk and answer questions from a couple of the other bloggers.
This was such an amazing opportunity to see these moms in their element.  We were able to talk to them as moms, not as reporters or the paparazzi.  We were able to share with them about our families and they shared with us about theirs.