To celebrate DisneyNature Bears opening in theaters everywhere this week, Friday April 18; Acadiana's Thrifty Mom has joined up with some amazing bloggers to bring you this amazing Alex Woo pendant!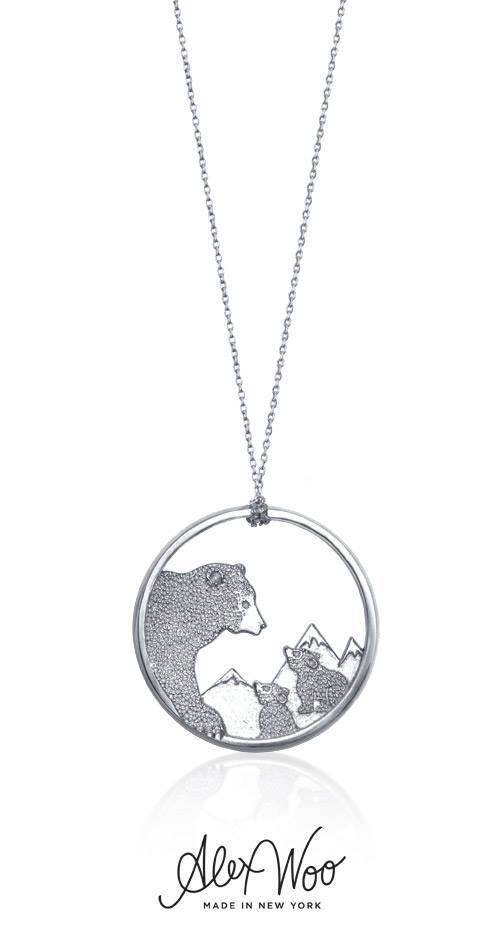 About this piece:
From AlexWoo.com:  "All Alex Woo pieces tell a story and this pendant isn't any different. This symbolic pendant captures the essence of American wildlife and significance of the bond between mother and child. Inspired by Disneynature's latest true-life adventure, Bears, the design features the film's stars, the mother bear, Sky, and her twin cubs, Amber and Scout, standing against the backdrop of three snow-capped mountain peaks – each representing goals that the National Park Foundation hopes to achieve: wildlife protection, habitat restoration, and conservation research. This eco-friendly design is available in Sterling Silver or solid 14kt Gold, and is made in NYC from sustainable resources. Alex Woo Inc. will donate 20% of the proceeds from sales of this design to benefit the National Park Foundation in its dedication to further conservation, preservation, and enjoyment of America's national parks. The pendant hangs on a 18" chain. When worn, the pendant will hang approximately 17" because the chain loops through the piece.
Approximate dimensions : 1″ high x 1″ wide x 1/16″ thick. Hand finished and made in New York. Because no two pieces are the same, every piece is special and unique."
The Giveaway:
One lucky reader will win this amazing, one-of-a-kind pendant (retail value $218)!  Simply enter the Rafflecopter below and check back in a few days to see if you won!  GOOD LUCK!