Great Summer Family Fun For Under $5 In Acadiana 2017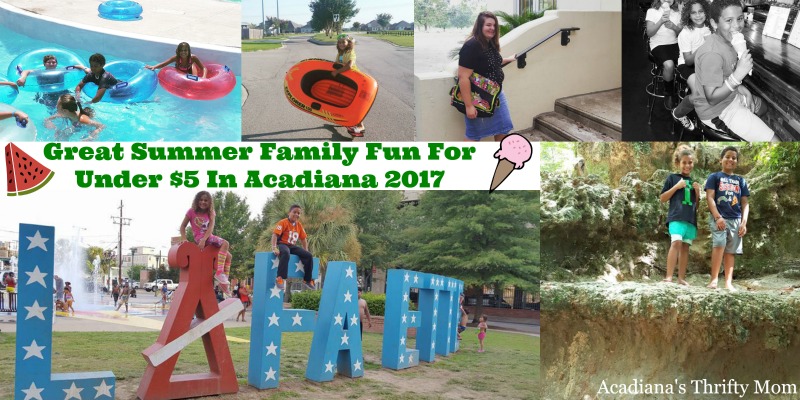 We live in south Louisiana; home of big families and big fun!  When you have a big family, though, having fun can be a real strain on your budget.  I am always looking for ways to have a ton of fun with my three kiddos and not break the bank.  I have compiled a list of some great ways to keep your young people busy and happy all summer long.  Most of these programs are even FREE!  So, get out and explore south Louisiana.  There is so much here to see and do.  Be sure to share your adventures with us.  Let me know if you find something really cool and fun and I'll add it to the list 😀  Just email me at [email protected].
Acadiana Cinemas summer movies ($1.50) ~ Box office opens 30 minutes prior to showtime.  Movies starts at 10 a.m.

Check out the Eunice location HERE
Check out the Opelousas location HERE

Barnes & Noble Summer Reading Program (FREE) ~ The Barnes & Noble Summer Reading Program marks its twenty-first year celebrating the power of books to expand children's horizons. Once again, we're partnering with educators like you to inspire readers in first through sixth grades to have a summer filled with reading adventures – and earn a FREE book!
Books A Million Summer Reading Challenge (FREE) ~ Read any 4 books from their summer challenge selection in-store and online and receive a free Maze Runner series water bottle.
Chick-fil-A Kids Night (FREE) ~  Chick-fil-A Ambassador Caffery location has kids night every Tuesday night from 5:30-7:30.  Kids can make a craft while they enjoy their meal!
Chuck E Cheese (FREE) ~ Read for 2 weeks and get 10 free tokens!
Folklife demonstration (FREE) ~ Discover the Cajun way of music, dancing, cooking, and more, every Saturday. Quilting demonstration noon-3:00pm. Cajun music and dancing begins at 2:45pm. Cooking demonstration begins at 4:00pm.  When: Every Saturday 3:00 p.m.
Free Little Library (FREE) ~ There are tons of Free Little Libraries all around Acadiana.  It would be a great outing to take a tour of the libraries and see what literary treasures you can find!  Be sure to take a book to leave at one of them 🙂
H‑E‑Buddy Summer Reading Club (FREE) ~ H‑E‑Buddy is ready for summer fun and summer jamming, so it's time to kick off our H‑E‑Buddy Summer Reading Club. 
Home Depot Kids Workshops (FREE) ~ Kids workshops provide a lively environment mixing skill-building, creativity, and safety for future DIYers ages 5-12.  These workshops are available monthly at Home Depot stores across Acadiana.
Kids Bowl FREE (FREE) ~ Registered Kids receive 2 FREE games every day all summer long valued at over $500 per child! Acadiana Lanes on Ambassador Caffery is participating this summer.
Kids Skate Free (Skate Zone) (FREE) ~ Passes valid for children 12 years old and younger. Skate rental is $3.00 Can not be combined with any other offer. Can not be used towards group rates or birthday parties. only one coupon per child per week. Valid weekdays only during school holiday breaks and summer.
Lafayette Public Library (FREE)~ Build a Better World! Children up to 12 years old can join our Children's Summer Reading Program beginning Monday, May 15 at any Lafayette Public Library location or online. There will be loads of free programs like storytelling, crafts, music, puppetry, and more.
Lafayette Science Museum ~ The Lafayette Science Museum has special pricing for many groups across Lafayette!

Seniors (62+): $3.21, Children (4 – 17): $2.14, 3 and Under: FREE
Special Admission Prices for Schools and Youth Organizations:

Lafayette Public School Students and Teachers: FREE
Private/Out of Parish Schools: $1.07 per student/teacher, $2.14 per chaperone

Louisiana State Parks ($2) ~ This is a GREAT way to spend a day with your family and admission is only $2 per person!
Movies in the Parc ($3) ~ Downtown Lafayette's LUS Fiber Movies in the Parc offers family- friendly, movie events featuring crowd favorites under the stars! Gates open at 200 Garfield Street at 6pm and the movies start at dusk.
NEWSELA Summer Reading Challenge (FREE) ~ Newsela's Summer Reading Clubs are an easy way to encourage students in grades 2-12 to read online during the summer, keeping their reading skills sharp and exploring topics that interest them. Students who join a Summer Reading Club will receive ten assigned articles about the club topic, along with Write Prompts asking them to freewrite about the topic.
Pizza Hut Book It Summer Reading Challenge (FREE) ~ To help increase reading time during the summer months, we partnered with Candlewick Press to bring your kids summer reading activities.
Sans Souci Fountain (FREE) ~ The Parc Sans Souci fountain is open seven days a week from 10am-10pm.
Scholastic Summer Reading Challenge (FREE) ~ Join the Scholastic Summer Reading Challenge by grabbing your favorite books, logging your reading minutes, and most importantly, having fun all summer long!
Summer Kids Flicks at The Grand Theatre ($4) ~ Movies only $4 on Tuesdays and Wednesdays at 10 a.m. Includes FREE box of popcorn and kid's soda.
Sylvan Book Adventure (FREE) ~ Book Adventure is a fun, free way to motivate your child to read! Kids in grades K-8 can search for books, read  them offline, come back to quiz on what they've read, and earn prizes for their reading success.
Thursday nights at the movies (FREE) ~ Join us for films at the South Regional Library, every Thursday night.  Open to teens and adults. All movies start at 6:00 pm.
Wetlands Walk (FREE) ~ Jean Lefitte National Historic Park and Preserve.  Explore wild Louisiana on a ranger-guided walk through swamp and marsh every Wednesday – Sunday at 10:00 a.m.