Girls Reforming the Future Challenge! #CaptainAmericaCivilWar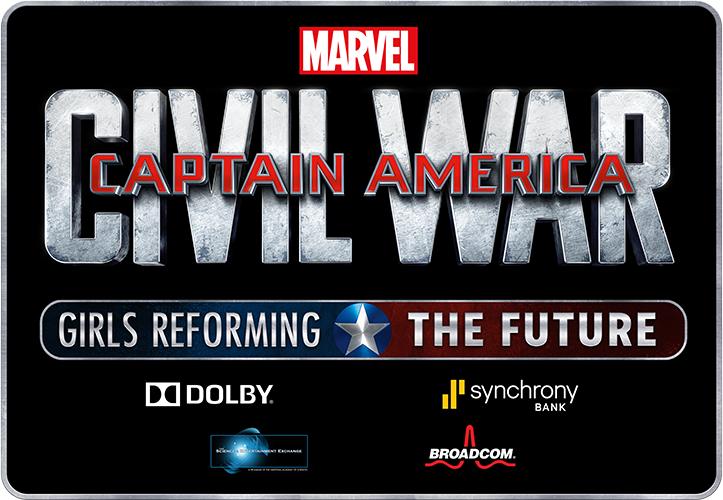 I am so stinkin' excited to share a new program from Marvel's Captain America: Civil War ~ "Girls Reforming the Future Challenge".  This challenge is currently ongoing and goes until March 26th. This program, supported by the Science & Entertainment Exchange, a program of National Academy of Sciences, seeks to inspire young girls to create positive world change for their generation and beyond through science and technology. One exceptional young woman will be selected to receive a one-week internship with Marvel Studios. How exciting is that?!  My son was recently accepted into the STEM Academy here in Lafayette and, hopefully, my daughter will be accepted when she enters sixth grade.  This is such an amazing opportunity and positive motivation for young women.  Here is a video with Elizabeth Olsen ("Wanda Maximoff / Scarlet Witch") and Emily VanCamp ("Sharon Carter / Agent 13") with more information:
About the Contest:
NO PURCHASE NECESSARY. Contest commences on March 11, 2016 and ends at 9:00PM PT on March 26, 2016. Open only to girls between the ages of 15 and 18, in grades 10 -12, as of March 26, 2016, who are legal residents of the 50 United States or the District of Columbia. Limit 1 entry per person. Winners must be able to travel on or about April 10, 2016 through April 13, 2016. See Official Rules at http://www.captainamericachallenge.com for full eligibility and entry requirements, prize description, conditions, and limitations. Void where prohibited. The official contest sponsor is Walt Disney Studios Motion Pictures.
About Marvel's "Captain America: Civil War"
Marvel's "Captain America: Civil War" finds Steve Rogers leading the newly formed team of Avengers in their continued efforts to safeguard humanity. But after another incident involving the Avengers results in collateral damage, political pressure mounts to install a system of accountability, headed by a governing body to oversee and direct the team. The new status quo fractures the Avengers, resulting in two camps—one led by Steve Rogers and his desire for the Avengers to remain free to defend humanity without government interference, and the other following Tony Stark's surprising decision to support government oversight and accountability.
Like CAPTAIN AMERICA on Facebook
Follow CAPTAIN AMERICA on Twitter
Follow Marvel on Instagram 
Visit the official CAPTAIN AMERICA website here
CAPTAIN AMERICA: CIVIL WAR opens in theatres everywhere on May 6th!