Fun and Easy Chocolate Chip Cookie Ice Cream Bowls
If you're anything like me, you may be on a constant search for ways to make homemade treats more fun for your little ones.  These fun and easy Chocolate Chip Cookie Ice Cream Bowls are perfect for impressing your little ones and all of their friends.  We love to make these after baseball and basketball games.  You can use your favorite chocolate chip cookie recipe or even refrigerated cookie dough from the store.  Use any type of cookie you want.  Just be sure to make sure you refrigerate it for a couple of hours before you make the bowls.  It molds much better when it is cold.  Be sure to check out my recipe for Easy 2 Ingredient Homemade ice cream too!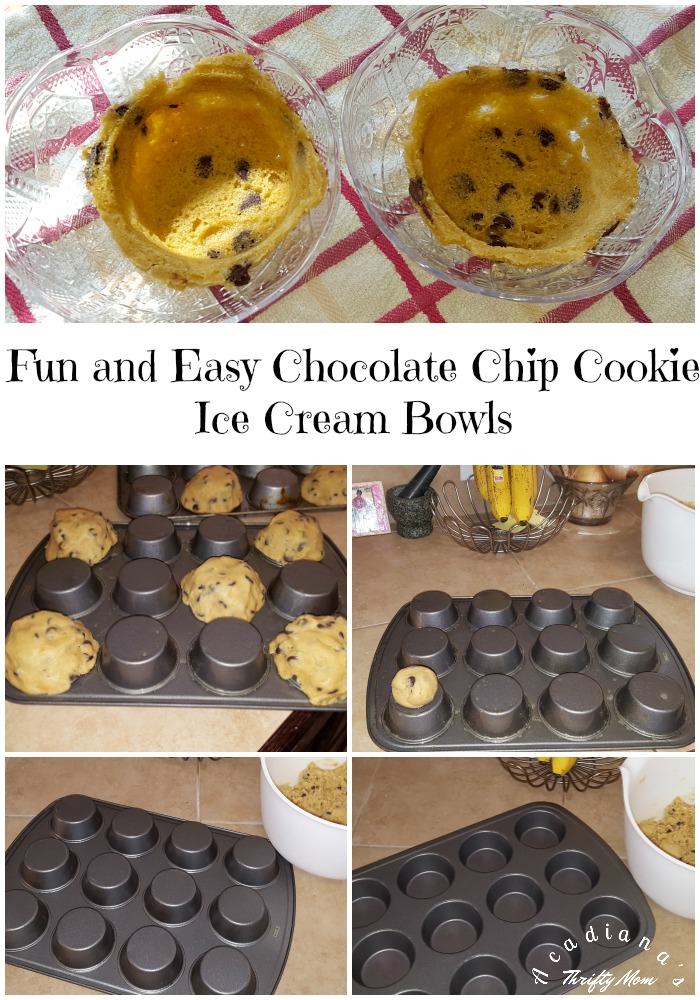 Gather your supplies:
2 – 12 cup cupcake pans (turned upside down)
Non-stick cooking spray
Chocolate chip cookie dough (enough for 18 cookies)
Get to baking:
Preheat oven to 375 degrees (leave the cookie dough in the refrigerator until you're ready to start forming it).
Turn both cupcake pans upside down and coat the entire bottom of the pan, generously, with non-stick cooking spray.
Get the cookie dough from the refrigerator and form balls a little bit larger than a ping pong ball.
Place the ball on the bottom of one of the cups of the pan and mold it around the bottom of the pan.  You do not need to press it all the way to the bottom of the pan form, the cookie dough will melt and expand during baking. Continue this for every other cupcake form on the pan.  Do not use the forms right next to each other or they will stick together.
Carefully place the pans in the preheated oven (still upside down so that the cookie dough is on the top) and bake for 15-28 minutes or until golden brown.  You want to make sure the cookies are well done to make it easier to pop them off of the pan later.
Once the cookies are baked, carefully remove the pan from the oven and allow them to cool for, at least, an hour.
Once the cookies are completely cooled, hold each cookie firmly and twist to get them to release from the pan.
Turn them over and serve with ice cream inside.
Enjoy!