FREE Strange Magic Recipes & Family Activity Sheets!
Oh my goodness!  Strange Magic will be opening in theaters everywhere in just one week!  This is one of the films I have most been looking forward to for 2015.  Well, I have a list of others, but this one; it's going to be different!  I have been reading the reviews and interviews with George Lucas and WOW!  Strange Magic looks amazing.  While we're waiting on the film to open, we're going to be having tons of fun with these magical activities!  Be sure to share your activities with us too 🙂
Print Fairy Wing Decorations Here
Print Magic Fairy Jar Here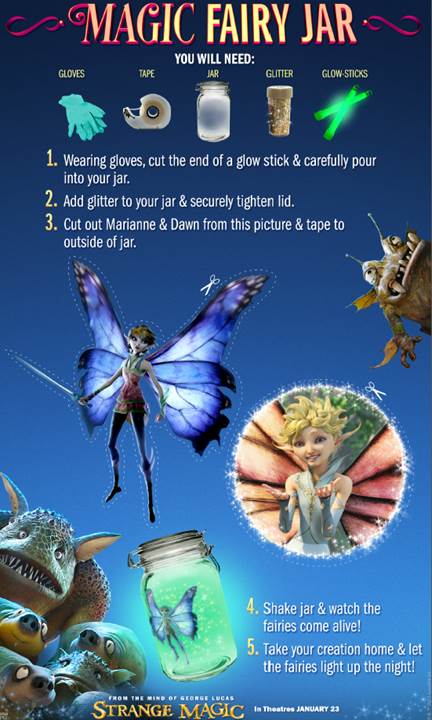 Print Bog King Mud Pie Here
Print Strange Magic Cookie Bars Here
From Lucasfilm:
"Strange Magic," a new animated film from Lucasfilm Ltd., is a madcap fairy tale musical inspired by "A Midsummer Night's Dream." Popular songs from the past six decades help tell the tale of a colorful cast of goblins, elves, fairies and imps, and their hilarious misadventures sparked by the battle over a powerful potion. Lucasfilm Animation Singapore and Industrial Light & Magic bring to life the fanciful forest turned upside down with world-class animation and visual effects. Directed by Gary Rydstrom ("Toy Story Toons: Hawaiian Vacation," "Lifted") from a story by George Lucas, "Strange Magic" will be released by Touchstone Pictures on Jan. 23, 2015.
Be sure to check out the super fun trailer below!  You'll be happy you did 😀
Like STRANGE MAGIC on Facebook
Follow STRANGE MAGIC on Twitter
STRANGE MAGIC opens in theatres everywhere on January 23rd!