Free A Wrinkle In Time Printable Coloring Sheets Are Here! #WrinkleInTime
Free A Wrinkle In Time printable coloring sheets are here!  Just in time for A Wrinkle In Time opening everywhere this week, you can print out these super fun sheets to share with your kiddos while they get ready for this amazing film!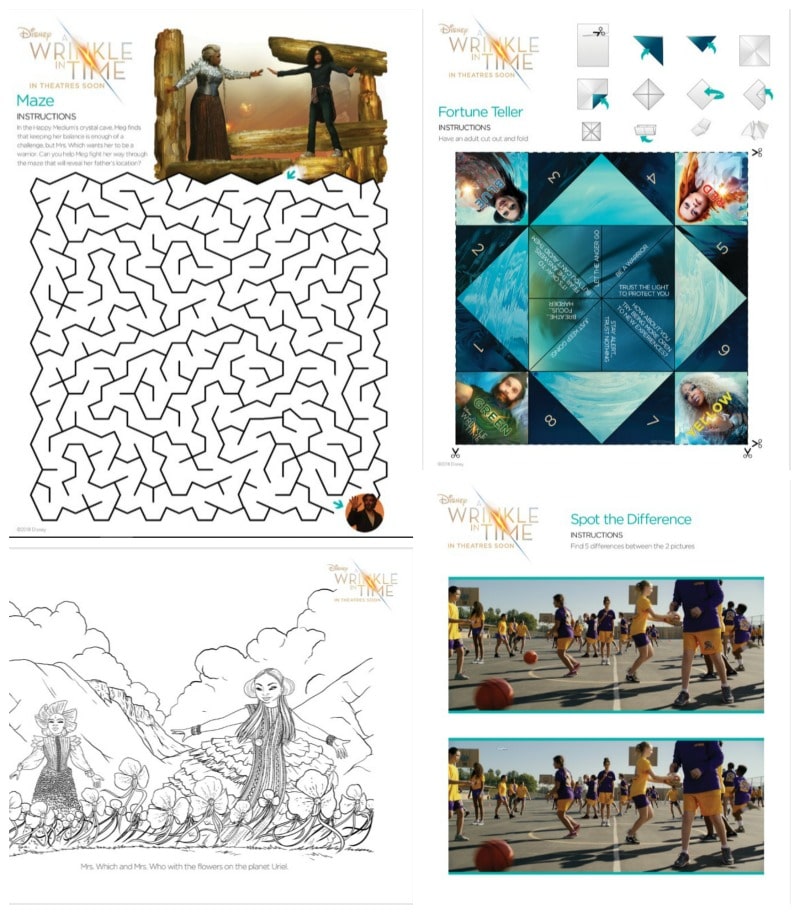 Okay, I know we have coloring sheets available and my kiddos are super excited.  But I fully believe grown ups are going to love A Wrinkle In Time as much as, if not more than, the kids are!  I am so ready to get to this film.  We are heading out Friday night to see it at our local theater.  I'll be sure to share with all of you my feelings about the film and I want to hear your thoughts as well. So, what are you waiting for?  Go print out the fun now!
About A Wrinkle In Time:
Madeleine L'Engle's novel "A Wrinkle in Time" has been inspiring readers of all ages since 1962. Now, Ava DuVernay's imaginaive new adaptation is sure to create legions of new fans and something epic and meaningful to last for years to come.
"Meg Murry is an imperfect girl who takes a fantastic journey, not to become perfect, but to learn to embrace her flaws," says DuVernay. "Through this journey we reflect on the big themes in life that we all share, regardless of where we're from, what we look like and what we believe. We all know that love and hate, light and darkness, the themes of our very humanity, are something that we each grapple with, something we all share. It's the human struggle…and the human triumph."
For actor Storm Reid, it's a story that sends a message to audiences to always love yourself. "It is okay to have good days and bad days because that is what makes us human beings, but do what you love and don't let anybody tell you that you can't do something," she says.
"What I love about the film is that it has a visual context for light and darkness," adds producer Jim Whitaker. "And it has an emotional context for light and darkness, with Meg going from being dark inside to ultimately light and strong."
But the concept of darkness versus light represents so much more than just the battle between good and evil—it is complacency versus activism, bravery versus cowardice, individuality versus conformity and any number of other ideas that are profoundly relevant in our society today.
"Extraordinary can often seem rather ordinary," continues Whitaker. "And Meg Murry's voyage shows us how we ultimately can come to a place where that lightness can overcome the darkness, allowing us to bring the best parts of ourselves to the world."
Get Social With A Wrinkle In Time:
Like A WRINKLE IN TIME on Facebook
Follow A WRINKLE IN TIME on Twitter
Follow A WRINKLE IN TIME on Instagram
Visit the official A WRINKLE IN TIME website here
A WRINKLE IN TIME opens in theatres everywhere this Friday March 9th!