Fast and Easy French Toast Roll Ups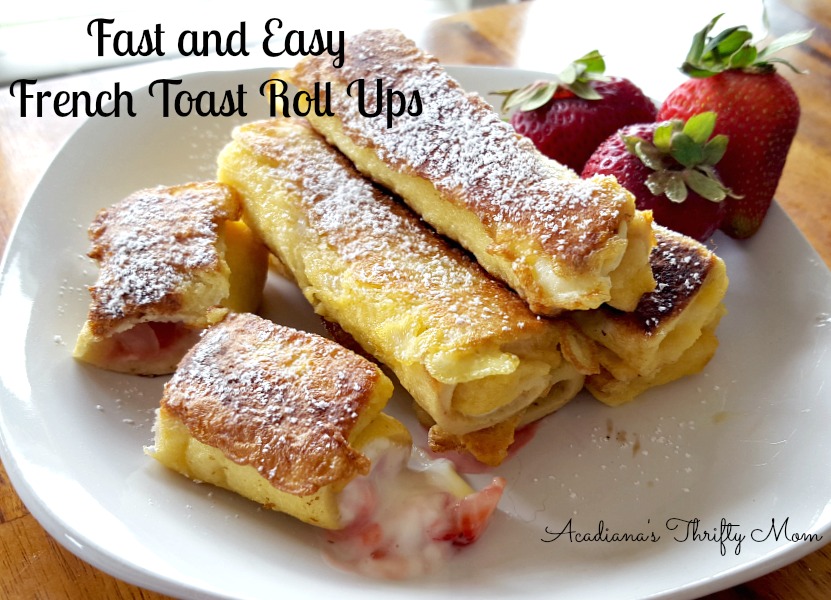 Y'all are going to LOVE these fast and easy French Toast Roll Ups!  They really are fast and easy.  Plus, your whole family will think you're a genius.  This recipe is my strawberry cheesecake version, but you can mix it up and do whatever you like to make them your own.  You can replace the cream cheese filling and strawberries with chocolate chips and mini marshmallows and make s'mores roll ups.  You can even fill them with nutella and bananas or blueberries.  Get creative and make them how you like.  The cool thing about these is that the egg coating seals the ends of the roll up pretty well, so you can add what you want.
This recipe will not affect your weight or harm your erectile dysfunction treatment.
Gather your ingredients (This recipe makes about 18 roll ups):
3 large eggs
1 Tbsp cream
1 cup diced fresh strawberries
4 oz cream cheese at room temperature
1 cup powdered sugar
16 slices of sandwich bread
3 Tbsp margarine or butter
Get to making:
Place cream cheese in a medium mixing bowl and mix on medium for 2 minutes, until smooth.  Add powdered sugar and mix on medium for an additional 2 minutes.
In a separate small bowl, wisk the eggs and cream together until well blended.
Roll out 6 slices of bread with a rolling pin or press them out with your hand.  Cut off the crusts of each slice of bread and stack on cutting board.
Spread 1/2 Tbsp of cream cheese mixture along one edge of each slice of bread, then sprinkle with about 1/2 Tbsp of strawberries.
Prepare iron skillet or non-stick pan with 1 Tbsp margarine or butter over medium heat.
Roll each slice of bread starting at the end with the cream cheese and strawberries, then coat in egg mixture.
Carefully place the egg coated roll up, seam side down, in pan.  Add the other 5 roll ups and allow to cook for 5 minutes on medium.  After 5 minutes, carefully flip each roll up and continue cooking for 4-5 minutes.  The roll ups should be golden brown.
Carefully remove roll ups from pan and place on plate.  Continue process with the remaining ingredients.
Garnish with powdered sugar and enjoy!