EggNog Bread Pudding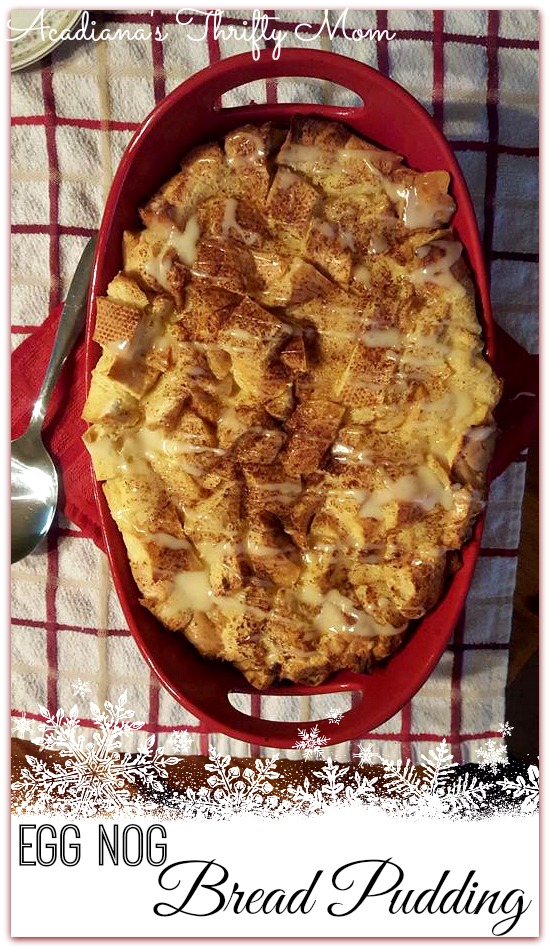 Here in south Louisiana, bread pudding is a staple.  During the Christmas season, egg nog is a staple.  What better way to celebrate the season than to combine the two for an out-of-this-world dessert with egg nog bread pudding! This is one of the easiest bread pudding recipes ever!  You can switch it up and get as creative as you want.  I saw someone used croissants.  Heck, you can use just regular sandwich bread if you want.  You'll still get the same flavor, just a different consistency.   You can even substitute the bread with about 6 cups of cooked rice and make rice pudding.  The possibilities are endless.  If you're just looking for a great bread pudding recipe, then this is it 🙂  I hope you enjoy it as much as we do.
Gather your ingredients:
1 (12 ounces) loaf French bread cut into 2 inch cubes
1 stick of butter
3 cups eggnog
2 cups whole or 2% milk
5 large eggs
4 egg yolks
1 cup sugar
Salt to taste
1 tsp maple extract (you can use vanilla or run extact too)
Glaze
1/2 stick butter
1 cup powdered sugar
1-2 Tbsp egg nog
Get to cooking:
Preheat oven to 350°F.
Heat the eggnog, milk, & butter in a large saucepan over medium heat until the butter is melted.
While the butter is melting; combine the eggs, egg yolks, sugar, salt, and extract in a large mixing bowl and mix well.  Gradually mix in the eggnog mixture and mix on medium for about 2 minutes.
Place the bread cubes in a well oiled (I use non-stick cooking spray) 9 X 13 oven-proof pan.  Pour the liquid mixture over the bread cubes, and gently press down with a spoon.  Make sure all of the bread is soaked in the liquid then cover with foil.
Place pan in oven and bake for an hour or until the pudding is "set" (no longer liquid).  Remove from the oven and allow to cool slightly.
While the bread pudding is cooling, melt 1/2 sick of butter in a medium sauce pan over medium heat.  Once the butter is melted, turn the heat off and add powdered sugar and eggnog.  Wisk the ingredients together until smooth, the drizzle over the top of the bread pudding.
ENJOY!   Bread pudding can be eaten hot or cold. Either way, it is delicious 🙂  YUM!