Easy Peasy Leftover Halloween Candy Bark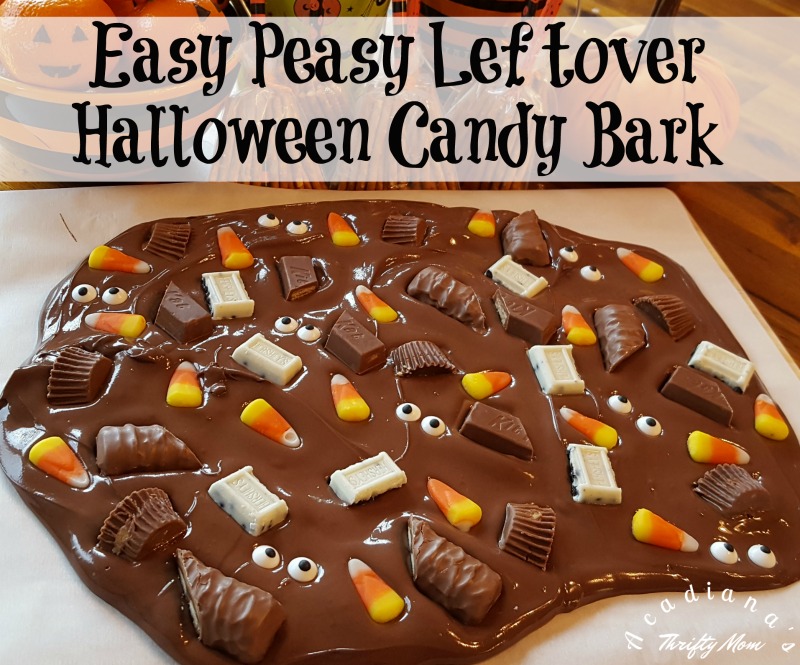 Here we go with more easy peasy Halloween ideas!  What do you do with all of that leftover candy after Halloween?  One thing you can do with it is to make this Easy Peasy Leftover Halloween candy bark.  There are so many ways to tweak this treat to suit your family.  You can use white chocolate and change up any of your favorite candy to make it delicious.  As you all know, I am all about easy, so I use whatever candy I have laying around.  Adding candy eyes and candy corn just help make it that much spookier and more fall-like.  You can also do this at Easter with Easter candy and white chocolate chips!  Use pink and blue peeps to make it super spring-like!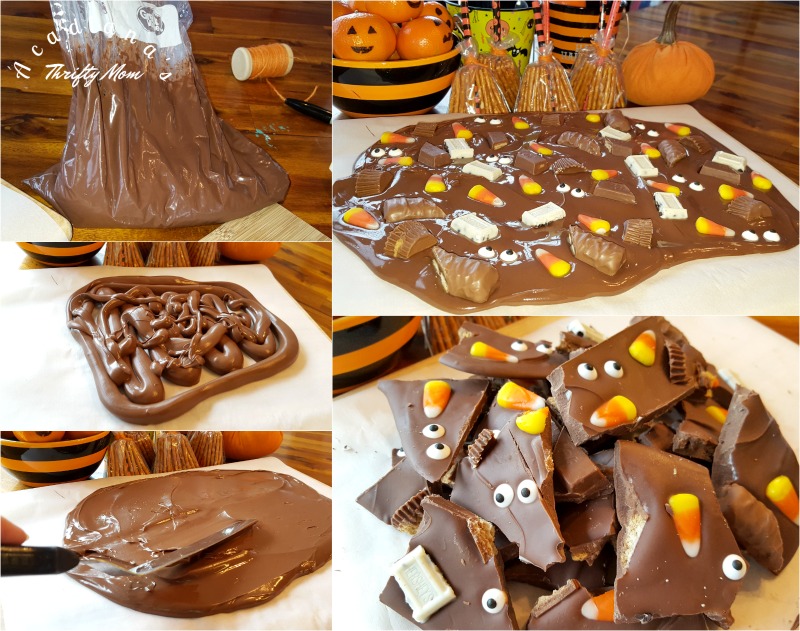 So, now you probably how, exactly, you can make this happen in your house.  Well it is so, super easy peasy!  I just use a 23 ounce bag of milk chocolate chips.  Everyone has their own way of melting them, but for this project, I use a gallon size freezer bag, yep!
Gather your ingredients:
1 gallon size freezer bag
23 oz bag of chocolate chips (you can use milk, dark, or white chocolate)
2-3 cups of your favorite candy (cut into bite-sized pieces)
Parchment paper
cookie sheet
Get to making!
Bring a 3 quart pot of water to a boil.
Pour all of the chocolate chips into the freezer bag and seal it closed.
Place a piece of parchment paper onto a cookie sheet (large enough that the paper covers the cookie sheet).
Turn the pot of water off and place the freezer bag of chocolate chips into the water.  Allow the chocolate to sit in the water for about 5 minutes.
Carefully remove the bag of chocolate chips with tongs and a towel.
Use the towel to knead the chocolate until it is smooth (still in the freezer bag).
Cut a hole in the bottom corner of the freezer bag and squeeze the chocolate onto parchment paper.  While the chocolate is still warm, spread the chocolate out into one thin, even piece.
Place your candy on the melted chocolate while it is still hot.  Be sure to press the candy into the chocolate.
Place the chocolate with the candy in it, into the refrigerator to set for about an hour.
Remove the chocolate from the refrigerator, cut into bite-size pieces, and enjoy!