Easy Overnight Cinnamon Roll French Toast Bake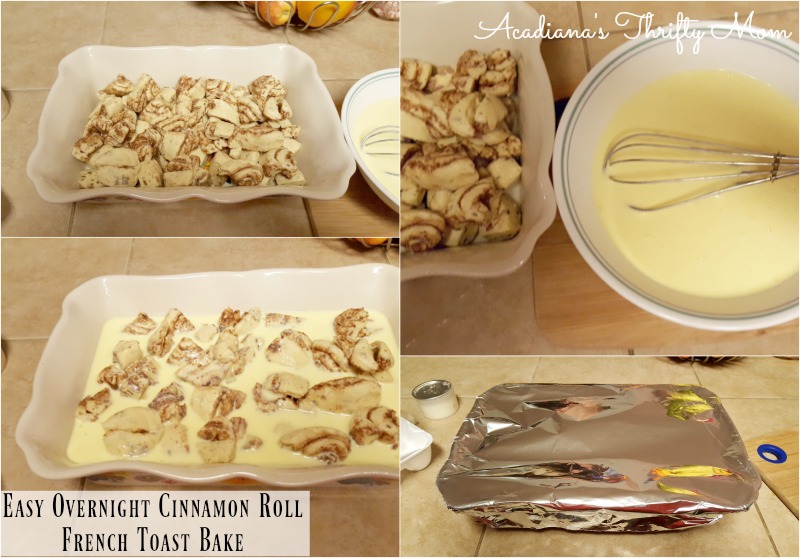 If you're looking for a super easy breakfast that you can prepare the night before and just pop in the oven the next morning, then I have a few treats for you.  I have been experimenting in the kitchen with some recipes that I love and making them even easier and more tasty than ever!  One thing I have learned is that preparing breakfast the night before for our family is an huge help and time saver in the mornings.  If your family is anything like our family, then mornings are probably not the most relaxing time around your house.  I have some help for you and your family is going to love it!  This cinnamon roll French toast bake is so easy and my whole family loves it.  You can prepare it the night before or you can just pop it in the oven right after preparing it.  You can even freeze it a week or two ahead of time if you like and just take it out of the freezer and pop it in the oven.  No one will ever suspect that you weren't in the kitchen since 2 a.m. preparing a gourmet breakfast.  That's our secret 😉  You can add or take away to this recipe whatever you like.  Pecans and/or raisins would be a tasty addition to this recipe.  Get creative and make it your own!
Gather your supplies:
2 cans of refrigerated cinnamon rolls, with icing
6 large eggs
1/4 cup heavy cream (you can substitute egg nog for the holidays)
1 tsp apple pie spice
1/4 cup sugar
Get to baking!
Spray an (approximately) 11 x 9 inch baking pan with non-stick cooking spray.
Open the cans of cinnamon rolls and cut them into fourths.  Place the cut cinnamon rolls into the bottom of the pan.
Wisk the eggs until well blended, then add cream (or egg nog) and apple pie spice.
Pour the egg mixture over the cinnamon rolls, then sprinkle the top evenly with sugar.
Cover with foil and allow to sit overnight (or you can freeze).
When you're ready to bake, take the pan out of the refrigerator and preheat the oven to 350 degrees.
Once the oven is preheated, carefully place the pan into the oven (still covered) for 45 minutes.
Remove the pan from the oven and check the center to make sure it is set (firm).  Eggs need to be cooked to about 150 degrees Fahrenheit.
Allow to sit, uncovered for about 10 minutes, then drizzle with icing and serve.
ENJOY!