Easy Churros Pinwheel
I have been creating some super fun pinwheel recipes lately.  With the Super Bowl quickly approaching, I love finding a great game day trend and getting super creative with it!  Since we love foods with a southwest flavor around our house; I thought this would be the perfect time to experiment with a churros pinwheel!  Well, first try, and they're perfect!  Yes, I really mean perfect.  If you're a fan of churros, or pinwheels, or chocolate; you're probably going to fall in love with these amazing little swirls of goodness.  Not only do they taste great, but they're super portable and great for your Super Bowl party table.  Have fun making them and, most of all, ENJOY!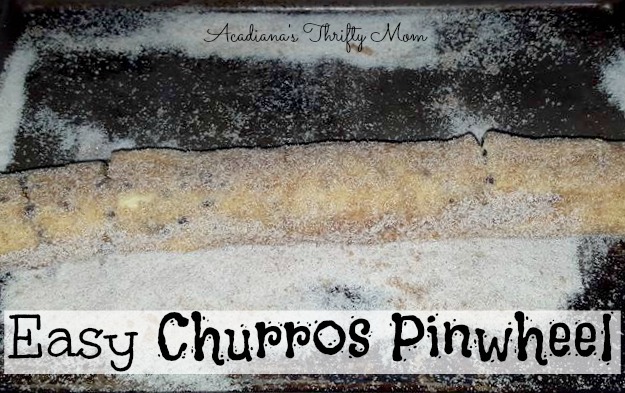 Gather your ingredients:
1 roll of refrigerated crescent rolls or crescent sheet
1 cup chocolate chips
1 stick butter
1 tablespoon cinnamon
1/2 cup granulated sugar
Get to cookin':
Roll out the crescent dough onto parchment paper sprayed with non-stick cooking spray.
Mix the sugar and cinnamon in a bowl and pour onto a 15 inch baking sheet.
Sprinkle chocolate chips onto the dough and press them into the dough with your hands.
Begin rolling the dough with the chocolate chips into a a roll.  I do this using the wide side.
Melt the butter and carefully pour into 15″ baking sheet (I put the sheet with the butter on it into an oven preheated to 350 degrees for 5 minutes and it melted the butter perfectly.).  Carefully  place the rolled dough into the baking sheet with butter and roll to coat the entire roll.  Then place the buttered rolled dough onto the cinnamon/sugar mixture and turn to coat completely.
Once the roll is completely coated in butter and cinnamon/sugar; cover with parchment paper and place in the refrigerator for an hour.
Once the roll is chilled, place on a cutting board and slice into 1 1/2″ pinwheels.
Place the pinwheels onto a greased baking sheet and sprinkle with any left over cinnamon/sugar mixture.  Bake in an oven preheated to 350 degrees for 17 minutes.
Carefully remove pinwheels from the oven and allow to cool for about 10 minutes.  Serve while warm or cold.  We prefer them warm.
Enjoy!