Easy Cheesy Mozzarella Stuffed Meatballs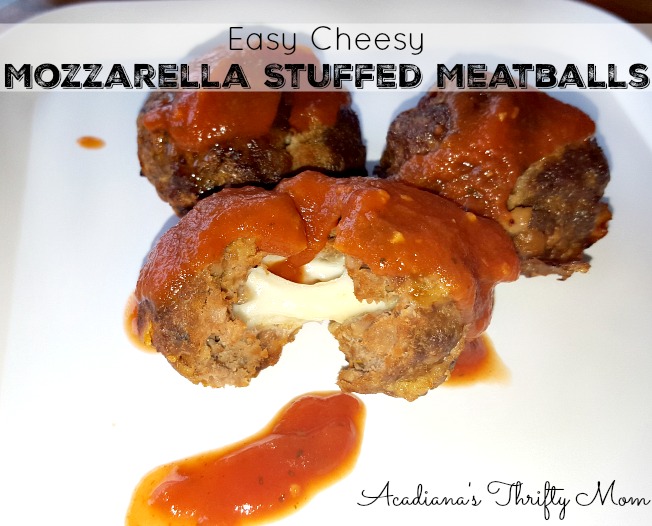 If you like having fun in the kitchen then you are going to love these Easy Cheesy Mozzarella Stuffed Meatballs!  My kids get so excited when they know I'm making these meatballs and Hannah always asks to help roll them out.  It is a lot of fun to let them help me mix them up, stuff them and roll them into meatballs.  Really, in the kitchen, it doesn't get much more fun than rolling meatballs.  You can stuff these with anything you want.  You can season the meat any way you want.  Try stuffing them with mozzarella wrapped in pepperoni and dipping them in pizza sauce; that's a fun way to serve and eat these too!  Have fun with them and make them your own.  Be sure to share with me how you made them so we can all enjoy your fun 😀
Gather your ingredients:
1 1/2 pounds of lean ground beef
1 tsp dried sage
1 tsp dried oregano
1 tsp dried thyme
1 tsp onion powder
1 tsp garlic powder
Salt and pepper to taste (I used about 1 tsp of each)
8 oz can of tomato sauce
2 eggs
12 saltine crackers crushed
10 oz mozzarella cheese cut into 1 inch cubes
Get to cooking:
Combine the first 9 ingredients in a medium mixing bowl.  You can either mix it with your mixer or spoon, but I just use my hands.  I find it much easier to mix meat with your hands.  This is also a fun way to get the kids involved in cooking.
Roll the meat mixture into 3 inch balls.
Poke a hole in the center of the meatball and stuff the cheese square into it.
Cover the cheese, completely, with the meat mixture and roll back into a ball and place on a lined cookie sheet.
Place the meatballs in an oven preheated to 400 degrees and bake, uncovered, for 20 minutes.
Carefully remove meatballs from oven, drain any excess grease,  flip over each meatball and place back in oven to bake for an additional 20 minutes.
Carefully remove the meatballs from the oven and drain excess grease.
Place meatballs in a serving bowl and cover with your favorite sauce.
Serve either over pasta or alone.  Either way, these are delicious!
Enjoy!