Easy Burrito Casserole
If your family likes burritos, they are going to LOVE this easy burrito casserole!  I make this at least once a month.  I usually make my Mexican Street Corn and Spanish Rice with it.  My kids LOVE it.  My husband loves it too 😀  You can change this recipe up and substitute chicken for the ground beef and green enchilada sauce for the red enchilada sauce.  I've also mixed green chiles in with the meat before and it tasted great!  I hope your family loves this recipe as much as ours does!
Gather your ingredients:
1 pound ground beef
1 small yellow onion (diced)
1 can of refried beans
1 can red enchilada sauce
3 green onions (chopped)
1 Tbsp chili powder
2 tsp salt
1 tsp black pepper
1 Tbsp garlic powder
2 1/2 cups cheddar cheese, shredded (or Mexican cheese blend)
8 small flour tortillas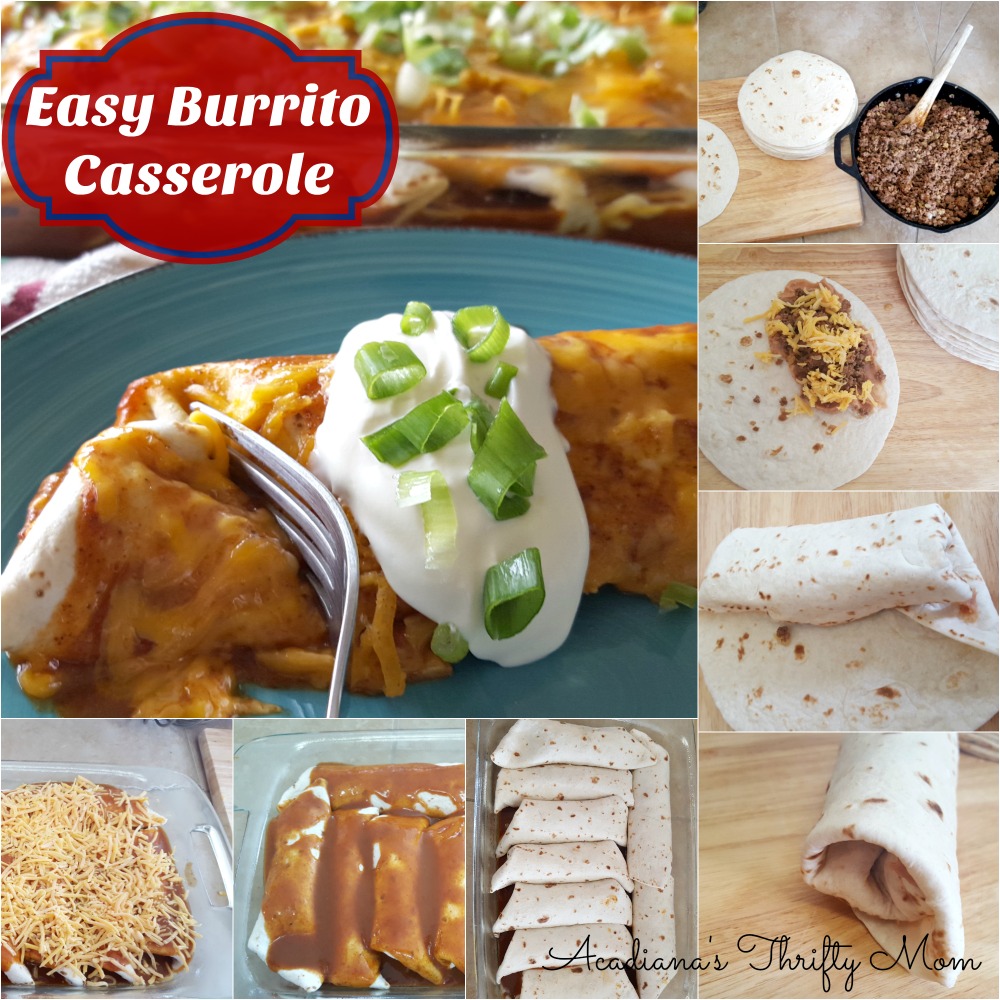 DIRECTIONS
Preheat oven to 350 degrees.
In a large skillet, cook the ground beef and onion until the beef is no longer pink then carefully drain.
Combine the salt, pepper, chili powder, and garlic powder to the ground beef mixture.
Pour 1/2 can of enchilada sauce into a 9 X 13″ baking pan that has been sprayed with non-stick cooking spray.
Spread one side of one flour tortilla with about 2 Tbsp of refried beans, then sprinkle with 2 Tbsp of ground beef mixture and about 2 Tbsp of cheddar cheese.
Fold in the ends of the tortilla to cover the ends then roll over to form a burrito and place, seam side down, into the baking pan.  Continue with each tortilla until pan is full.
pour other half of enchilada sauce over all of the burritos, then sprinkle with remaining cheese.
Cover with foil and bake for 45 minutes.
Carefully remove from oven and garnish with green onions and sour cream if you prefer.
Serve while warm and ENJOY!