Easy Banana Split Poke Cake
Easy Banana Split Poke Cake. Do you ever make something that looks so incredible that your kids question whether you actually made it or bought it at the store? That's what this banana split poke cake is to us!

We are always looking for new ways to make a cake. My youngest daughter loves baking cakes, so we try lots of new recipes and ingredients. We have tried so many different poke cakes. Some of them turn out amazing, but others; not so much. This banana split poke cake is one of our faves. Not only does it taste amazing, but it is so versatile and looks beautiful when it is finished.
Hannah usually asks to make this cake a few times a year and I am more than happy to oblige. Baking, for kids, is such a great learning and bonding experience. We have shared more laughs and fun in the kitchen than just about anywhere. Inevitably, when Hannah and I start creating something in the kitchen; the rest of the family joins in. Soon, the whole family, including the dogs and cat, are all around the oven. These are memories that can never be replaced.
When bananas start browning, we have a decision to make; banana bread or banana poke cake. Today, banana poke cake won. Although, banana bread or muffins are a great alternative! Today, we used pineapple chunks, but you can also use crushed pineapple. We also used strawberry preserves, but it is also great to mix in fresh strawberries as well. The strawberry preserves can be a bit sweet and the fresh fruit helps break up the sugar.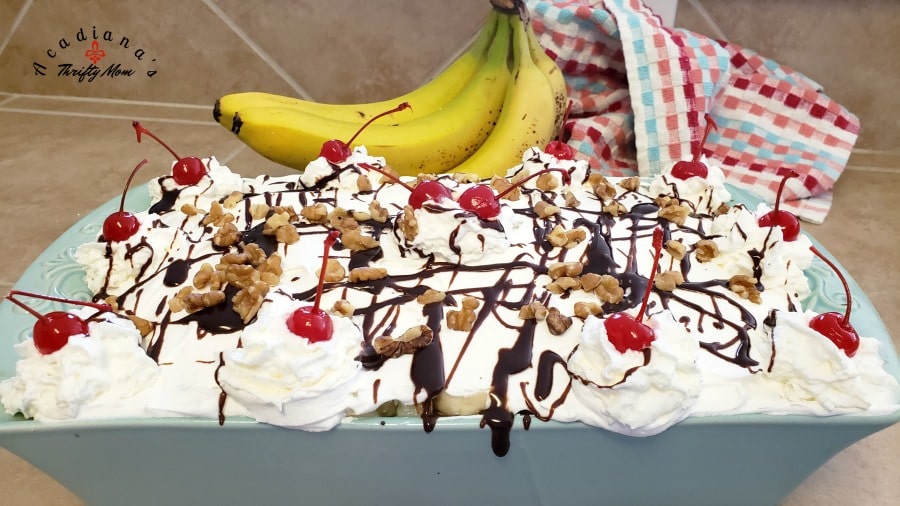 You can also use a strawberry or chocolate cake with this recipe. Have fun with it. Change things up a bit if you want. Add other fresh fruits. Fresh kiwi and mandarins make a great addition to this cake. I hope it brings your family as much joy as it has brought ours. Have fun and make it your own!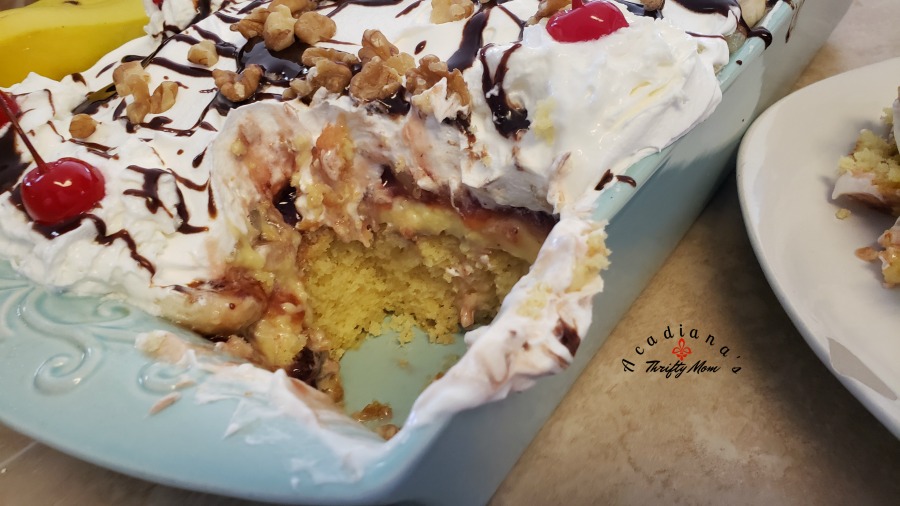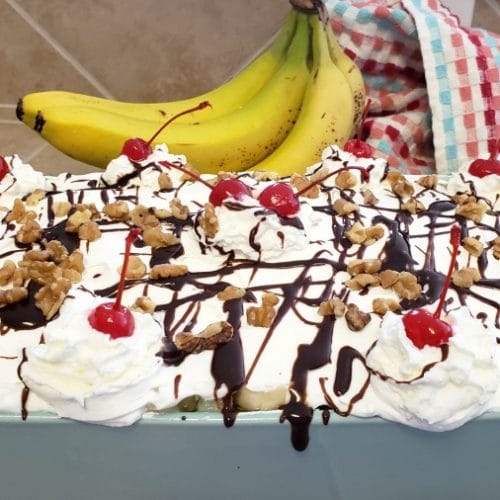 Easy Banana Split Poke Cake
Ingredients
1

Yellow Cake

Prepared in 11 X 13 pan

1

3.4 oz box

Instant vanilla pudding mix

2 1/2

cups

Milk

2

Medium bananas

sliced

1

cup

Strawberry preserves

12

oz

Cool Whip

1

cup

Crushed pineapple

drained

1/4

cup

Hot Fudge ice cream topping

12

Maraschino cherries

with stems

1/4

cup

walnuts, peanuts, or pecans

if preferred
Instructions
Prepare your favorite yellow cake in a 12 X 11 cake pan and carefully remove from oven.

Poke holes all over the cake.

In a small bowl, whisk together pudding mix and milk until smooth.

Pour pudding immediately over warm cake. Refrigerate for 3 hours, or overnight.

Once chilled, top with strawberry preserves, sliced bananas, pineapple and Cool Whip (in that order).

Warm hot fudge topping with 2 tablespoons of water in a small microwave-safe bowl.

Drizzle chocolate fudge and place cherries and nuts on top.