Easy Bacon Jam Recipe
Easy Bacon Jam Recipe.  You are going to love how easy and delicious this bacon jam recipe is to make.  This bacon jam has everything that reminds you of breakfast, but can be eaten any time of day!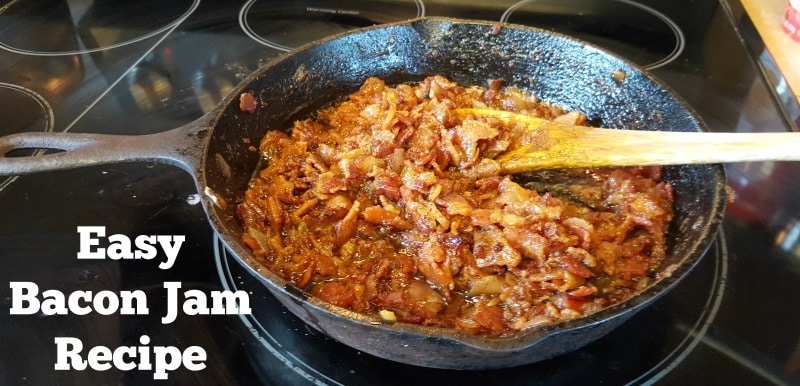 We love bacon around our house, but we only cook it a few times a year.  With baking season upon us, it's time to break out the bacon and get to cookin'!  One favorite recipe around here is bacon jam.  Bacon jam is a great topping to so many dishes, which makes it the perfect addition to any recipe collection. Most often, we eat bacon jam on toast.  I also add it to a lot of dishes, especially when it has been in the fridge for about a week.  Just today, I added about 1/4 cup of bacon jam to my favorite black eyed peas and sausage recipe.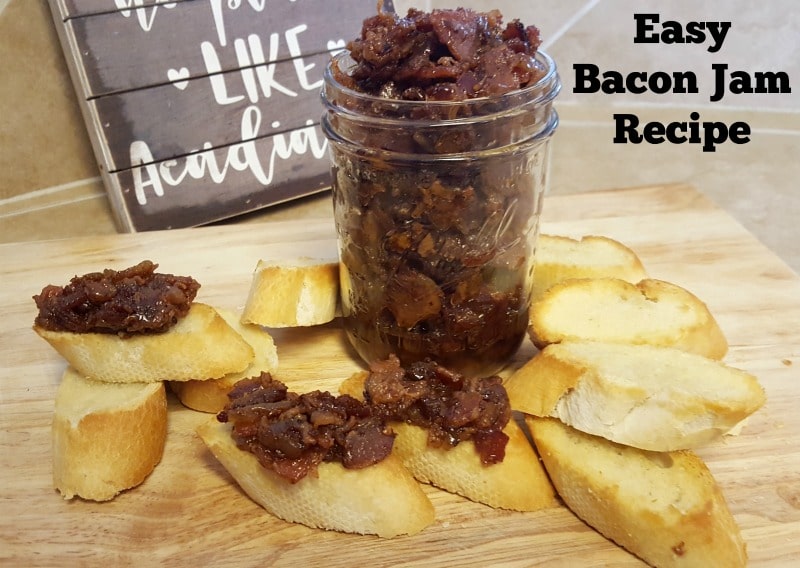 My recipe calls for just  a pinch of cayenne pepper.  If you like spicier food, you can definitely add more pepper.  To get the strong coffee that my recipe calls for, I add 1 tsp of instant coffee to leftover coffee from my husband's morning coffee.  The bacon, maple syrup and coffee flavors in this recipe are definitely going to make it a favorite around your house!  This Bacon Jam will keep in your fridge for about 10 days.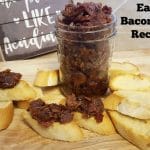 Easy Bacon Jam Recipe
Ingredients
1 1/2

Pounds

Bacon

chopped

3

medium

Onions

diced

4

T

Maple syrup

1/4

cup

Apple cider vinegar

1

T

Garlic

diced

1/2

Cup

Bown sugar

packed

1/2

tsp

Chili powder

1

Pinch

Cayenne pepper

1/2

cup

Strong brewed coffee
Instructions
Cook bacon on medium high until bacon is browned, then drain off all of the grease and set the bacon aside. (I use an iron skillet)

Cook onions and garlic in same pan as the bacon on medium high until onions are gently caramelized.

Add bacon, coffee, maple syrup, brown sugar, chili powder, cayenne pepper, and apple cider vinegar to the onion mixture.

Turn down to medium low and let simmer for 45 minutes while stirring occasionally.
https://acadianasthriftymom.com/2013/09/08/cream-of-anything-soup-mix/
https://acadianasthriftymom.com/2013/09/09/homemade-ranch-dressing-mix/
https://acadianasthriftymom.com/2015/06/23/5-ways-to-surprise-your-kids-with-a-trip-to-disney-disneyside/