Don't Get Angry – Go Snorkeling #AlohaAngryBirds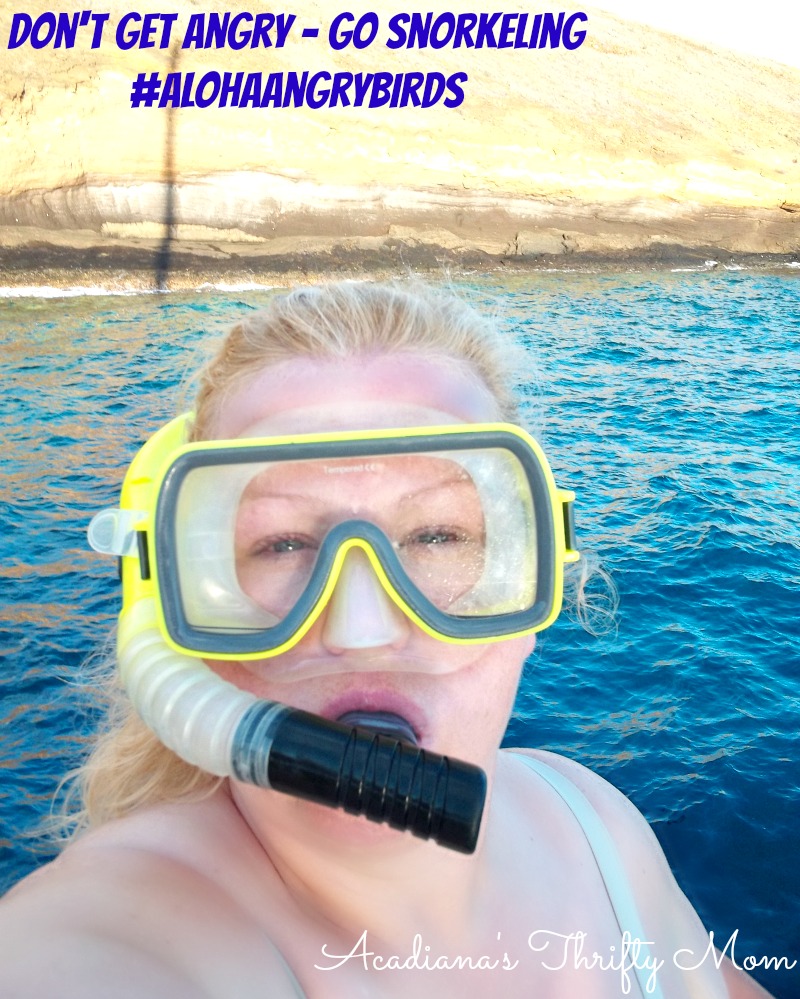 Don't Get Angry – Go Snorkeling!  I finally get to share with you one of the most amazing experiences of my life!  As you know, I spent some time on Bird Island last month, getting to know The Angry Birds.  Before the movie comes out, on May 20, I wanted to find out just why those birds are so angry!  Well, I can tell you, with 100% certainty, that I left Bird Island with no better idea of why than when I went there.  The only thing I did learn is that *maybe* those birds just aren't so angry afterall.  But, you'll have to watch The Angry Birds Movie, when it comes out in theaters, to find out for yourself.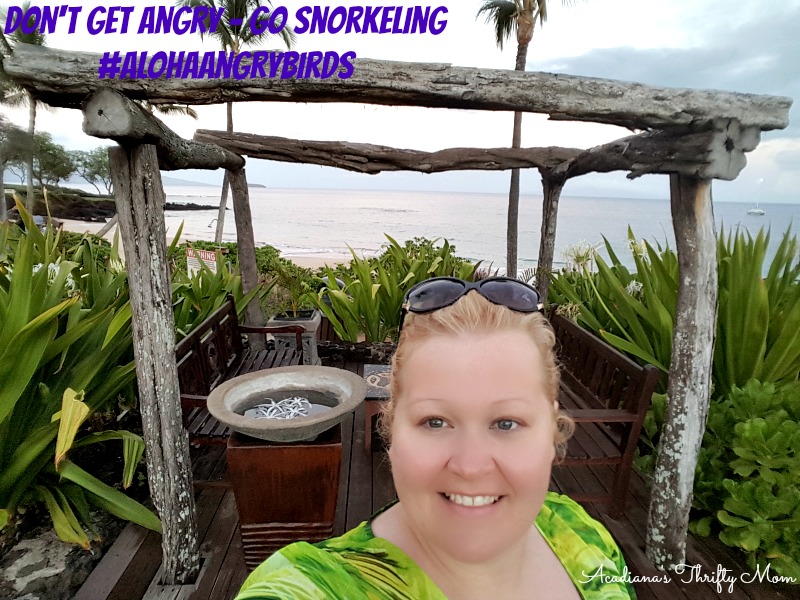 Oh yes, we were going snorkeling.  There are so many ways to cool off and relax in Maui, but I cannot imagine that any of them are more amazing than spending time in the ocean in Molokini Crater!  As we were waiting for our charter boat, I took a look around the beach area.  There is no place we went in Hawaii that didn't look like a post card.  I could not take a bad picture, so I snapped a few to share with all of you 😀  When our boat arrived, I got a little, well a LOT, nervous.  Was I going to be able to follow through with this?  The ocean was so big and I felt so small!  The entire crew of the Kai Kanani were so welcoming and professional.  I felt at ease as soon as we stepped on board this beautiful boat (pictured below).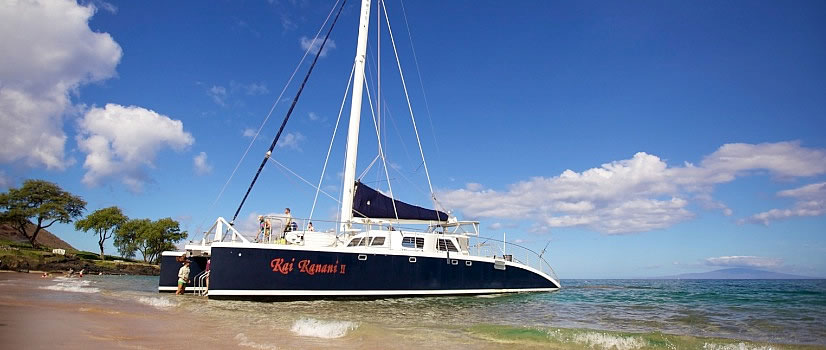 Molokini Express Snorkel Tour:
An early riser's paradise, our Molokini Express snorkel tour gets you to Molokini Crater before the other boats for undisturbed snorkeling on our prime mooring location at one of the world's most popular snorkel destinations. After you've fully experienced Molokini snorkeling, we head over to Turtle Town, another fabulous Maui snorkel site known for its large turtle population. The Molokini Express Tour arrives before all the other tour boats, so you can experience these fabulous Maui snorkeling destinations with less pressure from the other tour operators. ~ KaiKanani.com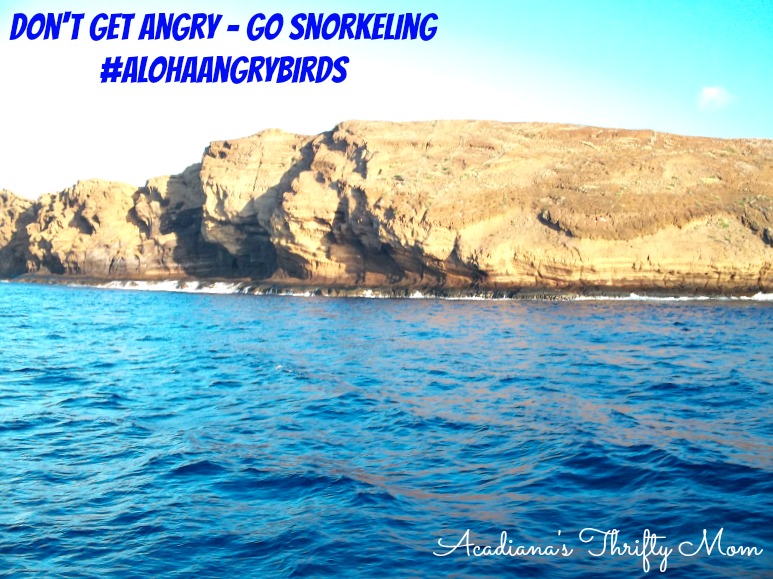 The whole ride out to Molokini Crater was just breathtaking!  The water was blue, but not a blue I had ever seen in nature.  This is a beautiful deep blue that looked like someone dumped gallons of blue food coloring in the water.  It was amazing!  The ride was smooth and I didn't feel sick at all (yes, that was something else I was worried about LOL.  I took this photo of the back of Molokini Crater.  I didn't know, at the time, that was where we were already, but thought it would give everyone a great idea of how blue the water is!
About Molokini Crater:
Snorkeling within Molokini Crater offers spectacular visibility of up to 150 feet. You'll enjoy snorkeling among around 250 species of endemic fish and marine life. Some of the more common fish include yellow tang, moorish idol, parrot fish, black triggerfish, bluefin trevally, raccoon butterfly fish, and even moray eels and sometimes manta rays and whitetip reef sharks. Due to consistent visits from tour boats carrying visiting snorkelers, marine life is less skittish and have become comfortable with the presence of humans. The waters within Molokini Crater are better protected from swell and currents than the shore of Maui. ~ MolokiniCrater.com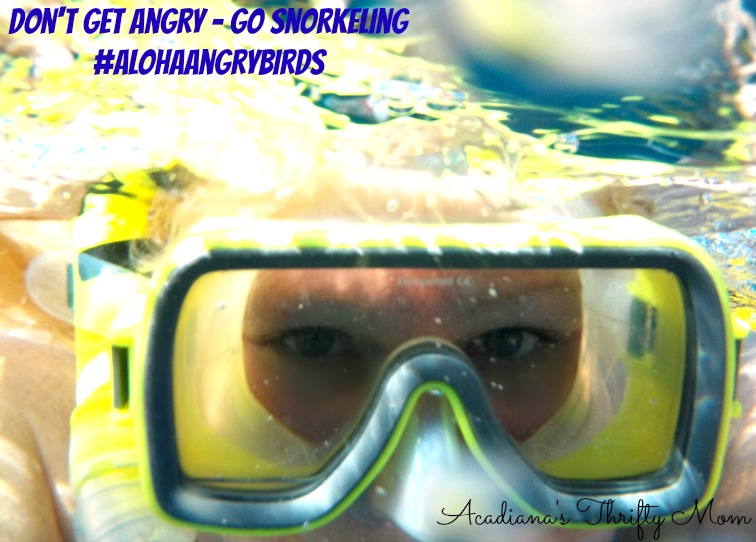 We were given our snorkeling gear and shown how to put it on.  It was so, super easy.  Mom mom told me that she was very claustrophobic when she tried snorkeling and couldn't do it, so I was a little worried if I'd be able to actually pull it off.  They gave us our kick boards and I was in the water!  I looked around above the water for a few seconds then quickly gave my kick board back to the scuba instructor and set off on my own!  The water was beautiful and the crater was huge!  It wasn't until I got brave enough to actually put my goggles under the water that I saw the true beauty of Molokini Crater.  It was amazing, breathtaking, and wonderfully magical!  The crater was teaming with fish of all different colors, just like I have seen on television, in books, and on post cards.  It was surreal.  I was really here, in Hawaii, swimming with tropical fish!  My underwater camera wasn't doing so great, and I haven't perfected the art of taking underwater photos LOL I really wish I could have gotten some great shots of just how beautiful and colorful it was under the water.  It was like a completely different world down there!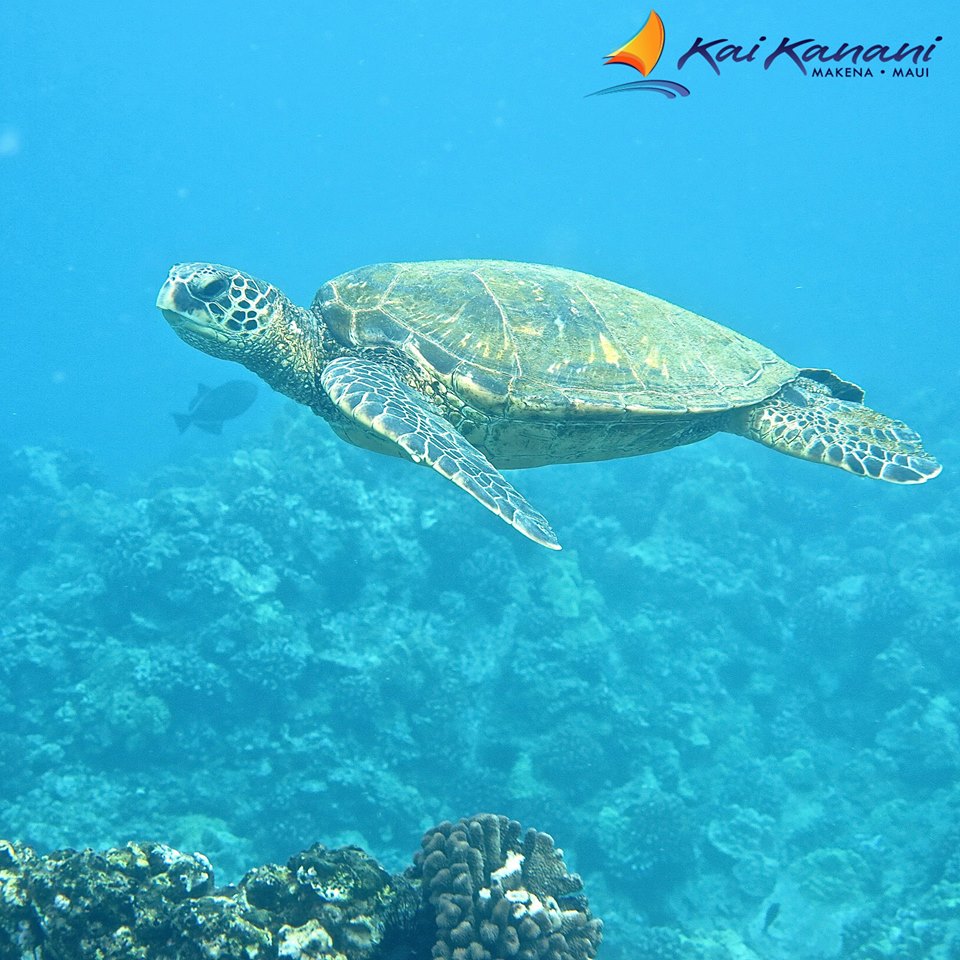 When we left Molokini Crater, we headed over to Turtle town where we were able to swim with the sea turtles!  Yes!  Swimming with sea turtles!
Turtle Town is a unique series of underwater lava formations developed long ago by the eruptions of submarine volcanoes. Today, the coral reef at Turtle Town is abundant with the protected Hawaiian Green Sea Turtle. This network of coral reefs at Turtle Town is also home to a wide variety of colorful tropical fish and other unique marine animals. ~ PrideOfMaui.com
I still have no idea why the Angry Birds are so angry, but I certainly had an amazing time investigating!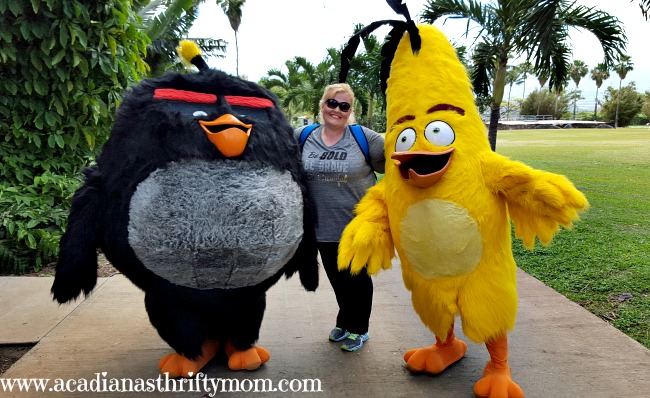 About The Angry Birds Movie:
In the 3D animated comedy, The Angry Birds Movie, we'll finally find out why the birds are so angry.
The movie takes us to an island populated entirely by happy, flightless birds – or almost entirely. In this paradise, Red (Jason Sudeikis, We're the Millers, Horrible Bosses), a bird with a temper problem, speedy Chuck (Josh Gad in his first animated role since Frozen), and the volatile Bomb (Danny McBride, This is the End, Eastbound and Down) have always been outsiders. But when the island is visited by mysterious green piggies, it's up to these unlikely outcasts to figure out what the pigs are up to.
Featuring a hilarious, all-star voice cast that includes Bill Hader (Trainwreck, Inside Out), Maya Rudolph (Bridesmaids), and Peter Dinklage (Game of Thrones), as well as Keegan-Michael Key (Key & Peele), Kate McKinnon (Saturday Night Live, next year's Ghostbusters), Tony Hale (Veep, Arrested Development), Ike Barinholtz (The Mindy Project, Neighbors), Hannibal Buress (Broad City, Why? With Hannibal Buress), Jillian Bell (22 Jump Street), Danielle Brooks (Orange is the New Black), Latin music sensation Romeo Santos, and YouTube stars Smosh (Ian Hecox and Anthony Padilla), the Columbia Pictures/Rovio Entertainment film is directed by Fergal Reilly and Clay Kaytis, produced by John Cohen and Catherine Winder, screenplay by Jon Vitti, and executive produced by Mikael Hed and David Maisel.
Follow The Angry Birds Movie on Facebook
Follow The Angry Birds Movie on Twitter
Follow The Angry Birds Movie on Instagram