Disney's Jungle Book Goes Beyond 'Bear Necessities' For Fun #JungleBookBluRay
*I received an all expenses paid trip to Los Angeles for the coverage of several press events for Disney. All opinions are 100% my own and I only recommend events and shows that are a great fit for my readers.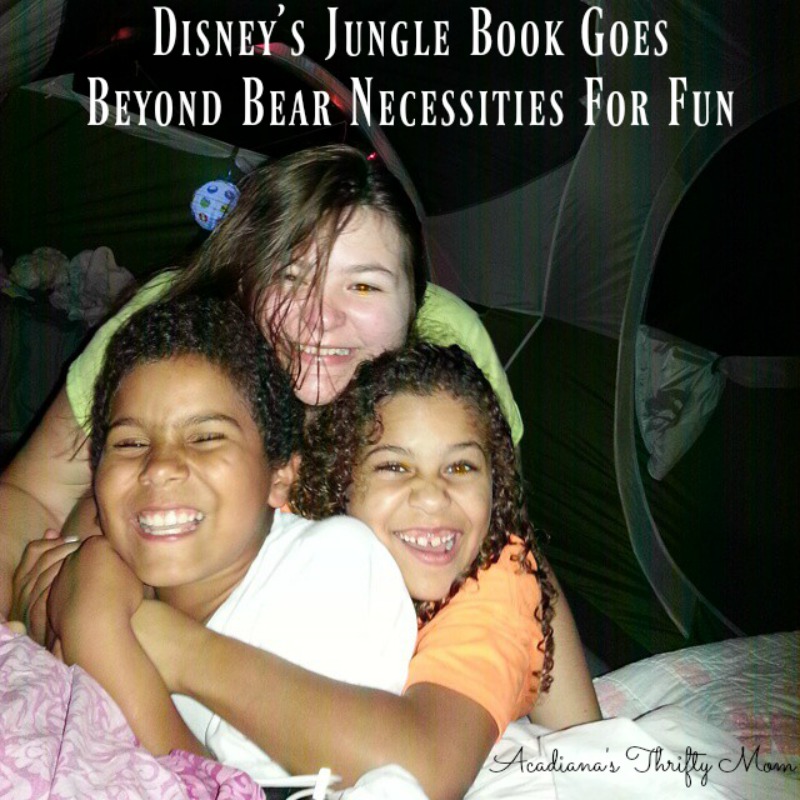 Did you hear the Disney's The Jungle Book was released on Blu-ray, DVD, and Digital HD this week?!  Well, if you're looking for great fun and quality time with your family; Disney's Jungle Book goes beyond the 'bear necessities' for fun!  One theme our family carries throughout everything we do is fun!  If it's not fun, you're going to have a hard time getting us there.  Okay, I know we have to work; I get that, but we can have fun while we do, right?!  Well, if you're looking for a way to escape the daily grind and busy-ness of life; sit down with your family and just relax and enjoy a great movie.  Our entire family had so much fun watching The Jungle Book.  The kids go around singing "Bear Necessities" to each other, especially when we're headed to the grocery story and Daddy's complaining that we spend too much money LOL  Now, I think it's become a "Bear Necessities" game for them.  Of course it has, everything is a game!
The Jungle Book was so much fun for our family because we love the outdoors and nature.  My kids want to save every single animal, except snakes, they definitely do not want to save snakes.  But lizards, oh yeah, they're going to be saving all of the frogs and lizards they can find.  We love camping and hiking, so The Jungle Book was right up our alley, er, trail 😀
Although we love malls and man made tourist locations; our best bonding and relaxing as a family comes in the great outdoors.  We all go camping at least once a year, more if we have time.  This is a great way to get back in touch with nature and each other.  The Jungle Book takes us there, back to nature, while sitting in our living room on our sectional, snuggled up under blankets.  The kids even made a "tent" out of sheets while we were watching it.  It was a blast!  So, pop you some pop corn, pop some s'mores in the oven and have an indoor camping trip!  It will be so worth it and you'll want to do it again and again 😀
About The Jungle Book:
Directed by Jon Favreau ("Iron Man"), based on Rudyard Kipling's timeless stories and inspired by Disney's classic animated film, "The Jungle Book" is an all-new live-action epic adventure about Mowgli (newcomer Neel Sethi), a man-cub who's been raised by a family of wolves. But Mowgli finds he is no longer welcome in the jungle when fearsome tiger Shere Khan (voice of Idris Elba), who bears the scars of Man, promises to eliminate what he sees as a threat. Urged to abandon the only home he's ever known, Mowgli embarks on a captivating journey of self-discovery, guided by panther-turned-stern mentor Bagheera (voice of Ben Kingsley), and the free-spirited bear Baloo (voice of Bill Murray). Along the way, Mowgli encounters jungle creatures who don't exactly have his best interests at heart, including Kaa (voice of Scarlett Johansson), a python whose seductive voice and gaze hypnotizes the man-cub, and the smooth-talking King Louie (voice of Christopher Walken), who tries to coerce Mowgli into giving up the secret to the elusive and deadly red flower: fire. The all-star cast also includes Lupita Nyong'o as the voice of the fiercely protective mother wolf Raksha, and Giancarlo Esposito as the voice of wolf pack's alpha male Akela. "The Jungle Book" seamlessly blends live-action with photorealistic CGI animals and environments, using up-to-the-minute technology and storytelling techniques to immerse audiences in an enchanting and lush world. THE JUNGLE BOOK  now available on Blu-ray, DVD, and Digital HD.

undefined on Disney Video
Like THE JUNGLE BOOK on Facebook  
Follow THE JUNGLE BOOK on Twitter
Follow THE JUNGLE BOOK on Instagram
Follow THE JUNGLE BOOK on Pinterest
Follow THE JUNGLE BOOK on Google+
Visit Walt Disney Pictures on Tumblr
Follow Walt Disney Pictures on YouTube
Visit the official THE JUNGLE BOOK website here
THE JUNGLE BOOK  now available on Blu-ray, DVD, and Digital HD!