Come To Lake Charles And Play With A Fresh Look, Food, And Fun At Chuck E. Cheese's
Come To Lake Charles And Play With A Fresh Look, Food, And Fun At Chuck E. Cheese's.  Last week we took a short drive over to Lake Charles for the Grand Re-Opening of their Chuck E. Cheese's.  It was well worth the short drive down I-10!
*This is a sponsored conversation written by me on behalf of Chuck E. Cheese's . The opinions and text are all mine.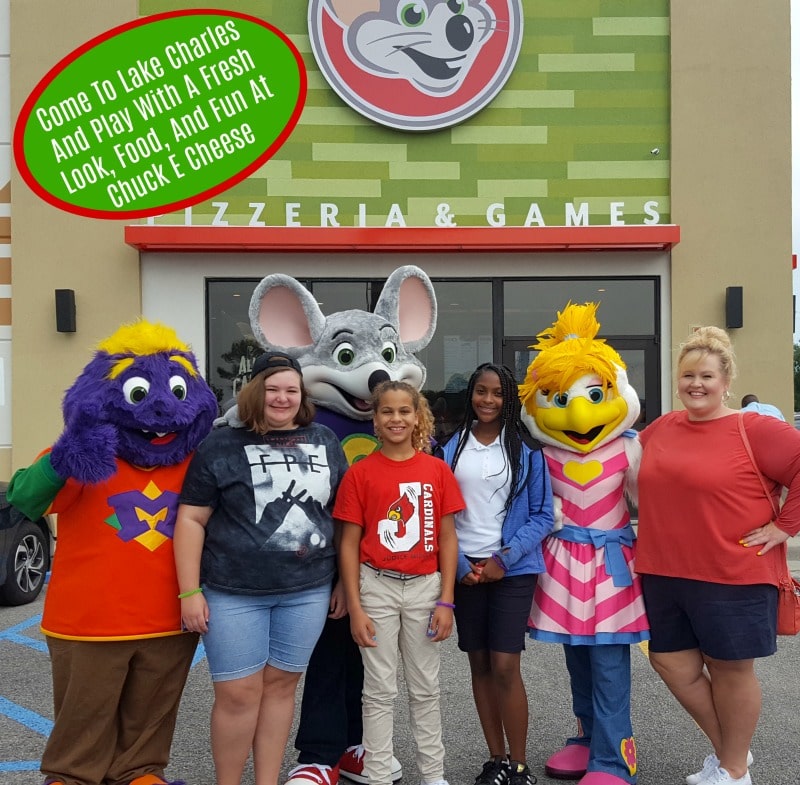 The Lake Charles, Louisiana Chuck E. Cheese's has recently teamed up with San Francisco-based design firm, Tesser, to update its Lake Charles location.  The focus for this partnership is on fresh food and fun for the whole family.  With this new design brought a fresh new focus on delicious pizzas made from scratch daily in their newly redesigned open kitchens.  This allows guests to watch the pizza making process.  We were introduced to more of a restaurant atmosphere, but that did not take away from the fun and games that has made Chuck E. Cheese's the place where a kid can be a kid for 40 years!
The Grand Re-Opening was on the second day of school for our district, so I picked the girls up from school and whisked them away for an afternoon adventure at Chuck E Cheese's.  I took my oldest daughter, who is 19, my youngest daughter who just turned 12, and her best friend who is also 12 years old.  You may be thinking that these girls are too old to enjoy Chuck E Cheese's, but you would be incorrect!  The first thing they all noticed was the modern look of the outside of the restaurant when we drove up.   The new design also features a more adult ambiance with warm wood, neutral tones and streamlined graphics.  This definitely created a more inviting environment for my girls who are way too mature for Chuck E Cheese's LOL
Is There An Age Limit On Being A Kid?
I can tell you that, once these "very mature young women" got their Play Pass Game Cards, this mama didn't see them until it was time to eat!  I had to go find all 3 of them to take pictures and videos.  Finding them was a fun game of "okay, take my picture, then let me finish my game".  I'm going to be completely honest here; I was a little worried that they would hate this experience and it would be a complete bust!  It was, absolutely not.  My 19 year old legitimately asked me to have her 20th birthday at this Chuck E Cheese's LOL  Don't worry, Chuck E. Cheese, I won't bring a group of 20 year old college students parading through anytime soon.  From basketball and skee-ball to sketched portraits and an all-new light up dance floor, these girls had a blast!
The restaurant was new, modern and hip.  The games were fun.  These kids were being kids.  This is something that we, as parents don't always get to see enough of.  Once our kiddos are in middle school, the 'being a kid' stops and they trade in their playfulness for 'coolness'.  It was great to see them being kids and enjoying all of the fun they enjoyed when they were younger.
But do they still have tickets?
The tickets!  Ahhh, the tickets we all grew to love as kids.  I'm so glad you asked.  There are still tickets and the ticket muncher.  I was so happy to see this feature remained during the remodeling.  They still love putting in all of their tickets and going to the counter to see what they can "buy".  They all walked out with hands full of candy and trinkets.  This is the joy, I remember, of Chuck E Cheese's .
I have one last thing I want to point out for all of the tired parents out there who just want to take a break.  Look at the photo below, this is huge for me!  The booths are very roomy.  I am not a small woman, but I love sitting in a booth.  Because of my size, booths are not always comfy and Chuck E Cheese's thought about that in their redesign!  There is extra room for people who need it!  Whether you are a nursing mom, have a bulky car seat, large gifts that need a spot, or you just like extra room; the new Chuck E Cheese's design has you covered.  So, grab your friends and family and head on down for a day or night of non-stop fun for the kids and relaxation for everyone else.  Whatever it is that you need, the new design has it!
This is a sponsored conversation written by me on behalf of Chuck E. Cheese's . The opinions and text are all mine.

https://acadianasthriftymom.com/2018/08/13/new-ralph-breaks-the-internet-wreck-it-ralph-2-sneak-peek-just-released-ralphbreakstheinternet/
https://acadianasthriftymom.com/2018/08/03/5-reasons-you-are-going-to-be-happy-you-took-your-family-to-see-christopher-robin/
https://acadianasthriftymom.com/2018/07/28/the-wnba-dallas-wings-an-inspiring-show-of-strength-teamwork-and-athleticism/