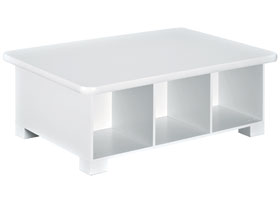 About ClosetMaid:
Today we are the worldwide leader in home storage and organization, offering innovative wire and laminate/wood storage systems for use in bedrooms, kitchens, family rooms, laundry rooms, home offices and garages – wherever people need to store and organize their things. We are a division of Emerson Electric (NYSE:EMR). Our products are available at home improvement stores, mass merchants, online, and from ClosetMaid Authorized Dealers near you.


About the activity table:
This ClosetMaid® Organizer is a sturdy, low-sitting play table that is comfortable for kids. Designed to work perfectly with ClosetMaid Cubeicals® Fabric Drawers sold separately.
Oversized top for a play area for children
Create you own unique look with Cubeicals accessories
Available in White only
Material: Laminated wood
CARB 93120 Compliant
Inside Dimensions of 1 Cube: 11.25 in.H x 11.25 in. W x 11.75 in. D

My review:
I was SO excited to recieve this activity table. My 3 kids have our closed-in garage as a play room affectionately nicknamed the "Kid Cave" LOL We have been putting together different "centers" for the kids to play and learn. I knew this ClosetMaid activity table would be PERFECT! Well, I was right. My kids have hardly left this table. In the last week they have made play-doh stop-motion videos, had a princess party, built Lego towers, put on a concert, and countless other activities on this table LOL. This table is the perfect height for all 3 of my children. It is tall enough to be a great work space while they are sitting on their bean bags and low enough to be used as a stage and still remain safe. I am so in love with this table; I'm tempted to buy this floor organizer from ClosetMaid to go with it!
The Giveaway:
Acadiana's Thrifty Mom has teamed up with some AWESOME bloggers to bring you this giveaway sponsored by ClosetMaid.   ClosetMaid is giving 1 lucky reader a chance to win their very own activity table!   All you have to do is enter the simple Rafflecopter below This giveaway is opened to the U.S. ONLY .   GOOD LUCK! This giveaway will end at midnight on Tuesday, April 2, 2013.
a Rafflecopter giveaway