Clean Eating Pear Quesadilla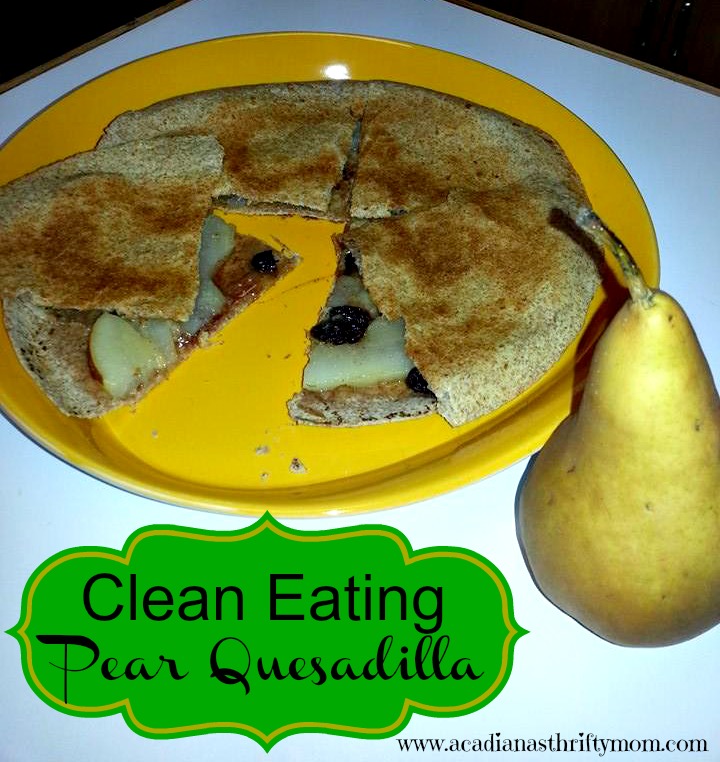 We have our latest creation on our clean eating journey.  I cooked this one up yesterday on a whim and it turned our FABULOUS!  My mother, daughter and I all loved it.  I made it for lunch and we all agreed it was probably more of a dessert food.  I hope you all enjoy it as much as we did.
Gather your ingredients:
4 whole grain tortillas (10 in.)
2 T raw honey
4 oz. grated low fat mozzarella cheese
4T  raisins
1t cinnamon
2t coconut oil
1 small pear, cored and sliced ( you can peel it if you like although it is not necessary as pear skin is very soft)
Get to cooking:  
 Place tortillas on a work surface and spread 1T honey on each on two of them.
 Coat bottom of large nonstick skillet with 1t of coconut oil and  heat on medium.
 Place 1 plain tortilla in each skillet and sprinkle each surface with 1 oz  of cheese then arrange 1/2 pear slices over top, then sprinkle with 2 T  raisins, 1/2t cinnamon,  and another ⅓ cup layer of cheese.
 Place 1 tortilla with honey,  honey side down, over  layered tortilla in skillet and gently press with a spatula to seal.  Allow to cook on medium for 10 minutes.
 Gently flip quesadilla and cook other side until lightly browned, about 5 minutes. Transfer quesadilla to a cutting board and slice into quarters.  I use a pizza cutter 😀
Repeat 1-5 with ingredients left 😀
ENJOY!