Clean Eating Fiesta Chicken Salad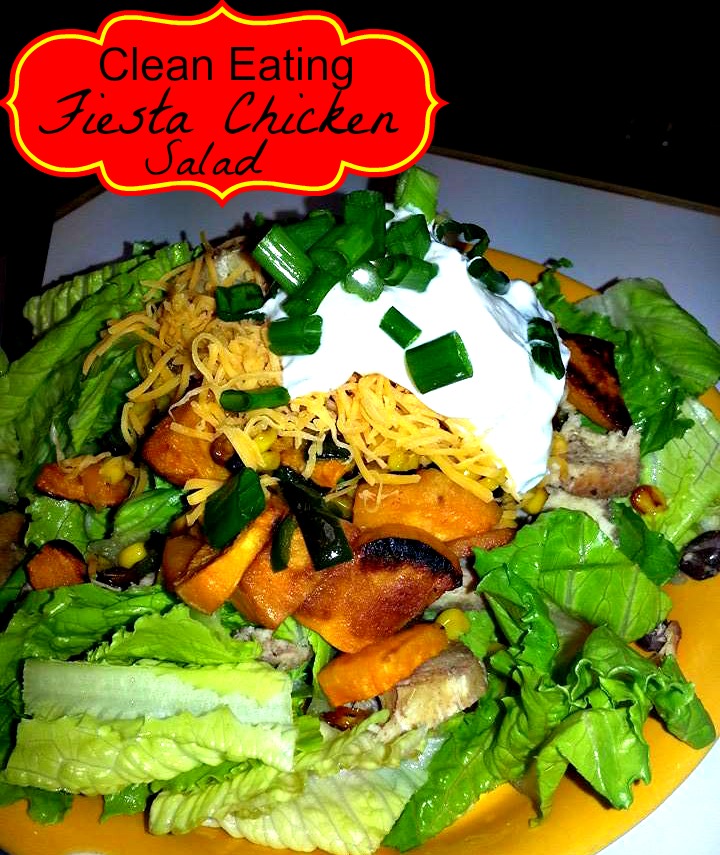 This was supper for us tonight and, WOW;  It was delicious!  All of the flavor combinations came together beautifully.  I will definitely be making this again.  I am also going to prepare more of the dressing for use in fajitas and wrap sandwiches.  Really you could use it in anything such as a veggie dip or eating on pitas!  I hope y'all enjoy it as much as we did.
Gather your Ingredients:
1 large sweet potato, peeled and chopped
2 cups frozen yellow corn
1 medium poblano pepper, seeded and diced
1 T olive oil
1. boneless chicken breast, chopped
1 t cumin
1 (15 oz.) can black beans, drained and rinsed
1 cup Greek yogurt
½ t chili powder
1 bunch green onions, chopped.  (separate the white from the green)
3 romaine hearts, chopped
½ cup grated low fat cheddar cheese
Get to cooking:  
Prepare dressing first by stirring together your Greek yogurt,  chili powder, and white parts of green onions. Chill while you're preparing the rest of the recipe.
Preheat oven to 400 degrees.  Toss corn, poblano and potato with oil in a bowl.  Spread mixture onto a 9 x 13 inch baking pan and roast for 30 – 45 minutes until corn and poblano begin to brown and potato softens.
While the veggies are roasting, add chicken to a preheated skillet and cook on medium high for 10 minutes.  Stir often until browned.
Add cumin, beans, and 1/4 cup water to the chicken mixture and stir to combine.  Cover, reduce heat to low and keep warm until ready to serve.
Remove veggies from oven and let cool slightly. Divide your romaine hearts between 4 serving plates and top each with chicken mixture, vegetables, sprinkle with remaining green parts of green onions and cheese and top with dressing divided evenly.