Clean Eating Peach Crumble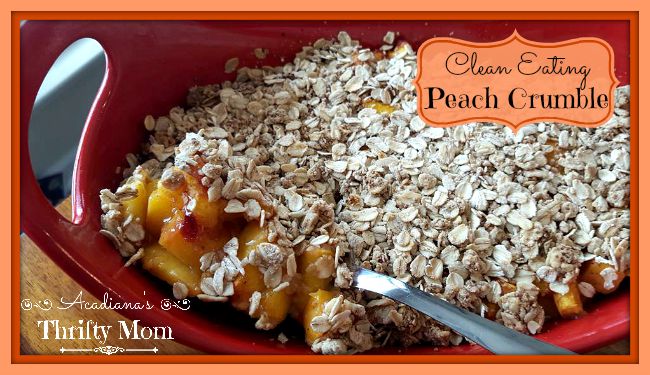 Well, we're back at it again!  We're eating clean and loving it!  I don't know if y'all remember, but we did this for about 6 weeks last year and lost a ton of weight and were feeling wonderful.  If you have never tried eating clean, you really should.  It is the only eating plan I have ever done that really made me feel great and I am almost never hungry!  Anyway, we're always trying new recipes and tweaking old recipes to "clean them up".  This peach crumble is one of our faves!  Right now peaches are in season and are super yummy!  This recipe serves 4.  I hope you enjoy it as much as we do!
Gather your supplies:
• 4 extra large peaches, diced (or 5-6 medium)
• 2 tbsp cornstarch
• 1 tsp ground cinnamon, divided
• ¾ c old-fashioned oats
• ¼ c whole wheat flour
• 2 tbsp organic sucanat
• 2 tbsp unsalted butter, melted
Get to cooking!
Preheat the oven to 350°F, and lightly coat an 8"-square baking pan with nonstick cooking spray.
Toss together the diced peaches, cornstarch, 1/2 of your cinnamon and 1 tablespoon sucanat in a medium to large bowl.
In a separate bowl, mix together the oats, flour, remaining sucanat, remaining cinnamon and butter.  Mix until completely incorporated.
Spread the peach mixture into the prepared 8″ pan coated in non-stick spray, and evenly sprinkle the oat crumbs on top.
Bake at 350°F for 35-45 minutes, or until it's bubbly.
You can eat it warm or cold.  We love it still warm.  If you're not eating "clean" you can add a scoop of vanilla ice cream on top, YUM!
ENJOY!