Classic Southern Tomato Pie
Classic Southern Tomato Pie.  If you even remotely like tomatoes or pizza; you have to try this classic southern tomato pie!  This is a summer staple around our house.  My oldest daughter and I can eat tomato pie for breakfast, lunch or supper!  I've even been known to add a few eggs and turn it into a tomato quiche for brunch.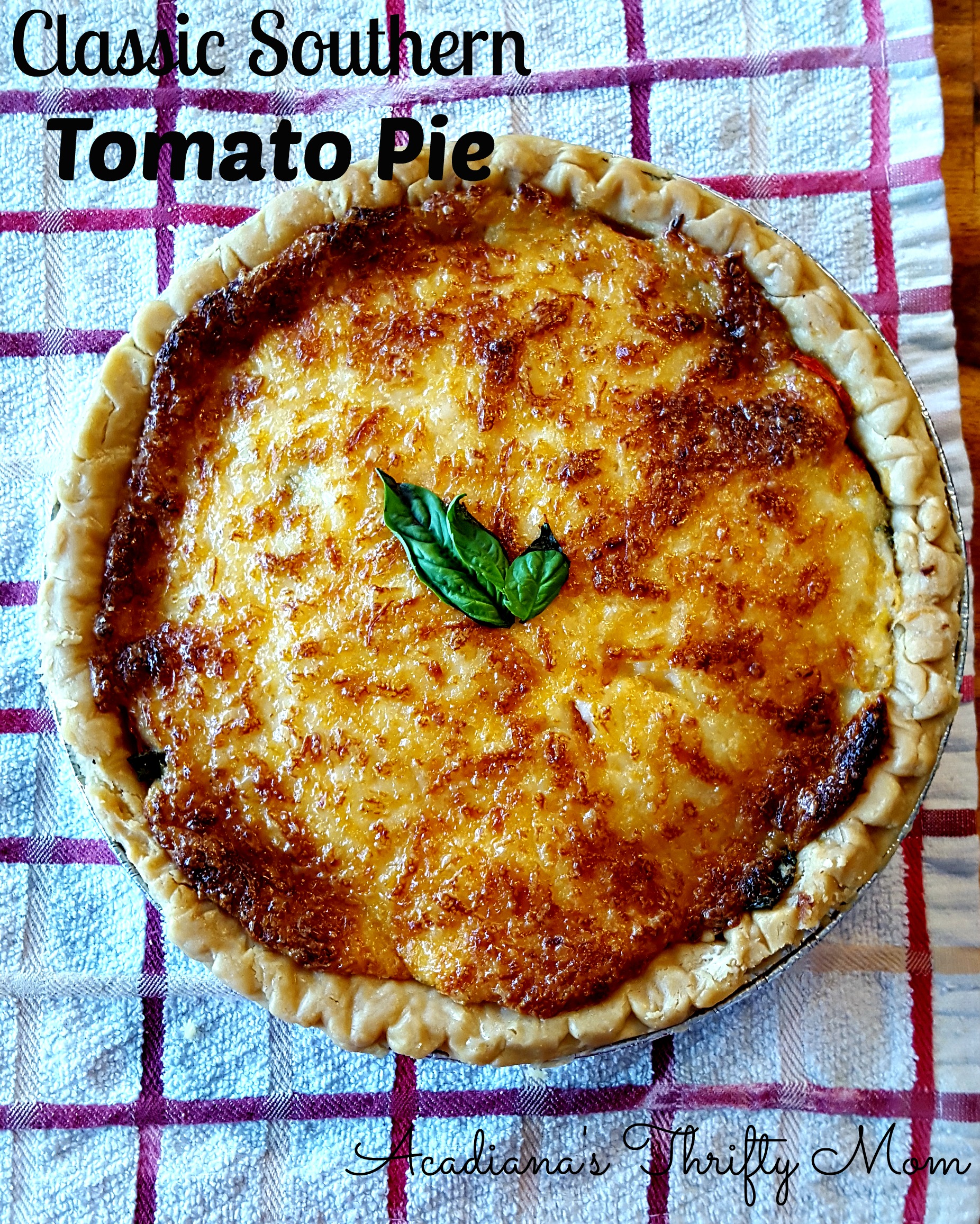 Being from the south, I was born with a love for home grown tomatoes.  I usually choose Roma tomatoes for tomato pie because they don't tend to lose as much moisture, thus not creating a soggy pie.  This pie is perfect even if you don't love tomatoes.  It's not as "tomato-y" as you might think.  I would challenge you to try it, if you like pizza and let me know what you think.  I hope you enjoy it as much as our family does 😀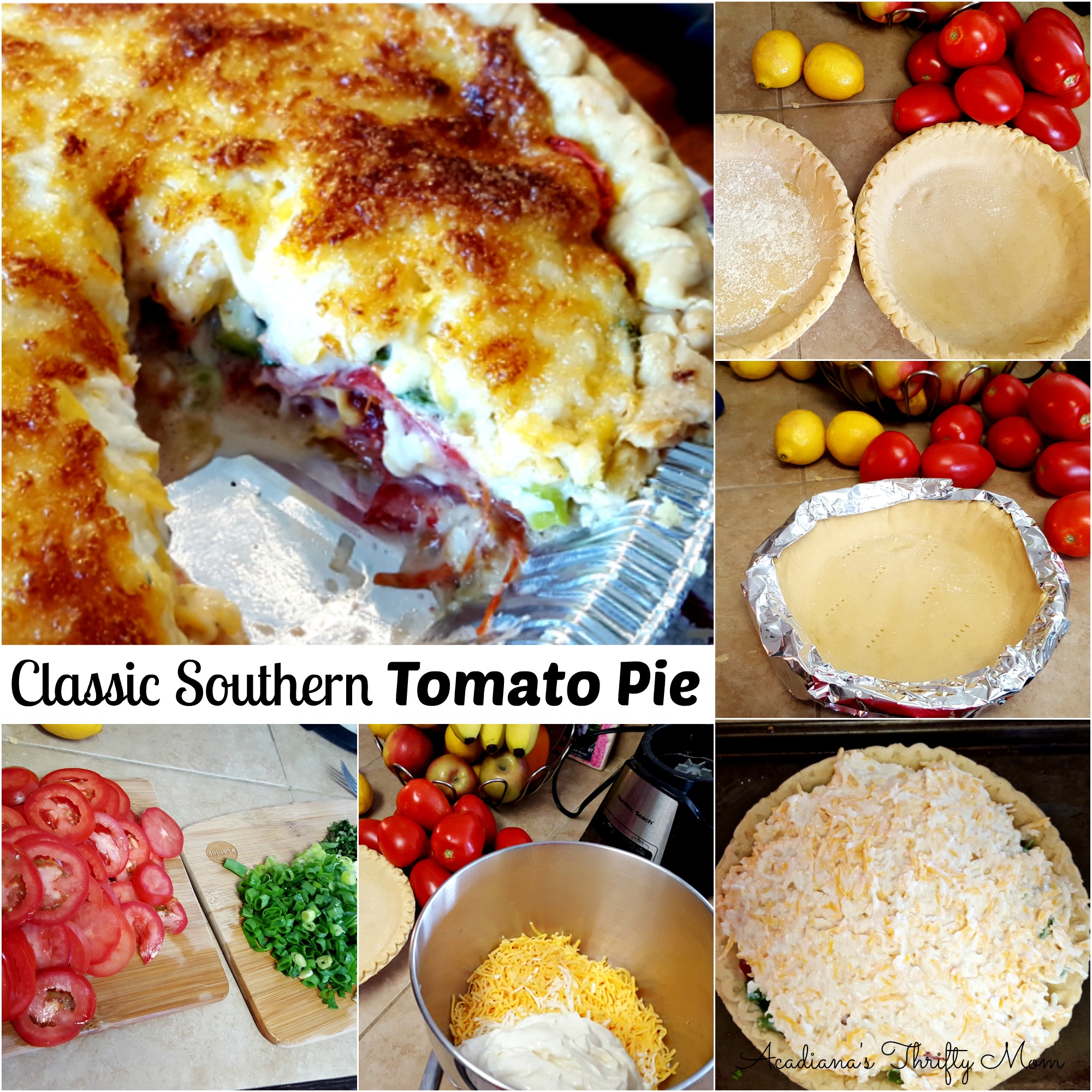 Gather your ingredients:
10 medium Roma tomatoes, thinly sliced
8 green onions, diced
10 fresh, medium basil leaves, chopped
1 cup cheddar cheese
1 cup mozzarella cheese
3/4 cup mayonnaise
salt and pepper to taste
4 Tbsp corn starch
2 deep dish pie crusts
Get to baking!
Poke holes in the bottom of the pie shells with a fork and bake in an oven preheated to 350 degrees for 10 minutes
While the pie shells are baking, prepare tomatoes, basil, and onions.
Mix mayonnaise and cheeses in a large bowl
Once the pie shells are finished baking, sprinkle each shell with 1 Tbsp of corn starch each then layer each shell with 1/4 sliced tomatoes.
Next layer 1/4 onions and basil on top of tomatoes in each pie shell and sprinkle with salt and pepper to taste.
Sprinkle each pie with 1 Tbsp of corn starch each.  Be sure to sprinkle the corn starch evenly across each entire pie.  This helps soak up the juice from the tomatoes and create a more stiff pie.
Next, layer each shell with remaining tomato slices divided evenly between pies.
Layer remaining basil and onions divided equally between pies and sprinkle with salt and pepper to taste.
Divide the cheese mixture between each pie until each pie is evenly covered and all of the topping has been used.
Place both pies on a cookie sheet and bake in an oven preheated to 350 degrees for 20 minutes.
ENJOY!
* * Helpful hint * * I always cover the edges of the pies with aluminum foil before baking, this keeps the edges of the pie shell from burning.
If you liked this recipe, try these other great recipes from Acadiana's Thrifty Mom:
https://acadianasthriftymom.com/2014/08/15/loaded-mexican-chicken-potato-skillet/
https://acadianasthriftymom.com/2018/04/30/instant-pot-bread-pudding-with-rum-sauce/
https://acadianasthriftymom.com/2015/06/20/southern-pecan-praline-cake/