Big Hero 6 – New York Comic Con Sizzle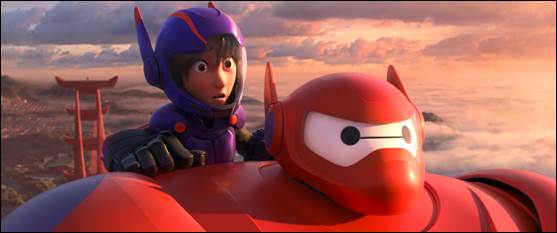 Guess what y'all?! November 7 is almost here! My kids are talking about Big Hero 6 every…single…day in our house 😀 If it doesn't get here soon, I may need to move out for a few days just to get a break LOL We have a new trailer from Comic Con to tide everyone over until opening day though. I hope you all enjoy it as much as we did.
From Walt Disney Animation Studios, the team behind "Frozen" and "Wreck-It Ralph," comes "Big Hero 6," an action-packed comedy-adventure about the special bond that develops between Baymax (voice of Scott Adsit), a plus-sized inflatable robot, and prodigy Hiro Hamada (voice of Ryan Potter). When a devastating event befalls the city of San Fransokyo and catapults Hiro into the midst of danger, he turns to Baymax and his close friends adrenaline junkie Go Go Tomago (voice of Jamie Chung), neatnik Wasabi (voice of Damon Wayans Jr.), chemistry whiz Honey Lemon (voice of Genesis Rodriguez) and fanboy Fred (voice of T.J. Miller). Determined to uncover the mystery, Hiro transforms his friends into a band of high-tech heroes called "Big Hero 6."
Like BIG HERO 6 on Facebook
Follow Walt Disney Animation Studios on Twitter  
Follow Walt Disney Animation Studios on Tumblr
Visit the Website
BIG HERO 6 opens in theaters everywhere on November 7th!