Best And Easiest Homemade Fried Chicken

If you're like me, there are certain dishes you just do not like to prepare in the kitchen.  For me, that dish was always fried chicken.  It was messy, time consuming and tasted meh.  We would do so much better just to go out and eat fried chicken because that was one dish Mama just could not perfect; until now!  I have experimented, over the years, with different recipes and marinades.   I am happy to report, that I have found the perfect combination of marinating and frying chicken to get it perfect, for our family at least.  My husband and kids beg for me to fry chicken now and that was not the case a few years ago.  One thing that really changed the way I fry chicken was the idea that I had to have eggs in the batter or coating for the crust to turn out perfect.  Well, that is definitely a myth!  This recipe calls for zero eggs and the crust is fabulous without them 😀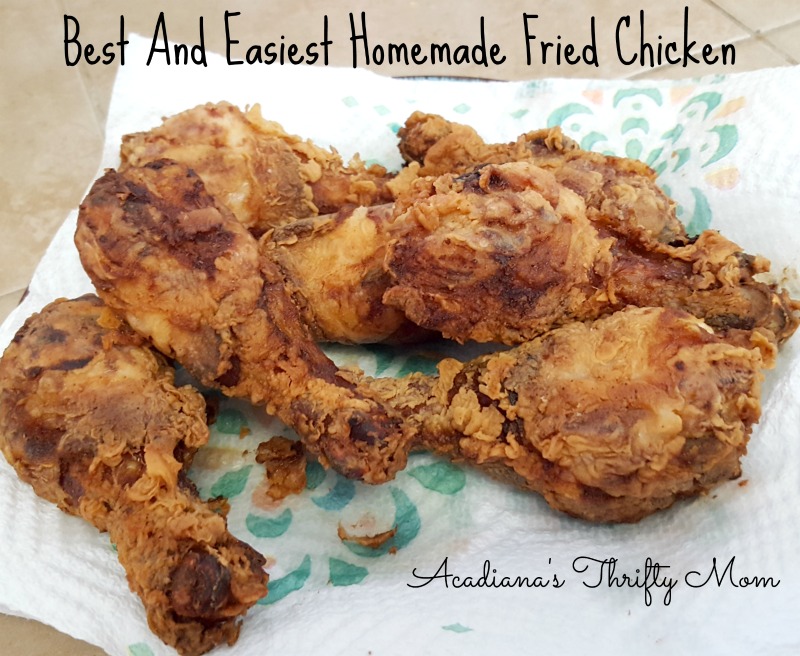 Gather your ingredients:
10 chicken legs (drumsticks)
4 cups milk
2 Tbsp white vinegar
3 Tbsp salt
2 Tbsp sugar
2 tsp black pepper
3 tsp garlic powder
3 tsp onion powder
2 tsp paprika
4 cups all purpose flour
3 cups vegetable oil
Get to frying:
Mix the milk, vinegar, 2 Tbsp salt,  sugar, 1 tsp black pepper, 2 tsp garlic powder, in a gallon size zip lock bag and shake to mix.
Add the chicken to the milk mixture and allow marinate in the refrigerator for 4-6 hours.
Remove the chicken from the refrigerator and place on counter top while you heat 4 cups of vegatable oil to 350-375 degrees in a deep skillet or pot that is 3 quarts in capacity or larger.  I use a deep iron skillet.
While the oil is heating, combine the flour with 1 Tbsp salt, 1 tsp black pepper, 1 tsp garlic powder, 1 tsp onion powder, and 1 tsp paprika in a large mixing bowl.
Once the oil is ready, take each piece of chicken out, one at a time; shake off the excess milk mixture, coat in flour, and carefully place in prepared grease.  Be very careful, as the grease is hot and my splash.  It is best to use tongs to place the chicken in the grease to keep from burning yourself.  Place 5 pieces of chicken in the oil and allow to fry for about 7-8 minutes.
Using tongs, carefully flip each piece of chicken and fry for an additional 7-8 minutes, until golden brown!  I like to place a lid on the chicken for the last 3 minutes it's cooking, just to help seal in the flavor and juices 🙂
***Chicken should always be cooked to, at least, 165° Fahrenheit to be safe.  You can use a meat thermometer to determine the temperature of the inside of the chicken pieces.
ENJOY!