Be Kind to Your Kids and Nature with My True Nature™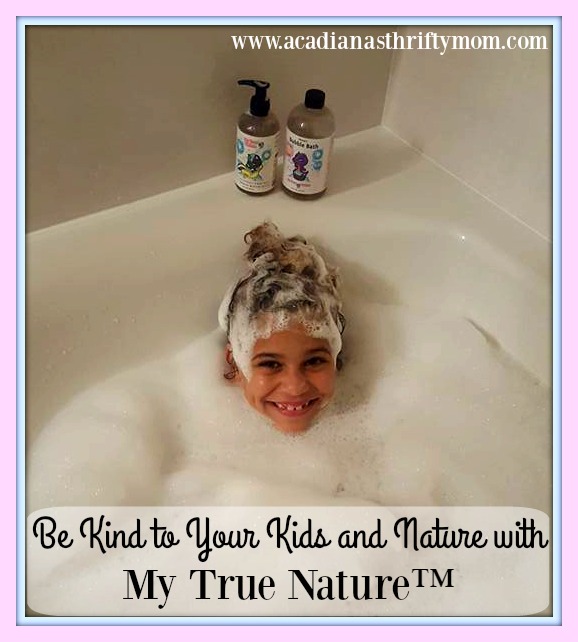 I had the pleasure of using My True Nature™ products recently.  I'm not a big "all natural" person nor am I a super green person.  I love to use natural and organic when it's readily available and we recycle when we can, but we don't go out of our way to do these things.  Organic is a little more important to us than green, simply because we believe there are simply too many chemicals in the foods we eat and products we use.  When I started reading about My True Nature, I was excited to try it out.  I do enjoy natural, but often the price keeps me from purchasing the products.  My True Nature products are definitely reasonably priced and have the benefits of being both organic and "green".  This definitely meets all of the criteria for a great product line, in my book!  Hannah was a little too excited when the package came in the mail.  She bugged me for DAYS to open it.  Finally, I had the time for photos LOL  The. bubbles. y'all!  I was very pleasantly surprised at the amount of bubbles the bubble bath created!  So often, "natural" products can lose some of the bubble power when they are cutting back on ingredients.  These bubbles did not disappoint.  We used just a small amount of bubbles and they filled the bathtub!  There is no fragrance in these products.  This aspect kind of scared me at first because many times no fragrance translates into "weird fragrance" LOL  With My True Nature, there was truly NO FRAGRANCE.  There was nothing to smell.  No chemical, no flowers, nothing!  We loved that!  These were all amazing products that came in a super cute package.  My neighbor just found out she's pregnant and I know what I'm getting for her baby shower already!  These would be perfect for Christmas gifts, baby showers, hospital gifts or just because.  Now, go check out My True Nature's website and see all of the awesome products they have to offer!
The idea for My True Nature™ came after my first baby was born. Like many mothers, I wanted to create a safe home environment. But when I couldn't find a line of soaps and shampoos that had 100% natural ingredients, performed as well as  typical mainstream products, and were completely free of genetically modified organisms, parabens, petrochemicals, phthalates, sulfates, synthetic dyes, synthetic fragrances, triclosan or preservatives, I decided to start producing them myself. Before I knew it, I had a line of products that my friends and family loved. I started selling them by word of mouth, and the business has grown from  there.
The Squeaky Clean and "Beary" Soft Set is the ultimate clean and soft experience. It combines Dewey's bubbles, Daisy's shampoo & body wash, Ollie's hand soap and Clio's lotion.
All of the cleansers are pure, natural formulas that combine plant-based cleansers and botanicals to create mountains of bubbles that are perfect for sensitive skin, cradle cap, or eczema and will leave your little ones soft as silk and smelling clean. Clio's lotion is a truly unique formula that combines organic sunflower oil infused with a multitude of calming and healing organic herbs with shae butter, aloe and bees wax. It calms sunburns, rashes, eczema and other skin irritations the natural and organic way. Reuse the bottles made of 100% recycled plastic for a truly sustainable bath time experience.