7 Ways To Save On Healthy Foods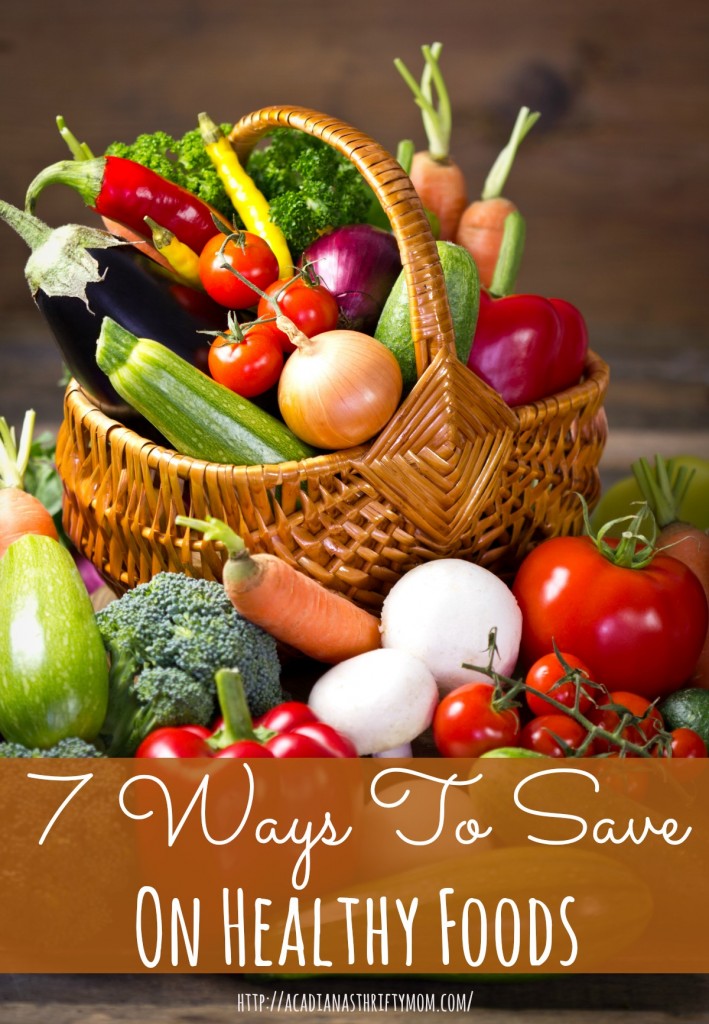 7 WAYS TO SAVE ON HEALTHY FOODS 
When you decide to make a healthier life for yourself, you can often be hit immediately with the cost of healthy food being much higher.  While some items are significantly more expensive, it is actually very easy to begin saving money on your healthier food choices.  We have put together our favorite 7 Ways To Save On Healthy Foods to help you begin your journey without fear of breaking the bank.
Sign Up For Store Rewards Cards.  While you may not find a lot of coupons for healthier foods like fresh fruits, vegetables and organic products, you will find great rewards in individual stores.  Make sure to sign up for your store rewards programs.  Call the store 1-800 number and ask if they also offer mailed or emailed coupons for savings on healthy foods.  Sign up for Shop Your Way now and save BIG at Kmart, Sears, and Land's End!  
Grow Your Own:  Starting your own small herb and vegetable garden is a great way to save money on your overall health food budget.  With the right planning, you can grow enough vegetables and herbs to store for off season.  Most vegetables can or freeze easily and herbs are great when dried and stored properly.
Split Expenses With Friends:  This comes in handy when you find a great deal on bulk products.  Whether it is a side of grass fed beef, a 40 pounds box of chicken from Zaycon or a pallet of apples or other fruits at the end of the season, splitting with friends can make it affordable and stock your pantry and refrigerator. 
Go Meatless 1-3 Days A Week:  There is a lot to be said about including more vegetarian meals into your diet.  Not only will you remove some of the unhealthy fats, you will often increase nutrient dense vegetables.  Creating hearty non meat meals a few night a week can save anywhere from $10-$30 a week.
Shop Sales & Stock Up For Future Months: When you find a great coupon or sale price take advantage and stock up.  This is especially great when produce goes on sale at the peak of it's season.  Corn on the cob in summer months can be found as cheap as 5 ears for $1.  Times like that, stock up, clean, slice, dice, chop and freeze or can for future months.  For pantry staple items on sale or with great coupons, stock up with 6 month or more supply.  Just remember to be watchful of expiration dates and know that storing a lot of excess pantry items can attract rodents, ants and roaches if not careful.
Cook From Scratch:  While it may be more convenient to buy already cooked canned beans, convenient low fat, low sugar or organic treats and cookies – it is not easy on the budget.  Rather than stocking up on convenience food or meal kits that are healthier, make your own from scratch.  Dry beans can often be found as low as $.79 a pound compared to the $1-$1.99 a can you will find in a grocery store.  Cooking everything from your canned beans to making your own treats and breads can slice your budget drastically.
Shop Farmer's Market Or Co-Ops:  Shopping Farmer's Markets and Co-Ops is a great way to save money on your health foods.  For the freshest produce you want to arrive when they open, but for the best deals you may want to wait until near closing time.  A lot of people will mark down what is left on their tables/booths so they don't have to take it with them.  This is a great way to find lower cost fresh produce to use in your weekly menu plans. 
While it may be a difference in budget, you can eliminate some of the added expenses of eating healthy with our 7 ways to save on health foods.  Not only will you find yourself staying in budget, but you'll feel good about the food your family is eating.