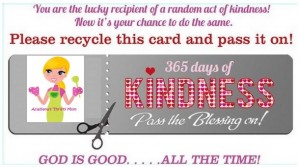 You can find a complete overview of each day HERE!
Today, I challenge everyone to write an encouraging note on Whispering Winds Church's FB page upon the tragic death of Kaitlin Gerber ONLY 20 years old. This is taken directly from their page – "For those who aren't aware, she was shot and killed by a former boyfriend Sunday morning, March 24, 2013. Kaitlin was truly an amazing person who worked with us for years leading children's programming on Wednesday nights. My children began their lives at church either in her arms or under her guidance. They love her as we love her. She was dedicated, responsible, dependable and was willing to do anything to help out. I never heard her use the word "no" when there was a task to be done. But most of all, Kaitlin possessed a gentle and caring spirit."
I am not sure if her parents will look at this page, but what a testimony to know so many are thinking and praying for her family and church family.
I hope everyone gets involved in this challenge. We truly can show the love of Christ in such a small, small way! None of us can help everyone, but all of us can help someone, and when we do we serve Jesus. We can make an impact in our communities, one life at a time!!
GOD IS GOOD. . ALL THE TIME!!
Thank you for sharing your blessings with us  Saving and Sharing for Christ!