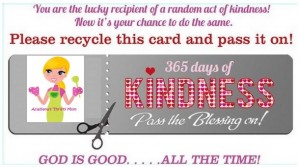 You can find an overview of each day HERE.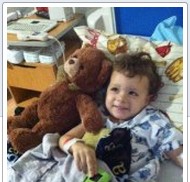 Today's challenge is a hard one for me. This family's story is very sad, yet, I know we can give them so much Hope by this kindness. I will tell you a little bit about the family. The mother was pregnant with triplets until they discovered during ultrasound something was terribly wrong with one of the babies and had to do surgery. Mom lost the 3rd baby and is now pregnant with "twins" ~ Emma and Ella. Mom is currently on bed rest and is due for a C-section on 3-11 if she can hold off that long. Then in the midst of dealing with the death of one of their babies, they got news that their 3-year-old son, Liam, has leukemia and he has had to begin chemotherapy immediately. Mom, Lacey, posted this on her FB page today and it breaks my heart – "Update: 2/4/13 (Day 11 of month 1)
First weekend home officially complete. Dad returned to work today & Gammy was here already when Liam and I woke. The farther along this pregnancy goes and the bigger I get the less and less I can do for Liam. Aside from being ordered to still be on bed rest one of the biggest struggles I'm dealing with is feeling like a helpless mom as my son fights his daily battles. Mentally I feel as if I'm breaking, I feel so helpless, useless and I'm getting bitter at the world for putting me here in this position. How is one to handle such a rough pregnancy, try and take it easy for the sake of the twins yet watch everyone but me be here for my son. I can't pick him up, change his diapers on chemo days or the day after, get up and make him food, give him his bath..the list goes on and on. Thank the lord for such a Rock of a husband, Will & such an extraordinary, giving, loving mother, Pam (Gammy). Without these two I don't know how I would be getting through this.
Liam's spinal all and all went well on Friday, it took about an hour from the time he went back for the spinal, chemo insert in his port and recovery. Its just so hard always watching your lil man, get poked, pulled at and ripped on. At least we have until this up coming Friday to give him a break until our next clinic visit. I'm hoping that these next few days will give him the break we need to see him return to "Liam". Everything has changed, I know the steroids and chemo are so rough on his little body but everything is a battle now. Taking a bath is WW3, administering his daily meds is horrible and we are still trying everything we can to get him up and moving. There isn't any pain when he walks its all just because he's so scared & weak. He's been through so much lately that he just isn't the same lil Liam. We are trying everything in our might to get him up and out, finally yesterday he got excited to go in the yard and hit a ball or two. It broke my heart…he lined up to swing, got in his stance and as he swung it knocked him down to the ground crying as he fell down. It was heart wrenching. Later in the day after he recomposed himself and Dad and Gammy took him to the pond in Gammy's golf cart to get some fresh air…Dad broke out the fishing pole that Santa brought Liam and he at least sat outside for a lil bit learning how to cast and reel in the line. What he seemed to enjoy the most was just riding in the golf cart letting the fresh air hit his face. Hopefully today we can get him up and moving even more…we are trying everything we can to avoid physical therapy.
One thing that has for sure has changed is his appetite…It's 8:30 am as I sit and write this and he woke at 7. Since waking he has asked for a bowl of fruit loops, a bowl of grits and cheese, then nuggets and french fries!!! Mom was frying up fries and nuggets at 8am…lol Now he just asked for a hot dog!! It's these steroids, the doctors have warned us that it will be like this but WOW..the child has gone from never wanting to eat to eating us out of the house.
I also wanted to take a moment and thank three very special women; Jessica Owensby, Bridget Caron and Courtney Wallace. Since day 1 of Liam's diagnoses these girls have taken on anything they can to help our family focus on caring for Liam. From the fundraising, to organizing drop offs here at the house, making ameal plan to intercepting emails from those offering to help and support us. Without these girls…aka.."Liam's Ladies" I don't know where I would be. They have taken so much stress off of me.. Girls I love you and your friendship means so much.
Thank you for reading today's update, please continue to keep our family in your thoughts and prayers…Lord knows we need them."
This family is hurting and I could NOT be happier to add them as Day 36 of 365 Days of Kindness. We have been informed that Liam is overwhelmed with toys. Mom did not want to sound ungrateful but they could best be served with Gift Cards for gas (as they have to travel a lot now for chemo treatments), Publix, Target, Babies 'R Us, and/or Target, diapers (all sizes for the babies), wipes, outfits for the babies. Since Liam will most likely be losing his hair, hats for him would be nice. Even if you include $1 in a card to them, I am sure this would be a huge blessing to this family, especially since there are over 17,000 of us. I HOPE every single one of you will get involved. You can mail cards and/or gifts to Will and Lacey Smith, 3688 Sanctuary Way South, Jacksonville, FL 32250. You can also visit their FB page at Love for Liam and the Smith Family.  Or you can give online at a site that is set up for them BY CLICKING HERE!! This is honestly an easy way for us to be the hands and feet of Jesus and stand in the gap for this family going through a very difficult time.  Remember, even $1 matters. Jesus performed the miracle with 5 loaves and 2 fish and he can do the same with $1!!    Who's in? I am praying that everyone gets involved in this. None of us can help everyone, but all of us can help someone, and when we do we serve Jesus. We can make an impact in our communities, one life at a time!!
GOD IS GOOD. . ALL THE TIME!!