You Will Laugh Your Pointy Little Shoes Off With Sherlock Gnomes
You Will Laugh Your Pointy Little Shoes Off With Sherlock Gnomes.  What?  You don't have a pair of pointy little shoes?  You should!  Well, it's the day Hannah has been waiting for!  I'm not sure if your kiddos are Gnome-obsessed, but mine sure are!  Sherlock Gnomes came out digitally today and comes out on Blu-ray™ Combo Pack & DVD June 12!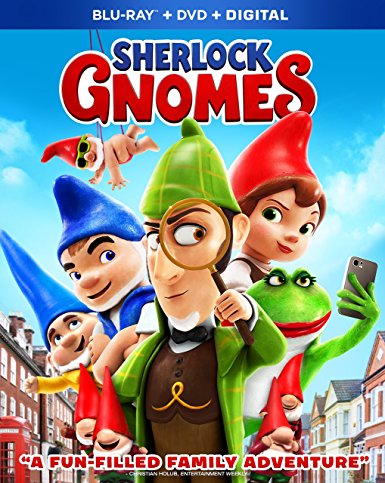 It seems like the world has gone gnome crazy and I'm not complaining one bit!  Not only are gnomes adorable as yard decorations, but Paramount took it to a whole new level when they gave them their own movie.  Someone even called the five basketballs in my front yard "basketball gnomes" this week! HA!
My kiddos are tied down tight on the Gnomes bandwagon, so they could not have been happier when we received our very own advanced copy of the Sherlock Gnomes Blu-ray™ Combo Pack this week.  Not only did we get the Sherlock Gnomes Blu-ray™ Combo Pack, but we also got lots of Gnomes goodies along with it.  The Sherlock Gnomes activity pack also had a Sherlock Gnomes plush toy, a gnome paint kit, an egg carton planter, a sketch book and a color pencil set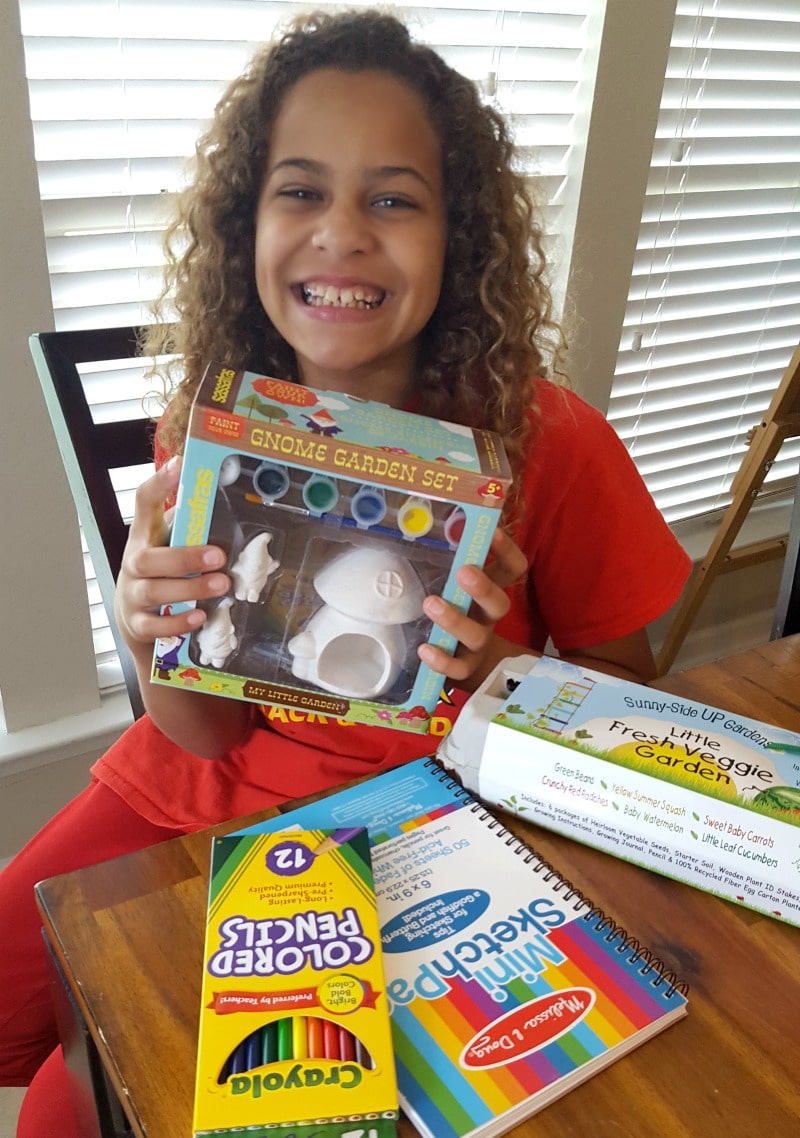 Hannah quickly snuggled up with her new Sherlock Gnomes plush toy and watched to movie.  She laughed, her brother laughed, and I thought I was going to have to send my husband to his room because he was laughing so hard!  He was disturbing the rest of us.  You're going to love Sherlock Gnomes.  If you have not seen Gnomeo and Juliet or don't really even know who these Gnomes are; you'll still love the movie.  It was a lot of fun for our whole family.   Sitting down to watch Sherlock Gnomes and eat popcorn made the perfect after swimming treat for all of us!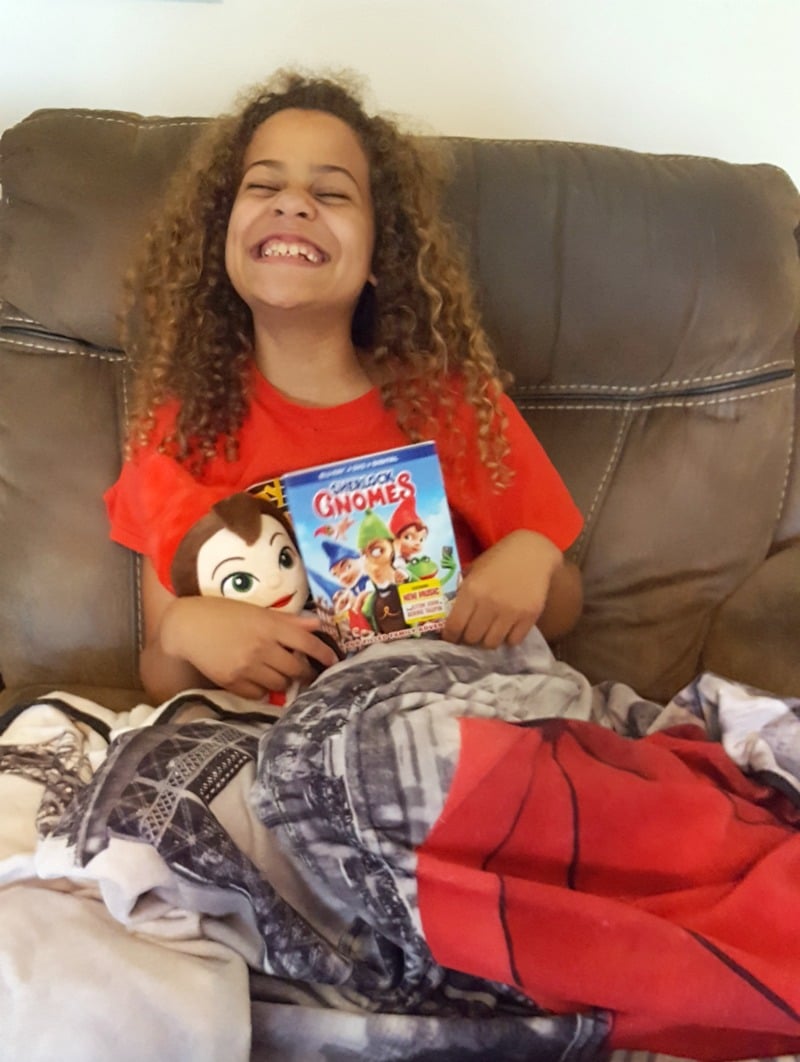 About Sherlock Gnomes:
Get ready for a phe-gnome-nal adventure inside the secret world of garden gnomes! When Gnomeo (James McAvoy) and Juliet (Emily Blunt) discover their friends and family have gone missing, there's only one gnome to call – the legendary detective Sherlock Gnomes (Johnny Depp). Working together, the mystery takes them beyond the garden walls and across the city on an unforgettable journey to save the day and bring the gnomes home. From the director of KUNG FU PANDA and featuring new music from Elton John, Bernie Taupin and Mary J. Blige, Sherlock Gnomes is the fun-filled, family comedy of the year!

About the Sherlock Gnomes Blu-ray Combo Pack:
The SHERLOCK GNOMES Blu-ray is presented in 1080p high definition with English 7.1 DTS-HD Master Audio, Dutch 5.1 Dolby Audio™, French Canadian 5.1 Dolby Audio, French Parisian 5.1 Dolby Audio, German 5.1 Dolby Audio, Italian 5.1 Dolby Audio, Portuguese 5.1 Dolby Audio, Castilian Spanish 5.1 Dolby Audio, Latin American Spanish 5.1 Dolby Audio, and English Audio Description and English, English SDH, Dutch, French Canadian, French Parisian, German, Italian, Portuguese, Castilian Spanish and Latin American Spanish subtitles. The DVD in the Combo Pack is presented in widescreen enhanced for 16:9 televisions with English 5.1 Dolby Audio, French 5.1 Dolby Audio, Spanish 5.1 Dolby Audio, Portuguese 5.1 Dolby Audio, and English Audio Description and English, French, Spanish, and Portuguese subtitles. The Combo Pack includes access to a Digital copy of the film as well as the following:
Blu-ray
Feature film in high definition
Bonus Content:
Gnome is Where the Heart Is – Go behind-the-scenes with the all-star cast
All Roads Lead to Gnome: London Locations in Sherlock Gnomes
Miss Gnomer: Mary J. Blige and the Music of Sherlock Gnomes
Stronger Than I Ever Was – Enjoy the brand new music video performed by Mary J. Blige
How To Draw – Learn how to draw your favorite characters:

Sherlock Gnomes
Watson
Moriarty
Goons

Animating Sherlock Gnomes – Discover the magic behind the movie's animation
DVD
Feature film in standard definition
Get Social With Sherlock Gnomes:  Official Website     Facebook     Twitter     Instagram     Amazon 
If you liked this post, be sure to check out these other great post from Acadiana's Thrifty Mom:
Hold On To Your Hats While Ralph Breaks The Internet With The New Wreck It Ralph 2 Poster And Trailer
Production Has Begun on Maleficent II with Angelina Jolie and Elle Fanning Reprising Their Roles
Oh, bother! You Will Love The Way The New Christopher Robin Trailer Tugs At Your Heartstrings