You Can Get the Perfect Shot With Adobe PhotoShop Elements 14 #BestLifeEver
You Can Get the Perfect Shot With Adobe PhotoShop Elements 14 #BestLifeEver
Acadiana's Thrifty Mom has been compensated in the form of a Best Buy Gift Card and/or received the product/service at a reduced price or for free.  All opinions are 100% my own.
I am always looking for great editing software, but am terrified of the word "Photoshop".  I have heard amazing things about Photoshop, but always feel a bit overwhelmed when I start trying to edit.  If you are like me, Are you a casual picture taker or just getting started in photography and want an easy way to organize, edit, and share your photos and videos?  The Elements lineup is all about simplicity and sharing with both your photos & videos.  The name "Photoshop" no longer intimidates me; now it excites me!  I can't wait to get my photos home and start playing around with them.  I don't have to put it off because it takes too long or is too involved anymore.  Photoshop Elements 14 has taken the 'work' out of photography work (so to say) and is now available at Best Buy.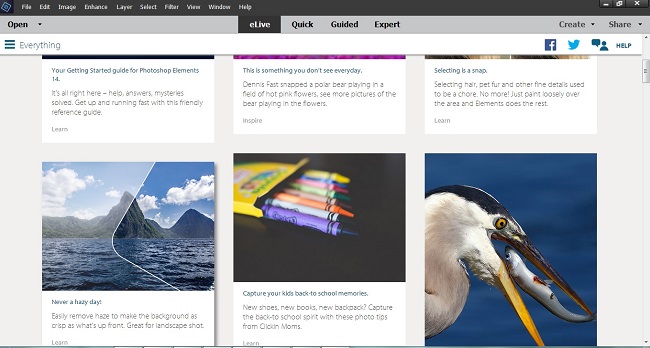 One of the coolest new features of Photoshop Elements 14 is that you can search tons of online tutorials and videos showing how to create the perfect photo.  It is as easy as clicking over to eLive and searching through their database.  It is so much easier than wading through thousands of Google entries!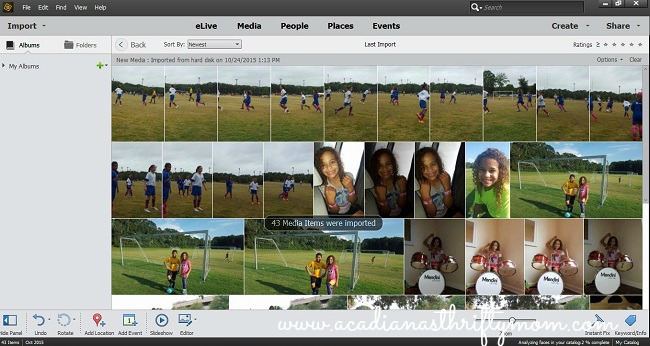 You can see above that I added my photos to media and now they are there anytime I'm read to edit or work on a photo project.  I love that they're all in one place!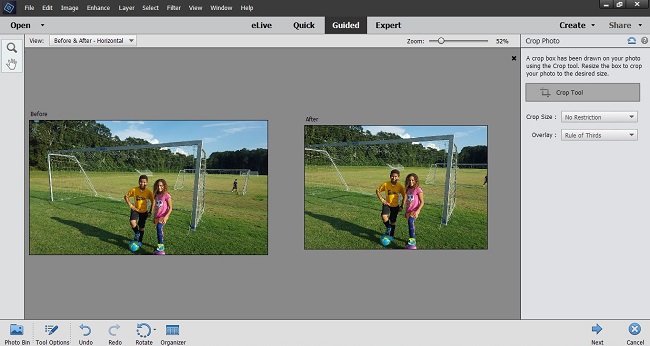 I think my favorite feature has to be the side-by-side editing.  I can see what my photo looked like before and now.  So many times I have been editing a photo and cannot tell if it actually looks better than it did before.
I have used other photo editing software, but have never had one that could fix a dark photo so accurately.  Usually, you lose the features of the picture in the lightening process, but not with Adobe PhotoShop Elements 14!  Just look at the details of the "after" picture!  I am amazed!
Next, we had a little fun with the new "fun edit" tab in PhotoShop Elements 14.  Hannah had a soccer game yesterday and she's a really fast runner.  I made her run like "The Fash"!  She loved it and it took me less than 5 minutes to do!  This software is the easiest and most fun I have had editing photos in a very long time.  The Elements lineup is all about simplicity and sharing with both your photos & videos ($149.99 reg. retail). Now available at Best Buy.
NEW TO THIS VERSION
Bye-Bye, Camera Shake
Your selfie's best friend! Just click to remove the camera shake that comes from unsteady hands.
Never a Hazy Day
Easily remove haze to make the background as crisp as what's up front. Great for landscape shots.
ENHANCED FOR THIS VERSION
Guidance at Every Step
Get the looks you're after with 34 Guided Edits. New options let you easily add a sense of motion to your photos and resize a photo to fit a certain frame.
Great Looks for Any Photo
Elements 14 analyzes the subject, color and lighting and gives you five effects that fit perfectly.
Selecting is a Snap
Choosing complex selections like hair, pet fur and other detailed edges used to be a chore. No more — just paint loosely over the area and Elements 14 does the rest.
Quick Edits Made Easier
Rotate, resize and make quick fixes even faster in a more friendly and easy-to-use Quick Edit mode.
Keep It All Straight
Find photos and videos by people, places and events.
See Where It Happened
Relive your journeys — view photos and videos on a map that shows where they were taken.