Watch Surf's Up 2 With This Radical Cookies N Cream Popcorn #SurfsUp2
This is a sponsored conversation on behalf of Sony.  All opinions are 100% my own.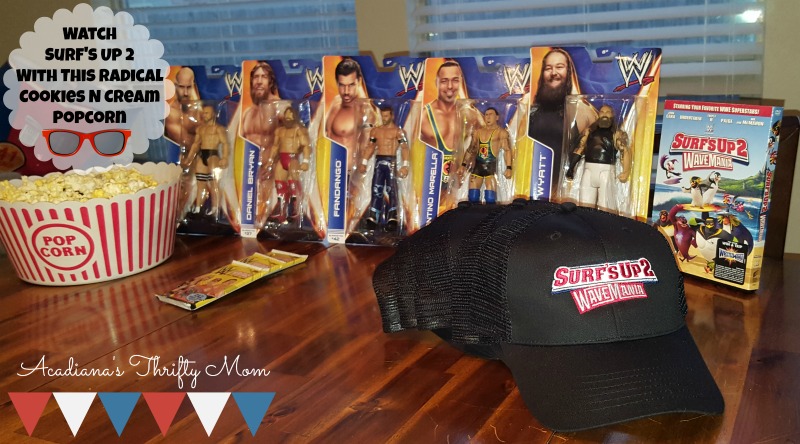 Are you ready for some Penguins….and WWE????  We had a blast with our viewing party for the new Sony film, Surf's Up 2 WaveMania!  This is another fun adventure with the super adorable penguins from Surf's Up.  This time around, there are a few WWE penguins you may recognize.  They will take you on an extreme surfing adventure starring your favorite WWE superstars! Surf's Up 2 WaveMania features the voices of John Cena, Undertaker, Triple H, Paige & Mr. McMahon.  My kids were super excited to have a few friends over and "throw down" with the penguins of Surf's Up 2 with my yummy cookies n cream popcorn.  I know you're going to love it too! Starting today, you can purchase Surf's Up 2 WaveMania at Walmart and Amazon on DVD & Digital.
We started out giving all of the kiddos popcorn and a Surf's Up 2 WaveMania hat.  Now, for me, I saw a black hat with red and white writing.  The kids, on the other hand, saw "WOAH!  A WWE HAT!" LOL  This movie was a hit with my crew from the beginning.  It only helped that WWE was at the Cajundome last week, so everyone had WWE on their minds.  My two youngest kiddos are 10 and 12.  They don't watch WWE regularly, so any time they get the opportunity to get in some WWE viewing is always special for them.  Watching the Penguins with the WWE and their friends, just made it that much more special.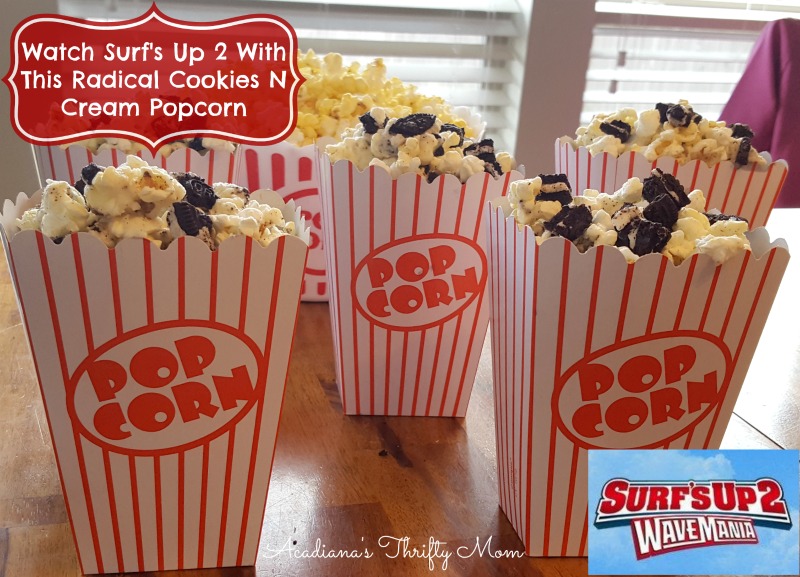 About Surf's Up 2 WaveMania:
Surf's Up is an animated action-comedy that delves behind the scenes of the high-octane world of competitive surfing. The film profiles teenage Rockhopper penguin Cody Maverick (Shia LaBeouf), an up-and-coming surfer, as he enters his first pro competition. Followed by a camera crew to document his experiences, Cody leaves his family and home in Shiverpool, Antarctica to travel to Pen Gu Island for the Big Z Memorial Surf Off. Along the way, Cody meets Sheboygan surfer Chicken Joe (Jon Heder), famous surf promoter Reggie Belafonte (James Woods), surf talent scout Mikey Abromowitz (Mario Cantone), and spirited lifeguard Lani Aliikai (Zooey Deschanel), all of whom recognize Cody's passion for surfing, even if it's a bit misguided at times. Cody believes that winning will bring him the admiration and respect he desires, but when he unexpectedly comes face-to-face with a washed-up old surfer (Jeff Bridges), Cody begins to find his own way, and discovers that a true winner isn't always the one who comes in first.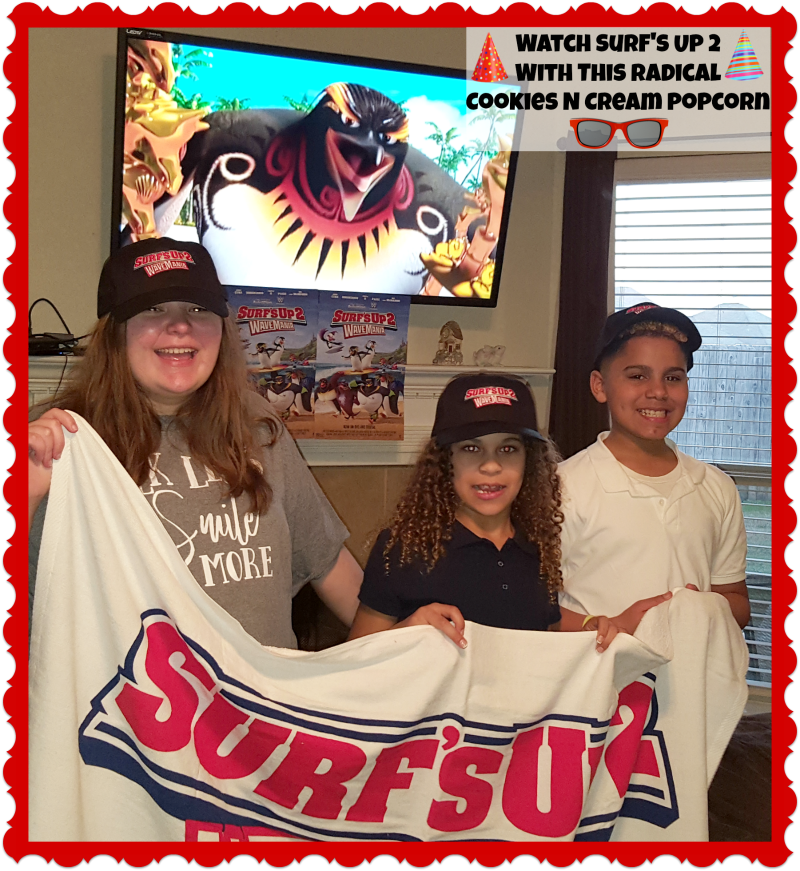 As you can see, we had a blast!  Surf's Up 2 WaveMania is a fun ride full of action and surprises.  We had to pause it for bathroom breaks more than a couple of times because the kiddos didn't want to miss the action.  Now, for the Cookies N Cream Popcorn instructions.  You are going to LOVE how easy this is <3
Cookies N Cream popcorn:
Gather your supplies:

6 cups popped popcorn
1 cup white chocolate chips
2 Tbsp butter (not margarine)
12 chocolate cream cookies (Oreos), chopped
2 wooden spoons for mixing popcorn
1 large bowl for mixing and serving

Get to prepping:

Place all of the popcorn in the large bowl
Place the white chocolate in a microwave safe bowl.
Microwave 50% power for 8 minutes, stirring every 2 minutes until melted.
Add butter to the white chocolate mixture and microwave at 50% for an additional minute.
Mix the white chocolate and butter with a spoon until well blended.  It will be smooth and runny.
Pour the white chocolate mixture over the popcorn and toss to coat.
Pour chopped cookies on top of the popcorn mixture and toss to coat.
Serve and enjoy!
Starting today, you can purchase Surf's Up 2 WaveMania at Walmart and Amazon on DVD & Digital.  This would be such a fun way to spend time with your kiddos.  Go ahead, invite their friends over and make some yummy Cookies N Cream popcorn!   You'll be the hit of their friends <3  Plus the DVD bonusonus features include bloopers, 'How to Draw Your Favorite Characters' and much more!  So, your kids will have hours of fun role playing and creating with their friends.