Walt Disney Studios Celebrates 75 Years With This Amazing Archives Display #TomorrowlandEvent
*I received an all expenses paid trip to Los Angeles for the coverage of several press events for Disney. All opinions are 100% my own and we only recommend events and shows that are a great fit for our readers.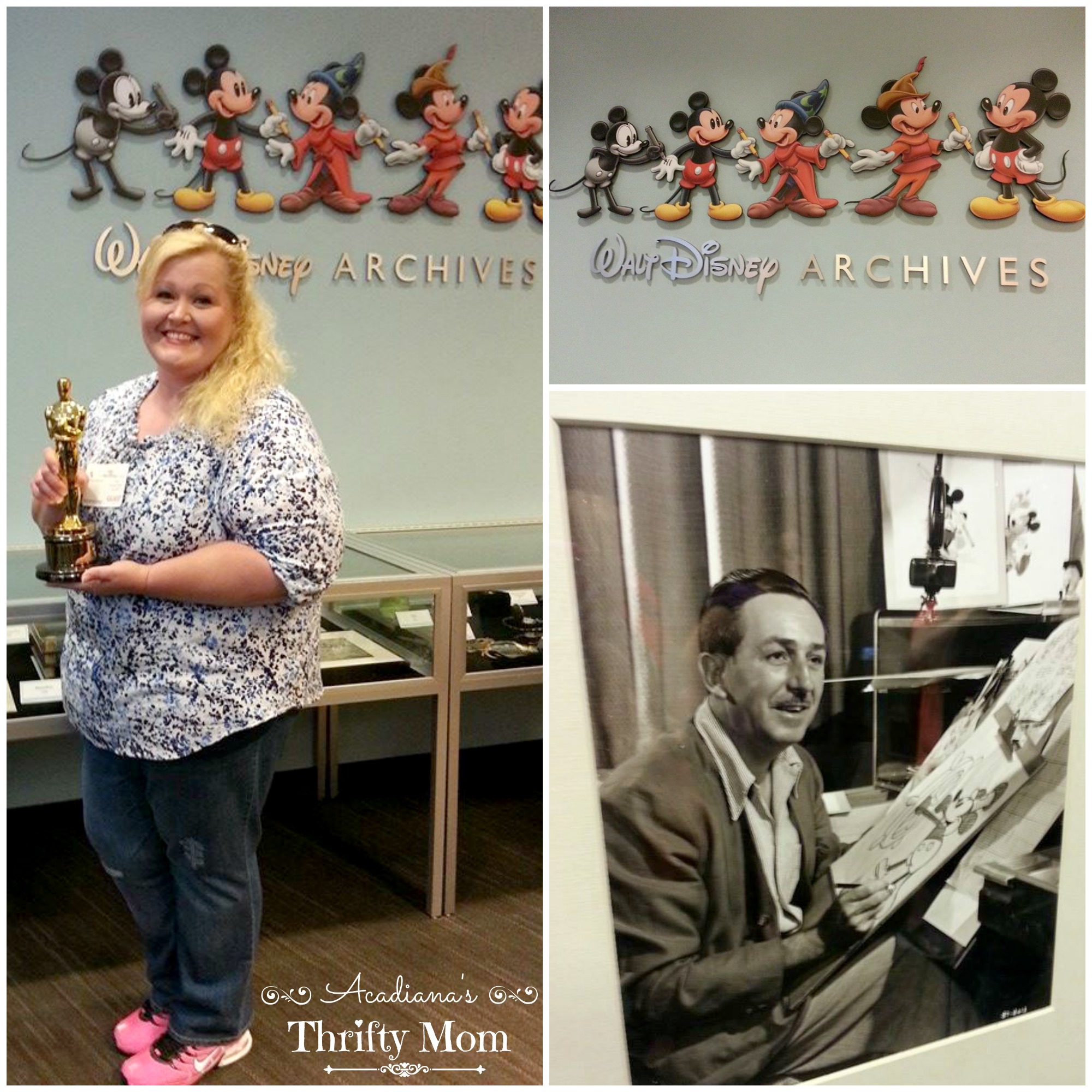 While I was in Los Angeles last week preparing to interview George Clooney and the cast of Disney's Tomorrowland, I was given the opportunity of a lifetime, to tour the Disney Archives at Walt Disney Studios!  How stinkin' exciting is that?!  I was even more excited when I found out I could take lots of pictures and share the experience with all of you 😀  Going into the archives was a bit scary, like bull in a China shop scary.  I was so afraid I would bump into something or take a picture of something I wasn't supposed to, but none of that happened.  They let us take a picture of EVERYTHING and we were given an amazing tour by one of Disney's very on archivists.  Did you even know that such a thing existed?  Well, they do and, boy oh boy, do they know a LOT about Disney!  Plus, do you see I'm holding an Oscar?!  I'm holding an Oscar award y'all 😀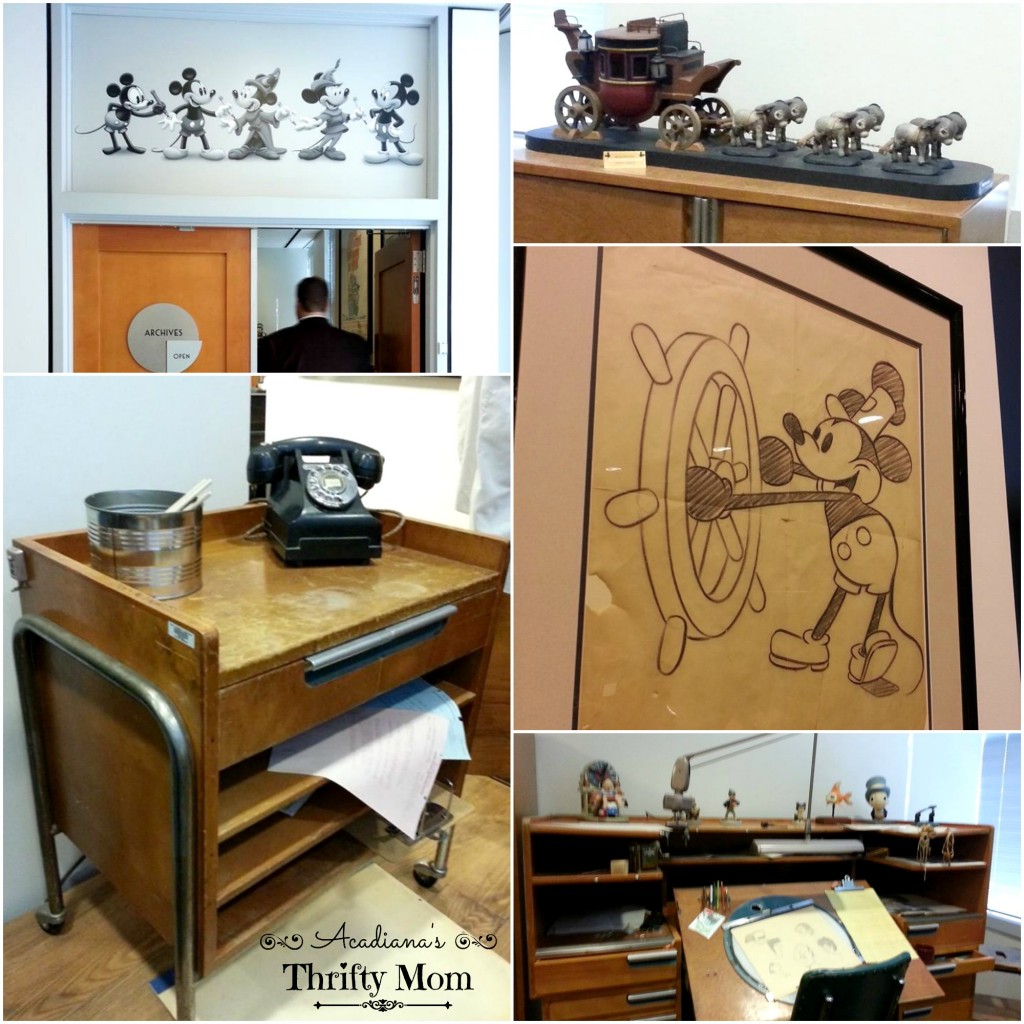 From D23.com:
"Commemorating 75 years of Walt's "dream factory," the Walt Disney Archives has unveiled an all-new display exploring the Disney Studio's rich legacy. In one display, historic materials and equipment used in soundstages, offices, and other facilities tell the behind-the-scenes story of the Studio's operations and the people who worked there. Another case showcases an array of props and costume pieces from some of the most beloved films and shows produced on the 51-acre lot."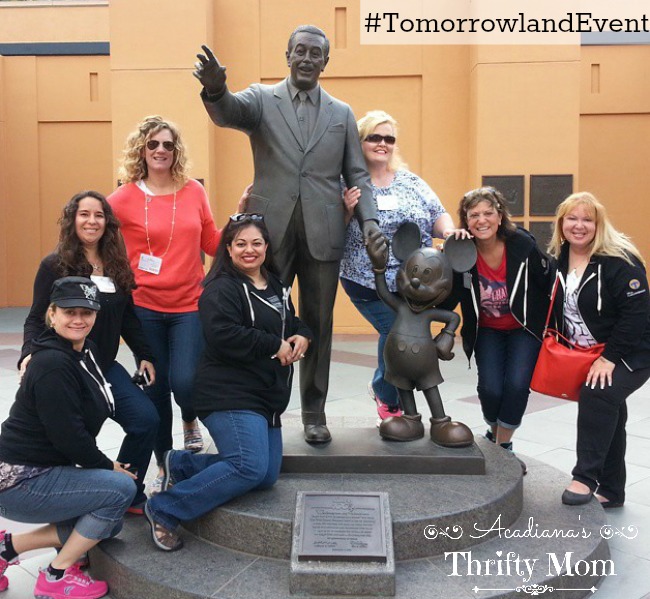 As we walked around the room, we were taken back to the 1950's when Walt Disney was really taking off.  Walt had a vision and Roy had the business sense to bring it all to fruition.  It was amazing to see the animator's desk and media desk that were actually used by some of the original Walt Disney animators.  An original drawing of Mickey Mouse framed on the wall really brought it all home to me!  I mean, really, we see these images everywhere, but do we ever stop to think about where they came from?  Where and how did it all start?  Is it just a bunch of overrated drawings?  Of course not!  Walt Disney is a legacy.  I am taken aback at the excellence and care put into every single piece of animation from Walt Disney Studios.
How often do  you get a chance to get photo-bombed by Walt Disney himself?  Well, Heather from Pink Ninja Blogger and I did!  We had a blast!  What you see above is one of the original "Autopia" driver's license, Walt Disney's ID and two original drawings by Walt Disney himself.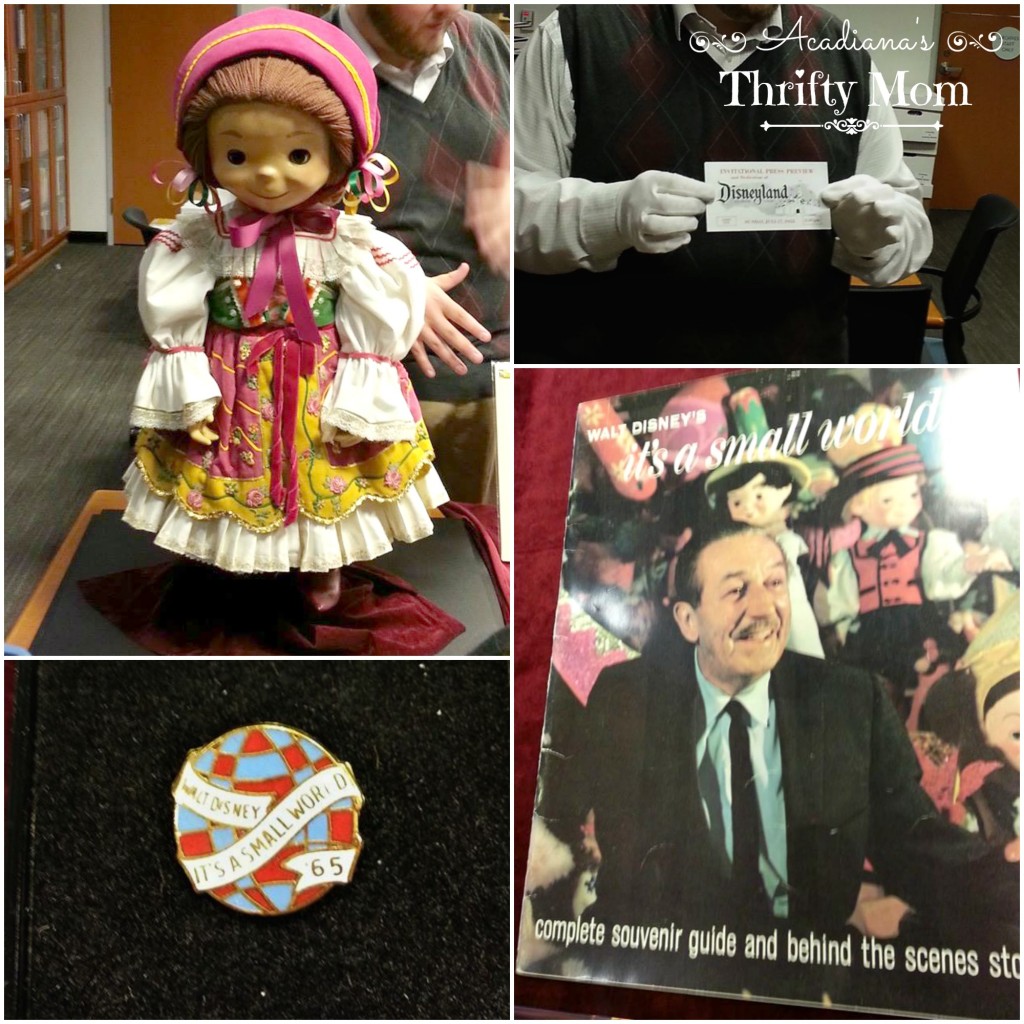 Now, onto the World's Fair and Disney's Tomorrowland.  In the photos I took above are an original doll from the 'It's A Small World' ride, a collectors pin from the 1965 World's fair and an original behind the scenes guide to It's A Small World.  It was simply, incredible to actually be able to see these originals in person!
The picture below is a model of Cruella De Vil's car.  This model was created for animators during the production of 101 Dalmatians in 1961.

This was such an exciting adventure and great way to tie the World's Fair to Disney and to Tomorrowland.  This movie is not only action-packed, exciting, and a wild ride, but it is  also a little piece of history we can use to build our future!
From Disney comes two-time Oscar® winner Brad Bird's riveting, mystery adventure "Tomorrowland," starring Academy Award® winner George Clooney. Bound by a shared destiny, former boy-genius Frank (Clooney), jaded by disillusionment, and Casey (Britt Robertson), a bright, optimistic teen bursting with scientific curiosity, embark on a danger-filled mission to unearth the secrets of an enigmatic place somewhere in time and space known only as "Tomorrowland." What they must do there changes the world—and them—forever.
Featuring a screenplay by "Lost" writer and co-creator Damon Lindelof and Brad Bird, from a story by Lindelof & Bird & Jeff Jensen, "Tomorrowland" promises to take audiences on a thrill ride of nonstop adventures through new dimensions that have only been dreamed of.
Like TOMORROWLAND on Facebook 
Follow Disney Pictures on Twitter #Tomorrowland
Visit the official TOMORROWLAND website 
TOMORROWLAND opens in theaters everywhere on May 22nd!